Programme Overview
This programme aims to produce chemistry and biology graduates at the sub-professional level. It equips students with the necessary basic knowledge of scientific concepts and theoretical principles to understand chemical and biological phenomena and processes, and trains students to perform standard chemical and biological laboratory procedures. This programme covers both the practical and theoretical aspects of the subjects. The chemistry syllabi provide a detailed coverage of various topics including atomic and molecular structures, properties of matter, properties and reactions of elements and compounds, analytical techniques and industrial products. The biology syllabi cover a broad spectrum of topics which include cells, energetics, homeostasis and excretion, reproduction and development, biodiversity, ecology, and microbiology. This programme largely emphasises the application of chemical principles in control of the living environment.
Academic Progression
Diploma graduates may be admitted into 2nd or Final Year of the relevant Bachelor Degree programmes.
Minimum Entry Requirements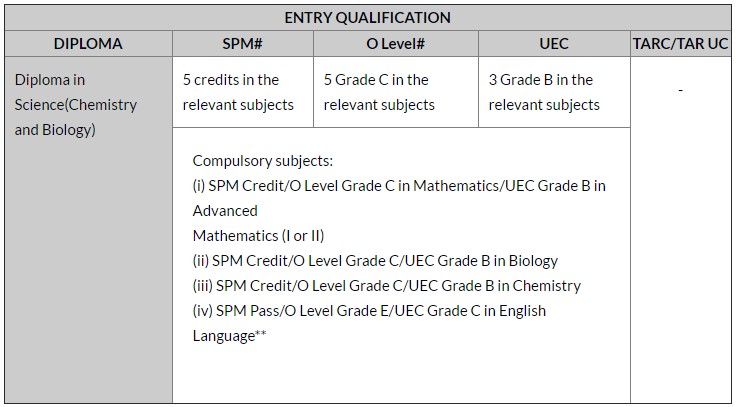 # Students with 3-4 relevant credits in SPM/Grade C in 3-4 r elevant subjects in O Level may be considered for the Diploma programmes offered at the Perak Branch Campus (PK), Johor Branch Campus (JH), Pahang Faculty Branch (PH) and Sabah Faculty Branch (SB).
** Grade C and above in AELE0364 English Language (1119 Level) conducted by TAR UC is accepted as having fulfilled the English Language requirement for applicants who fail English Language at SPM/O Level/UEC level
Note:
a) SPM holders must have at least a pass in Bahasa Malaysia and SPM holders from Year 2013 onwards must have at least a pass in Sejarah.
b) The entry requirement must be taken from only ONE (1) examination sitting.
c) Students without a credit in SPM Bahasa Malaysia are required to pass Bahasa Kebangsaan A before the award of Diploma.
d) Equivalent qualifications other than the above will be considered on a case-by-case basis.
e) Information is correct at the point of printing. Subject to the Ministry of Education latest requirements.
Updated: 1 December 2016 (subject to change)
Programme Structure
Physical Chemistry
Inorganic Chemistry
Organic Chemistry
Analytical Chemistry
Chemistry and Society
Chemical Structure and Energetics
Properties of Matter
Chemistry of Elements and Organic Compounds
Cells and Their Organisation
Bioenergetics
Homeostasis and Excretion
Response and Coordination
Reproduction and Development
Biodiversity and Ecology
Structural Biochemistry
Microbiology
Forensic Chemistry and Biology
Pre-Calculus
Introductory Calculus
Calculus
Algebra
Statistics and Operations Research
Information Systems and Application
Business Organisation and Management
Language, Mata Pelajaran Pengajian Umum (MPU) and Co-curricular Courses:
English Language, English for Communication, Bahasa Kebangsaan
A, Pengajian Malaysia 2, Public Speaking, English for IELTS, Civic
Consciousness and Volunteerism, Co-curricular
Career Prospects
Quality controllers, technical assistants and laboratory supervisors in manufacturing industries or medical establishments.