Fuelled by their interest and passion, two academicians from the Faculty of Applied Sciences and Computing ('FASC') of Tunku Abdul Rahman University College ('TAR UC'), won scholarly awards at the 5th International Conference on Sustainable Animal Agriculture for Developing Countries ('SAADC 2015') and the 2nd International Conference on the Science and Engineering of Materials ('ICoSEM 2015'). The academicians are Dr Tan Hui Yin, Associate Dean of FASC, who received two awards, namely the Young Scientist Award and The Best Scientific Presentation Paper Award at the SAADC 2015 held in Thailand from 27 – 30 October 2015 and Dr Lim Teck Hock, a Senior Lecturer from the Department of Physical Science, FASC, who was judged as one of the three Best Oral Presenters, out of more than 75 papers presented in the ICoSEM 2015 held from 16 – 18 November 2015.
Dr Tan Hui Yin's paper presented at the conference was an extension from her previous work done. Her research paper entitled "The Effect of Methane Mitigation by Condensed Tannins on Ruminal Homoacetogens" was carried out with the assistance of her student Keong Li-Ann from the Bachelor of Science (Hons) in Bioscience with Chemistry. The research focused on the usage of plant secondary metabolite, condensed tannins in mitigating methane which is a greenhouse gas in ruminants and the effects on ruminant gut microbiota specifically on homoacetogens.
Dr Tan said that the focus of the research was to help lower carbon footprint and reduce greenhouse gas emission. "Methane gas has been identified as a potent greenhouse gas which is more efficient at trapping radiation than carbon dioxide. The comparative impact of methane on climate change is more than 25 times greater than carbon dioxide over a 100-year period," she said.
As for Dr Lim Teck Hock, who returned to Malaysia under Talent Corp's Returning Expert Programme, the paper he presented at ICoSEM 2015 was about a new method used to prepare nanosized particles of a semiconductor named Zinc Phosphide in the form of a liquid suspension. "By making Zinc Phosphide in nanoscale, we can make them absorb specific visible light, thus allowing the making of more efficient solar cells under certain configurations", said Dr Lim.
Dr Tan is in her fourth year lecturing at TAR UC and is now an Associate Dean of the Department of Bioscience and Sport Science. I have been handling Bioscience-related courses offered under the Department of Bioscience and Sport Science. "I have coordinated various Bachelor's degree courses such as Molecular Biology, Biotechnology, Food Biotechnology, Microbiology, Genomics, Proteomics and Bioinformatics and Medicinal Biochemistry. I enjoy teaching and being with the students as they always make me feel energised and refreshed. By teaching others we teach ourselves", she added.
Dr Lim, on the other hand, had much to say on the support he received from TAR UC. "The support I received was tremendous and it was four-fold. First of all, TAR UC sponsored me to attend the ICoSEM 2015 even though I am a relatively new staff. Secondly, I thank the Dean and Associate Dean of my Department for purchasing the chemicals and equipment, recommending my applications and constantly encouraging me to be active in research and scholarly activities. Thirdly, I have online journal access to ScienceDirect (a scientific literature database) which is essential and lastly, I have a dedicated laboratory officer, teaching assistants and a modern chemical laboratory. All these help to facilitate my research work, which in turn enhances my teaching on the subject area," said Dr Lim.
The success of Dr Tan Hui Yin and Dr Lim Teck Hock reflects the firm commitment TAR UC places in developing its academically strong teaching faculty to ensure top-notch teaching for students. The University College believes that as the lecturers continuously upgrade their knowledge, the students will stand to benefit enormously with the best teaching and knowledge sharing from the lecturers to the students.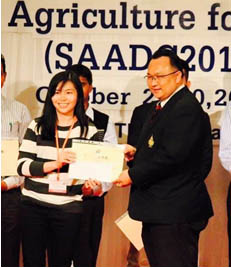 Dr Tan Hui Yin (left) obtaining the Young Scientist Award from Assistant Professor Dr Chalermpon Yuangklang, Chairman of SAADC 2015.
Dr Tan Hui Yin (left) obtaining The Best Scientific Presentation Paper Award from Professor Dr Liang Juan Boo, President of SAADC2015 International Advisory Committee.
Dr Lim Teck Hock (right) receiving the award certificate for Best Oral Presenter Award at ICoSEM 2015.
For more information, please contact:
Mr Richard Liau
Deputy Director
Department of Corporate Communication & Marketing
(03) 4145-0100/23 ext 402
liauwh@tarc.edu.my
Ms Christina Lee
Senior Corporate Communications Officer
Department of Corporate Communication & Marketing
(03) 4145-0100/23 ext 549
leemf@tarc.edu.my