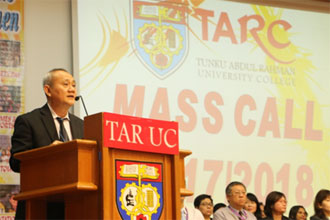 Datuk Dr Tan Chik Heok delivering his welcoming speech.
New students showing their enthusiasm as they start a new chapter in their lives.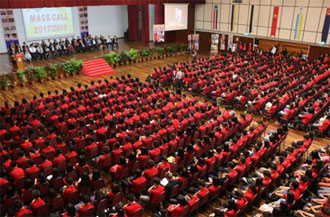 A sea of red as freshmen occupy the University College hall.
Senior University College officials being introduced on stage during the ceremony.
Thousands of freshmen clad in red shirts congregated in the University College Hall on 24 May 2017 to attend Mass Call. This was to signify the start of their new journey in tertiary education at TAR UC.
After being welcomed and briefed by the Department of Student Affairs, the emcees eased the freshmen by breaking the ice with jokes that left the audience in stiches. Videos of the vibrant campus lifestyle and a lineup of various upcoming activities such as Society Day, Talentime Nite, Orientation Odyssey Nite and the Library Induction Programme were also shown whilst the emcees explained in detail the excitement that awaited the freshmen.
During the ceremony, the freshmen were led by Student Representative Council President, Eric Lim to recite the student oath. Prior to that, he also imparted some words of assurance and confidence about his own journey from a freshman to a student leader. He urged them to step out of their comfort zones and to boldly try new experiences.
In his welcoming speech, Datuk Dr Tan Chik Heok, President of TAR UC shared some enlightening words to the freshmen. "Life in an institution of higher learning is about discovery and personal growth. At the same time, tertiary education is very much skewed towards independent learning. As you stand at the threshold of adulthood, you need to be resilient in face of the challenges that come your way," he said. "The road is all set for you to embark on this important journey in your life. You will be spending a great amount of time and energy here in your pursuit of knowledge and education. Thus, it is only wise that you would do all you can to ensure a smooth journey towards your ultimate goal, which is to obtain a prestigious qualification from TAR UC."
Amni Nur Qamarina Binti Zainddin, an A Level Science student was captivated by the lively campus lifestyle. "I am very excited to start my tertiary education here. Seeing how vibrant the student activities are, I hope that I will have the opportunity to participate in many of them to create a wholesome and memorable experience here."
Her course mate, Levannyah A/p Rajasegaran was equally eager to share her choice to study at TAR UC. "My brother did his A Level here and he recommended it to me because of the quality education delivered by TAR UC. The timetable for this semester looks quite packed but I am confident that I will be able to manage." Although still unsure of what her future choices might be, Levannyah expressed her hope that her experience here will guide her to the right education path.
Sandra Chen, who will be pursuing her Bachelor of Communication (Hons) in Advertising at TAR UC, attributed her decision to enroll to the local and international recognition of this institution. "My decision to study at TAR UC was made after considering the many career opportunities that will be opened to me," she said. "Besides that, with such comprehensive extra-curricular activities available here and a booming student lifestyle, I am sure that I will be able to develop not only my professional skillset but also groom me to be a more capable and confident individual," she added.
Also, friends Kishen and Kuhan, freshmen of Diploma in Business Studies (Accounting) expressed their enthusiasm in commencing their studies. "I have always been interested in pursuing a career in accounting. I hope that I'll be able to get along well with our course mates and digest all the knowledge our lecturers instill", shared Kishen. "TAR UC was our first choice because of its quality and affordable education," claimed both Kishen and Kuhan.