The Federation of Tunku Abdul Rahman University College Alumni Associations ('FTAR UC AA') launched the TARC Historical Series "Honorary Fellowship Conferment" booklet on 5 June 2017 at the Auditorium, Kuala Lumpur Main Campus.
The booklet pays tribute to three Honorary Fellows, namely Dato' Kum Boo, the former Head of the School of Technology ('SOT'), Mr Chong Yean Seong, the first Head of the School of Business Studies ('SBS') and Tan Sri Datuk Dr. Ng Lay Swee, the former principal of TAR College from 1996 to 2002.
The launch ceremony was graced by Dato' Sri Liow Tiong Lai, Chairman of the Board of Trustees, TARC Education Foundation and Board of Governors, TAR UC, who is also the Minister of Transport and President of Malaysian Chinese Association ('MCA'). Other distinguished guests present were Datuk Yew Teong Look, Member of the Board of Trustees, TARC Education Foundation, Datuk Heng Seai Kie, advisor on national unity and integration in the Prime Minister's Department, Datuk Dr Tan Chik Heok, President of TAR UC and Mr Adrian Yeo, President of the FTAR UC AA.
"This booklet is only the first of many in the Historical Series. With more to come, it will eventually be compiled into a book which narrates the revolutionary history of our alma mater." said Mr Adrian Yeo, in his welcome speech.
In his keynote address, Dato' Sri Liow Tiong Lai commended the FTAR UC AA for their efforts and initiatives in creating the Historical Series. "History has a way of forgetting those who played a major role in the development of a society or corporate undertaking. From this institution's original roots as TAR College to its current status as TAR UC, there is clearly a long and rich history to be recorded. The beginnings of TARC and its journey of over 48 years to become a renowned institution today are truly invaluable. This booklet perfectly captures the stories of three special individuals who have played a major role in the College's history."
A dialogue session with the three Honorary Fellows was also held after the launch to discuss the significant roles they played in the initiation, building and shaping of TAR College.
Launch of the TARC Historical Series Booklet 1 "Honorary Fellowship Conferment"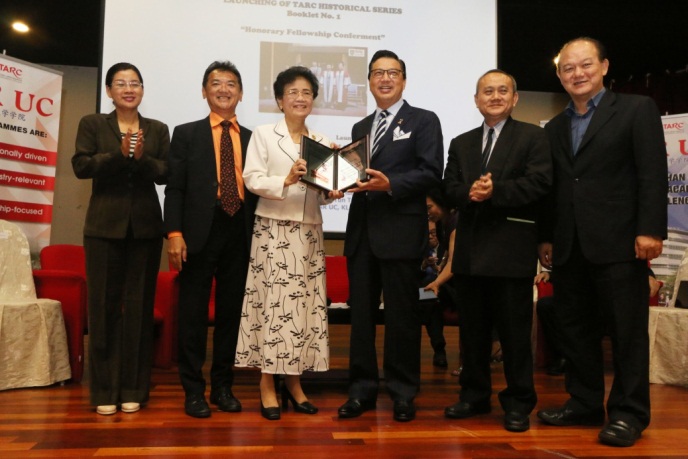 Presentation of souvenirs to Honorary Fellows. (From left to right): Datuk Heng Seai Kie, Mr Adrian Yeo, Tan Sri Datuk Dr. Ng Lay Swee, Dato' Sri Liow Tiong Lai, Datuk Dr Tan Chik Heok, Datuk Yew Teong Look
Presentation of souvenirs to Honorary Fellows. (From left to right): Datuk Heng Seai Kie, Mr Adrian Yeo, Dato' Kum Boo, Dato' Sri Liow Tiong Lai, Datuk Yew Teong Look, Datuk Dr Tan Chik Heok
Presentation of souvenirs to Honorary Fellows. (From left to right): Datuk Heng Seai Kie, Mr Adrian Yeo, Dato' Sri Liow Tiong Lai, Mr Chong Yean Seong, Datuk Dr Tan Chik Heok, Datuk Yew Teong Look, Tan Sri Dato' Sri Dr Lau Ban Tin, former student of Mr Chong Yean Song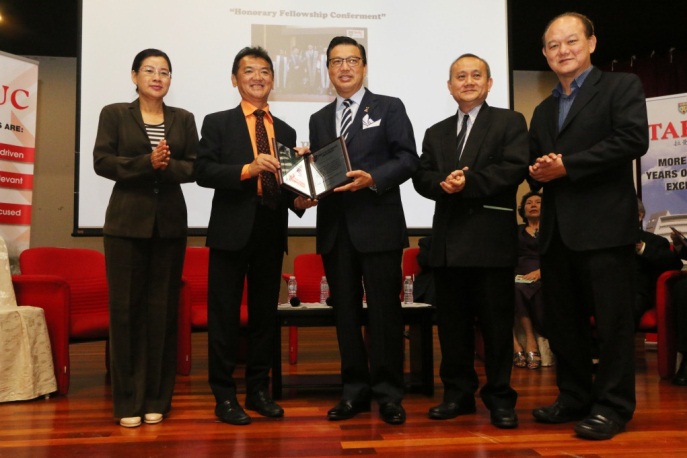 Mr Adrian Yeo (second from left) presenting Dato' Sri Liow Tiong Lai (middle) a memento for officiating the book launch. Also present are Datuk Heng Seai Kie (leftmost), Datuk Dr Tan Chik Heok (second from right) and Datuk Yew Teong Look (rightmost)