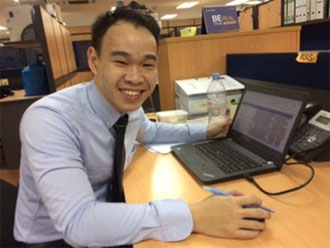 Ooi Kim Huat who won the CIMA Prize Winner 2016 in Malaysia for paper E3 Strategic Management
In the recent announcement released by the Chartered Institute of Management Accountants ('CIMA'), TAR UC graduate, Ooi Kim Huat emerged as the CIMA Prize Winner 2016 in Malaysia for paper E3 Strategic Management. The young graduate who completed his Bachelor of Accounting (Hons) in TAR UC in October 2016 was delighted with his achievement.
"I was very surprised when I found out about my achievement as the examination was challenging. Although the examination questions were in the form of multiple choices, the questions were very much industry related and I had to analyse each option properly before choosing my answer. Looking back, I am very grateful to my lecturers who not only pushed me to revise extensively for the examination, but they provided the relevant study materials for me and frequently met up with me to discuss the areas that I was not sure of. Through my discussions with them, I also learnt to think critically and this experience will be of great help to me in my career," he said.
With an ambition to become an educator in the field of Management, Kim Huat shared the reasons that led him to pursue his tertiary education in TAR UC. "What led me to TAR UC is the various professional accreditations the institution has received from renowned professional bodies especially CIMA. I am looking at building my expertise in Strategic Management. Thus, a professional qualification from CIMA will certainly carry weight in pursuit of my ambition. Given the fact that TAR UC is CIMA's Global Learning Premium Partner and maximum exemptions accorded to TAR UC's Bachelor of Accounting (Hons) (11 out of 16 papers) by CIMA, studying in TAR UC was the smartest choice for me," he explained.
The young and determined graduate is working towards obtaining his CIMA qualification and Chartered Global Management Accountant ('CGMA') designation before he hits 30 years old. With this focus in mind, Kim Huat will be joining CIMA Malaysia as the Project Coordinator in mid May 2017 where he will be working towards acquiring valuable work experience while pursuing other relevant papers from CIMA.