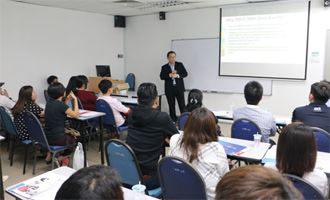 Mr Johan Lim (standing) presenting the MBA programme to the participants.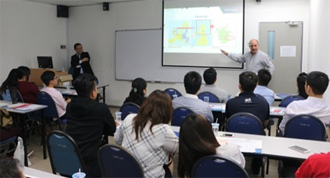 Mr Mammed Bagher (standing in white shirt) sharing about Edinburgh to the participants at the beginning of his presentation.
The participants visiting the postgraduate library.
TAR UC through the Centre of Postgraduate Studies and Research successfully held a comprehensive and informative preview on the Master of Business Administration ('MBA') programme on 26 April 2017. The programme preview aimed to provide the necessary information and unique features of TAR UC's MBA programme such as Dual Award to potential students who are planning to pursue their masters' degree in TAR UC.
Mr Johan Lim Kii Geat, Associate Dean of Management from the Faculty of Accountancy, Finance and Business ('FAFB') conducted the preview where he explained the programme's content and structure as well as the entry requirements. He also introduced the Dual Award arrangement with Edinburgh Napier University ('ENU'), UK after which Mr Mammed Bagher, Director of MBA Programmes, The Business School, ENU, continued by sharing more specific details about the Dual Award arrangement.
"Students pursuing the MBA programme will be required to attend a two-week workshop in ENU. Such arrangement provides a platform for students to interact with students from other countries in Asia, Europe and America. What you will learn is more than just the skills but looking at business with global perspective. In the two week period, you will be taken on business tours, visit cultural activities and festival as well as having the opportunity to hold discussions with our academic staff on your final project for the programme. After two weeks, you can either choose to continue the project at ENU or return to TAR UC to complete the final project," added Mr Mammed Bagher.
The Dual Award arrangement is incorporated in TAR UC's MBA programme to provide international perspective in today's globalised business world. This will help students to develop in them the required competencies to achieve business excellence with global sense which is valued highly in the industries worldwide. The study abroad in ENU also provides an avenue for TAR UC students to build strong network with their classmates from all over the world which will be synergistic in mapping their business ventures when they have graduated. Most important of all, students stand to receive two prestigious MBA qualifications, one from TAR UC and another from ENU and this will greatly enhance their career prospect locally and internationally.