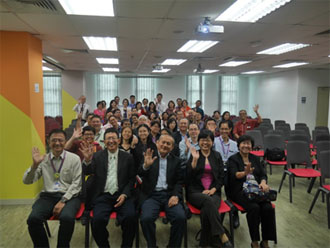 Professor Dr Leonard Yong (front row 2nd from left) giving a high five together with Datuk Dr Tan Chik Heok (front row middle) as well as Ms Kho Sok Kee (front row rightmost), Ms Say Sok Kwan (front row 2nd from right) and Dr Chook Ka Joo (front row leftmost), Vice Presidents of TAR UC
Professor Dr Leonard Yong emphasising key points in his talk
Datuk Dr Tan Chik Heok (left) presenting a token of appreciation to Professor Dr Leonard Yong
TAR UC alumnus, Professor Dr Leonard Yong, who gained international recognition for his ground-breaking work on Leonard Personality Inventory ('LPI') and its use in developing emotional intelligence and creativity, was in TAR UC Kuala Lumpur Main Campus on 2 May 2017 to give an insightful talk entitled "Identifying and Developing Entrepreneurship Using LPI Personality Analysis".
His talk touched on the archetypal traits of an entrepreneur and his behavioural makeup. The usual traits of an entrepreneur are, amongst others, being highly disciplined, confidence, open-minded, self-starter, competitive, strong work ethics, passion and creativity. He explained that personalities can be grouped into 5 core types which are identified as Creative Imaginator ('O'), Neutral Expert ('N'), Analytical Thinker ('A'), Relational Interactor ('R') and Decisive Decision Maker ('D'). From these 5 personalities, he went on to describe in details the 26 Leonard Personality Inventory profiles which are the permutations of the core personalities. Professor Dr Leonard Yong also shared that among the 5 groups Creative Imaginator or O is an important factor in an inventor or entrepreneur.
He also revealed an uplifting secret to the delight of the audience including Datuk Dr Tan Chik Heok, President of TAR UC. "Everyone has the entrepreneur's behaviour", he said. However, it is passion that makes a successful entrepreneur. Professor Dr Leonard Yong also encouraged students to embrace the spirit of entrepreneurship in order to continuously improve themselves as that would be the way for them to move forward.
Meanwhile, it was highlighted in the talk that Malaysia has many entrepreneurial talents but due to environmental factor, most of them have unfulfilled potential. To reverse such circumstance, a change in the environment would be necessary to stimulate entrepreneurship.
He added: "Entrepreneurship is about living. A real entrepreneur has passion and adds value to what he does". In addition to this, he also highlighted that a good mentor is also key in shaping an entrepreneur and a conducive environment such as an incubator is important to enable entrepreneurial spirit to flourish. He lauded TAR UC for having established the TARC Incubator to provide an excellent platform and ecosystem to nurture and promote entrepreneurship within the campus.
Before the end of the talk, Professor Dr Leonard Yong exhorted the audience to have healthy fun as this will help to fuel passion in what we do.