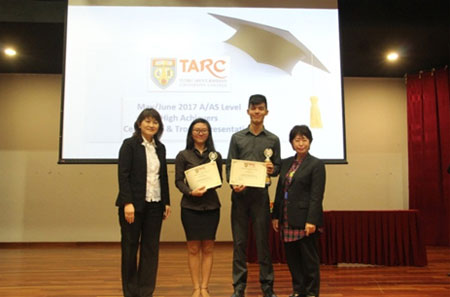 Best Overall Performers for A Level, Chong Kai Ling (second from left) and Woon Le Yu (second from right) with their awards and certificates, accompanied by Assoc Prof Dr Ng Swee Chin (leftmost) and Mdm Looi Li Chin, Head of CPUS (rightmost)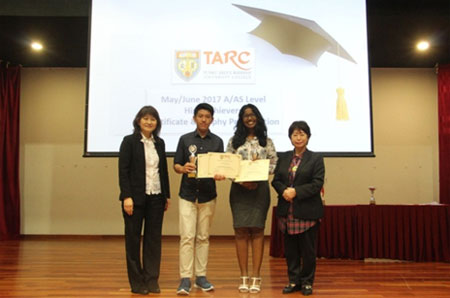 Best Overall Performers in AS Level, Isaac Kuek (second from left) and Lauren Ashley Lopez (second from right) with their awards and certificates, together with Assoc Prof Dr Ng Swee Chin (leftmost) and Mdm Looi Li Chin, Head of CPUS (rightmost)
Assoc Prof Dr Ng Swee Chin delivering her opening address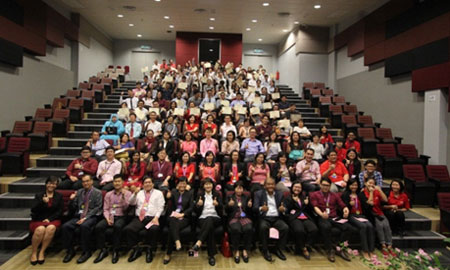 Group photo of A and AS Level high achievers with their family members, CPUS staff and TAR UC senior management
It was a day of celebration at the A and AS Level High Achievers Certificate Presentation Ceremony which was held on 17 August 2017 where 72 students from TAR UC?s Centre of Pre-University Studies (?CPUS?) were feted as high achievers in the recent May/June 2017 Cambridge GCE A level and AS level examinations.
?Several hundred thousands of students sit for the Cambridge A Level examination all over the world every year. But our students have regularly proven themselves to be the cream of the crop by winning awards in the prestigious Outstanding Cambridge Learner Awards. To date, our students have bagged Top in the World and Top in Malaysia for high achievement awards for Economics, Accounting, Mathematics, Further Mathematics, Business Studies, General Paper, Chinese Language and Computing,? said Assoc Prof Dr Ng Swee Chin in her opening address.
?The stellar results that you see today are a testament to our commitment to our students to provide them with an excellent and holistic education. While academic excellence remains our primary endeavour at TAR UC, a strong emphasis is also placed on the development of well-rounded individuals who are responsible, articulate, and community-minded; who can think and form their own opinions and who will be empowered to take leadership roles in the future.?
Dr Ng also highlighted that TAR UC?s Merit Scholarship which is given to deserving individuals had been awarded to a total of 464 A Level students in the past 4 years, to enable them to further their education and move closer to their goals in life.
The May/June 2017 examination sitting saw a pass percentage of an impressive 92.0% for A level and 23.0% of the cohort scoring AAB and above. 11 high achievers were presented with a certificate and a trophy for their accomplishment. Equally impressive was the AS level pass percentage at an astounding 95.0%! Out of this cohort, 42.0% of students managed to achieve excellent results of aab and above. A total of 61 high achievers were presented with a certificate for their achievement.
The highlight of the ceremony was the presentation of the Best Overall Performance Award. Having scored 3?A*?s and 1?A?, Woon Le Yu was the recipient of the prize for A Level (Science) and also the CPUS Top Achievement Cup. ?Being generously equipped with many facilities amidst the lush hilly greenery, TAR UC has provided us with a conducive study environment unlike any other,? said Le Yu during his valedictorian speech.
Meanwhile, Chong Kai Ling emerged top for A Level (Arts), scoring 2?A*?s and 2?A?s. ?TAR UC has always provided us with a fair and healthy competitive environment in every field be it academic or extra-curricular activity and has always encouraged us to do our best or strive for perfection in everything we do,? she said.
The duo also took the opportunity to thank their lecturers for all their hard work and dedication which extended beyond the classroom and in many aspects of the students? lives. ?The classes that we attended were not only where memories were created, but also where we learned invaluable skills from the lecturers,? said Kai Ling.
As for AS Level, the best overall performers for AS Level were Isaac Kuek Tern Ern (Arts) and Lauren Ashley Lopez (Science) and both scored a remarkable 5?a?s.