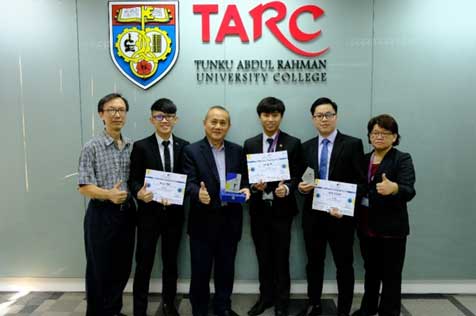 Proud team members showing off their certificates and trophy during a photography session.
From left: Mr Koh Kim Siang, Deputy Dean of the Faculty of Accountancy, Finance and Business ('FAFB'), Ong Jea Tiong, Datuk Dr Tan Chik Heok, President of TAR UC, Lim Jing Jie, Phang Yu Shang, Ms Wong Hwa Kiong, Dean of FAFB.
Hot on the heels of many wins in regional industry competitions, TAR UC Bachelor of Commerce students – Lim Jing Jie and Ong Jea Tiong as well as Phang Yu Sheng from the Bachelor of Finance and Investment programme fuel the winning streak by clinching Champion title in the 17th Indonesia Capital Market Student Studies which was held from 18 – 24 February 2018 in Jakarta, Indonesia.
Through sheer determination and a will to succeed, they were able to beat 23 other teams from Pakistan, Indonesia, Vietnam and Philippines. During an interview, the trio admitted that it was an uphill climb to success as the team, the sole representative for Malaysia, faced many challenges leading up to the final stage.
"The announcement for the Top 24 teams came during semester break and we did not have enough time to meet up for any discussions. Everything was done online and we only rehearsed the night before the actual presentation," commented Lim Jing Jie.
"The regular practice we had on doing presentations during tutorial sessions helped us a lot. We all knew what to do during the presentation and we were able to deliver the slides professionally. The syllabus covered is very practically and useful. For instance, the Porter's Five Forces of Competitive Position Analysis we learnt in our lecture was used to study the industry and some important financial ratios learnt were very helpful to highlight some key areas of the companies," he added.
When asked about their winning strategy, Phang Yu Shang shared that it was by leveraging on the strength of each team member. "Each of us focused on our own strength and capability. Communication was key. We made sure to voice our opinion and took note on critical information provided."
"The most significant takeaway for me from this competition is the industry knowledge which I can't learn from the classroom," said Ong Jea Tiong. "I didn't have sufficient knowledge in the field of investment when I was doing research for my part of the presentation. To overcome this, I did everything I could to gain more insight in this field. I have now come to realise the importance of investment after spending one week on this fruitful trip."
The Indonesia Capital Market Student Studies ('ICMSS') is the biggest and longest running annual international capital market event organised by the Management Student Society, Faculty of Economics and Business, University of Indonesia and supported by the Indonesia Stock Exchange, CFA Society Indonesia and ICMSS partners.
Held for the 17th year, this year's grand theme 'Infrastructure Financing: Securing National Development through Financial Markets' discussed the role of the financial market plays its role as the intermediary for investors and borrowers in seeking sources of funds for infrastructure projects.