Lee Jye Yong is the first TAR UC student who achieved the third highest mark worldwide for the five professional level papers.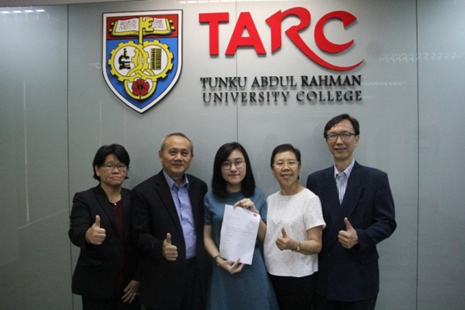 (From left): Ms Wong Hwa Kiong, Dean of the Faculty of Accountancy, Finance and Business ('FAFB'), Datuk Dr Tan Chik Heok, President of TAR UC, Lee Jye Yong, Assoc. Prof Dr Wong Pik Har, Department of Finance and Mr Koh Kim Siang, Deputy Dean of FAFB
The thought of emerging as a top scorer in the ACCA examination had never crossed Lee Jye Yong's mind. As it turned out, the Bachelor of Commerce (Hons) graduate was over the moon when she was notified that she achieved Third Top ACCA Affiliate in the World in the June 2017 examination, setting a new record for TAR UC as the first student to obtain a Top Affiliate Prize at global level.
"I did not expect to achieve any prize because I wasn't a top scorer in previous papers," shared Jye Yong. "All I wanted to do was to pass my ACCA examination so I put every effort into getting through it. The pain of studying is short but rewarding in the long run. This achievement is proof that all my hard work has paid off".
Beginning a new chapter in her life at Deloitte Malaysia, Jye Yong is thrilled to be entering the working world and aspires to become a chartered accountant. She also hopes that she can one day contribute back to her family and her schools especially TAR UC for helping shape her future.
"TAR UC is widely known as ACCA's Platinum Approved Learning Partner and with its internally assessed programme, it provides the fastest route for me to complete my ACCA papers," she said. "My lecturers and tutors were very knowledgeable and experienced which helped equip me with the necessary knowledge needed to sit for the examination. My coursework and internal examinations proved challenging but under their guidance, it helped me tremendously when preparing for the external ACCA papers".
"Study everything. Cover the entire syllabus instead of trying to spot possible questions," advised Jye Yong. "During the examination, it is important to keep track of time to ensure that you have sufficient time to answer all questions."
Apart from that, Jye Yong also commended the facilities and infrastructure offered by the University College which provided her with a conducive study environment, allowing her to develop a healthy and balanced lifestyle.