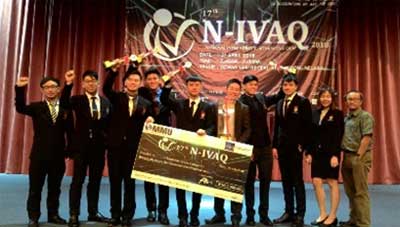 Members of the Champion team from TAR UC celebrating their victory with another team from TAR UC who took part in the competition (from left to right): Yap Wei Yik and Carlos Wong Fook Chin who are members of the other team from TAR UC, Fung Wilson, Chang Yee Kein, Ng Peng Feng, Mr Chuah Chin Leong, Associate Dean of the Department of Professional Accountancy, Teo Loi Pin, Yong Kar Jun and Chang How Yan who are members of the other TAR UC team as well as Mr Lim Ching Teck, Senior Lecturer of the Department of Professional Accountancy.
TAR UC defended the Champion title in the 17th National Inter-Varsity Accounting Quiz 2018 when four of its students emerged as the top team in the national level quiz which took place on 21 April 2018. This annually held quiz is organised by the Accounting Club of Multimedia University Melaka Campus in collaboration with the Malaysian Institute of Accountants ('MIA').
Students Ng Peng Feng, Teo Loi Pin, Fung Wilson and Chang Yee Kein who are all pursuing the Bachelor of Commerce (Hons) in TAR UC won the Champion title for TAR UC in the face of the stiff competition from more than 50 teams hailing from 32 public and private institutions of higher learning. Participants had to get through the qualifying round which consisted of 60 multiple choice questions and 1 structured question all of which had to be completed within 1 hour 15 minutes. The top 20 teams from the qualifying round were chosen to advance to the semi-final which required participants to answer 10 subjective questions. 5 top teams from the semi-final round then proceeded to the final round where they presented their findings and analysis based on a case study to a panel of judges.
Fung Wilson shared what encouraged him and his team members to participate in the competition. "As all of us are currently doing our internship, so we had very little time to prepare for the competition. One may ask why then do we want to stress ourselves to enter this competition. As a team, we saw the benefits of participating in this quiz where we had the opportunity to build networks with students from other institutions as well as to put to test the quality of TAR UC?s education. This win is a proof to me and the rest of the team that TAR UC's academic programmes are very much industry-relevant and prepares us very well to face the challenges of the professional world once we graduate," he explained.
"Lack of time to prepare for the competition was a major setback for us. So we focused on our strengths that we have built up in TAR UC such as our presentation and communication skills. During the semi-final and final rounds, we ensured that we elaborated our answers in detail so that the judges understood our explanations. The experience of presenting many times in front of our classes was very useful for us in this competition. In addition, there is no doubt that our lecturers are our true pillars of strength as they constantly motivate us to give our best and guide us on how to prepare and answer the questions in the competition," Fung Wilson added.
The Champion team won for themselves cash prize of RM1,500 and the overall Champion trophy besides individual trophy for each of the team members.