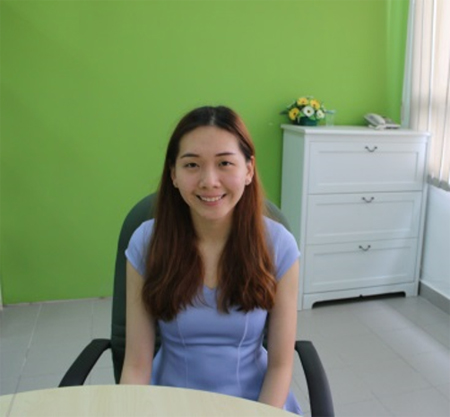 Chiew Hua King, the top scorer in ACCA Paper P3 Business Analysis.
Over the years, TAR UC has produced many top scorers in the ACCA examinations. Adding on to the list of accolades is the recent achievement made by a graduate of the Bachelor of Accounting (Hons) programme, Chiew Hua King. She emerged Top in Malaysia and Sixth in the World for Paper P3 Business Analysis, which she sat for in the ACCA Sept 2017 examinations.
She had much to say about her unexpected achievement in the paper. "I did not expect to achieve any prize because I was not a top scorer in the previous 2 papers, which were P1 and P2. All I wanted to do was just to pass my ACCA examination. So I put a lot of effort into it. Thus, I did a lot of past year questions and read the examination techniques in order for me to get familiarised with the P3 examination technique. At last, this achievement proved that all my hard work had paid off. I hope that one day I can contribute back to my family and TAR UC for helping me shape my future."
When asked how she felt about studying at TAR UC. She said: "TAR UC is known as an ACCA Platinum Approved Learning Partner, which places the University College among the world's top 5% of ACCA tuition providers. This also translates to the fact that the lectures and tutors here are very knowledgeable and experienced. They have equipped me with all the necessary skills and knowledge that are required to do well in the examination.
"My advice is to study everything that is important. This means to cover the entire syllabus instead of relying on tips. Also, the key to passing the ACCA examinations is to keep doing as practice makes perfect. And try not to memorise the answers as understanding the syllabus is everything," she said.
In the near future, this young lady wishes to break into a new industry to learn a new set of skills and to gain experience in leadership. As for long term plans, she wishes to continue her studies by pursuing an MBA or a Master's degree.