It is designed to:
Produce graduates with the requisite technical knowledge, essential soft skills and computer literacy and attributes to pursue a career in the accountancy and finance profession.
Equip graduates with managerial and entrepreneurial skills that will prepare them for both employment and self employment.
Produce graduates who possess strong professional ethical values and positive attitudes expected of professionally qualified accountants particularly that of independence of thought and judgment.
Provide students with holistic education that not only motivates them to pursue higher level of study and life long learning but also to be able to articulate ideas independently.
Principles of Accounting
Economics
Quantitative Studies
Organisation & Management
IT Fundamentals and Applications
Financial Accounting
Management Accounting
Principles of Taxation
Business & Corporate Law
Principles of Auditing
Taxation
Financial Reporting
Enterprise Resource Planning
Principles of Marketing
Elective I
Audit & Assurance

Financial Management
Entrepreneurship
Financial & Controlling Applications
Professional Skills for Managers
Elective II
Industrial Training
Elective III
Strategic Business Management
Strategic Business Reporting
Strategic Business Leader
** Advanced Financial Management
** Advanced Performance Management
**Advanced Taxation
**Advanced Audit & Assurance
Financial Decision Making

Compulsory Courses:
English Language, English for Communication, English for Management, Tamadun Islam dan Asia, Critical Thinking, Hubungan Etnik, Contemporary Malaysian Issues, Bahasa Kebangsaan A, Co-curricular.

** Specialist Electives- Options of 2 out of 4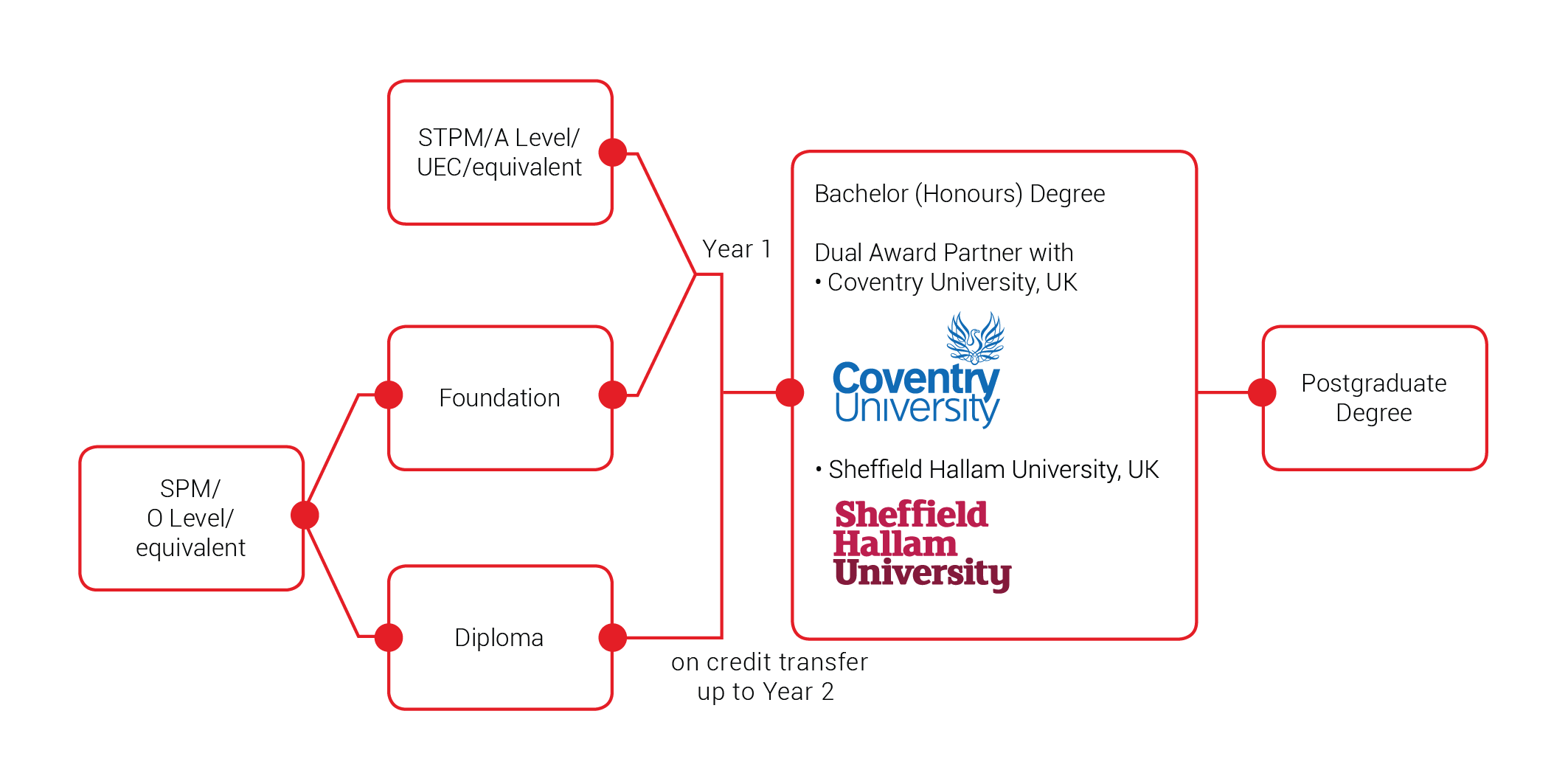 The First and Second year of this bachelor programme are ACCA Internally Assessed Programme. Upon successful completion of the First and Second year of the programme, students can apply for exemptions from ACCA Fundamentals Papers F1 – F9. Students are prepared to sit for the ACCA Professional Level Papers in the Third/ Final Year of the programme.
Click here to find out more about ACCA accreditation.
Graduates of Bachelor of Commerce (Honours) are able to advance to postgraduate studies in the relevant field.
Click here for more progression pathways.
For more information about Dual Award, click here
Career prospects for graduates of Bachelor of Commerce (Honours) are wide and varied. There are excellent career opportunities awaiting graduates of this programme in public practice, commerce and industry, public sector and statutory organizations.