Programme Overview:
This programme entails knowledge and skills for the technical understanding, writing, scripting, presenting and organising of traditional and new broadcast media. There are also specific courses designed to enhance the depth of knowledge and appreciation of the broadcast communication industry, like Film Appreciation, Criticism and Interpretation, Cinematography and Visual Communication, Production and Multimedia, Radio Journalism, Communication Technology, Communication Theories as well as application in Audio, Television and Video Production. Students will engage in all aspects of the creation and production works.
Duration:
3 Years
Intake:
YEAR 1 : JUNE
YEAR 2 : JUNE & NOV
Campus:
Kuala Lumpur Campus KL (R2/0323/6/0096A)(09/28)(MQA/FA3939)
General Progression Route:

Programme Outline:
Introduction to Mass Communication

Audio Production

Scripting (Audio)

Scripting (Video)

Video Production

Introduction to Film

Cinematography & Visual Communication

Communication Theories

Communication Research Methods

Audio and Video Editing

Production and Multimedia

Rhetoric

Television Production

Statistical Analysis for Communication

Film Appreciation, Criticism & Interpretation

Radio Journalism

Broadcast Communication Research

Camera for Broadcast and Film

Broadcasting Industrial Attachment

Communication Technology : Policy & Planning OR Media Audiences OR Web Design and Streaming Media

TV Journalism

Documentary Production OR Media Management

Politics and the Media

Final Year Project: Screen Production OR Final Year Project: Applied Broadcast Project

Malaysia : Religious & Cultural Practices
Compulsory courses:
Penghayatan Etika dan Peradaban / Bahasa Melayu Komunikasi 2, Falsafah dan Isu Semasa / Philosophy and Contemporary Issues, Critical Thinking, Bahasa Kebangsaan A, Contemporary Malaysian Issues, Co-curricular, English For Tertiary Studies, Academic English, English For Career Preparation
Entry Requirements: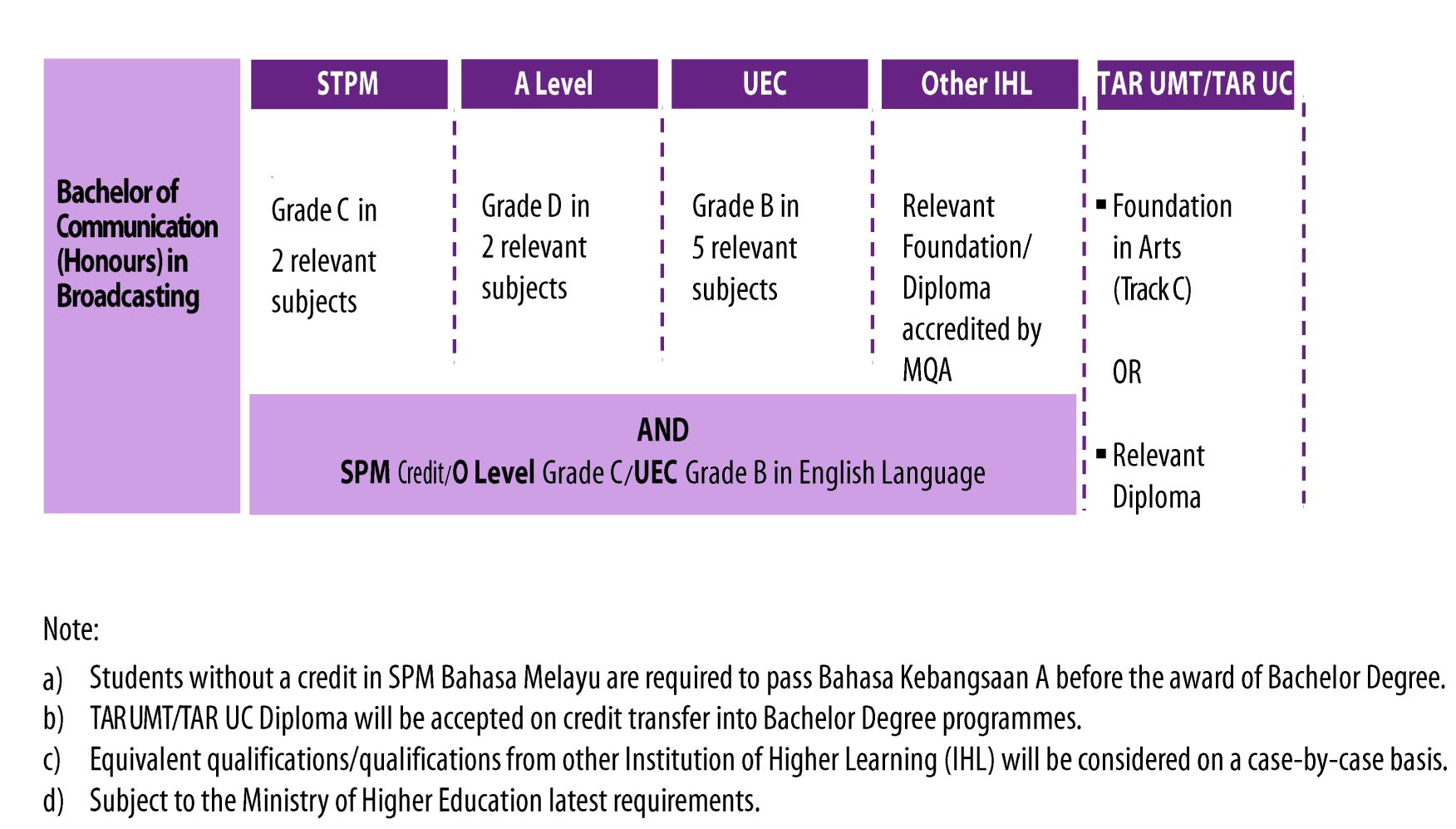 Career Prospects:
Broadcast News Analyst

Media Planner

Multimedia Artist, Animator, Creative Director

Producer/Director-Stage, Motion Pictures, Television and Radio

Radio & Television Announcer

Reporter & Correspondent, journalist

Web developer or Web Designer
Fees & Financial Aid:
Estimated Total Fees: RM 34,300 (Malaysian Students), RM59,900 (International Students)
The estimated total fees may vary by 10%.
For more information on fees, click here.
To find out more, click here.
To find out more, click here.
Financial Aid
For more information on Financial aid, click here.
Contact Information:
Puan Hazwani Husna Binti Zainal Abu
Email:

hazwanihusna@tarc.edu.my
Puan Khairana Binti Sabtu
Email:
khairana@tarc.edu.my