Programme Overview:
This programme aims to impart knowledge and develop skills in studio-based design process and techniques which enable graduates to choose in and perform a wide range of career setting relevant to various media related industries.
Multimedia design is an ever-evolving field. In order to thrive in such an industry, graduates are not only equipped with the skills and knowledge required, but also the ability to improve and adopt to the evolving industry. The programme constantly makes improvement in terms of technological advancement as well as design trend to compare and compete on industrial level.
We are locally and international recognized; graduates are widely accepted by local and creative industries overseas. The programme actively supports participation in creative workshops, events and competitions and has been awarded with numerous achievements. The programme also includes a 3-months internship period, allowing students to practically experiences and involve themselves in managing industrial level projects.
Duration:
3 Years
Intakes:
June& November
Campus:
Kuala Lumpur Main Campus (R/213/6/0147)(09/23)(MQA/FA 3880)
General Progression Route:

Programme Outline:
Introduction to Arts

Fundamentals of Design

Image Manipulation

Drawing

Design Thinking

Interactive Web Design

Digital Illustration

Basic Photography

2D Animation

Information & Interface Design

Digital Video Production

Photomedia

Web Programming

Painting Techniques OR Applied Photography

Arts Law

Audio Design

Motion Graphics

Content Management

3D Animation

Sculpture OR Editorial Design

Industrial Training

Research Methodology in Arts

Project Management

Web Technology

New Media

Media & Innovation

Digital Media Project

Design & Society

Integrated Marketing Communication

Type in Motion OR Fashion Accessories
Language, Mata Pelajaran Pengajian Umum (MPU) and Co-curricular Courses:
Bahasa Kebangsaan A, English for Tertiary Studies, Academic English, English for Career Preparation, Tamadun Islam dan Asia, Contemporary Malaysian Issues, Hubungan Etnik, Critical Thinking, *Co-curricular
*Co-Curricular Courses can be taken in any semester of the study
Entry Requirements: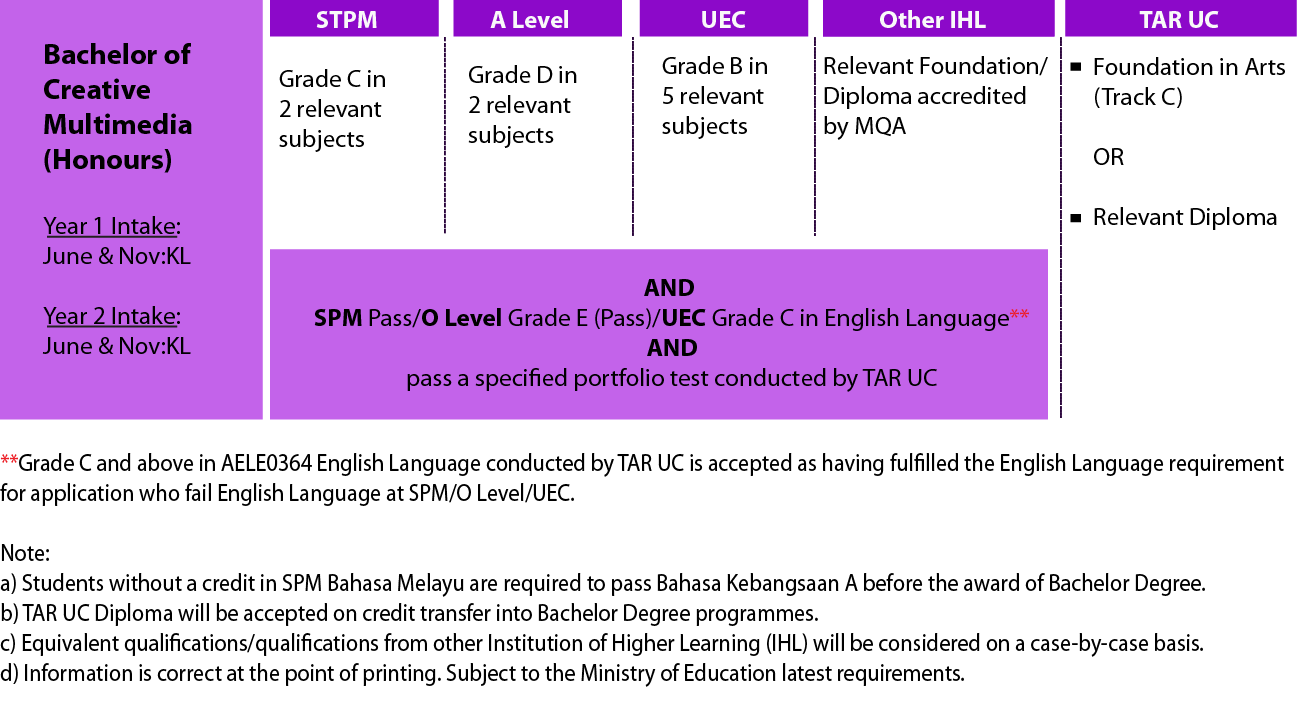 Career Prospects:
Interactive Media Artists / Designers

UX & Web Designers

Mobile Application Developers

Social Media Activists / Content Designers

2D / 3D Animators

Motion Designers

Digital Filmmakers / Editors

Post Production Designers / Compositors

Instructional Designers / Game Designers

Educators

Creative Technologies

Creative Entrepreneurs
Fees & Financial Aid:
Estimated Total Fees: RM35,600 (Malaysian Students), RM62,100 (International Students)
The estimated total fees may vary by 10%.
For more information on fees, click here.
To find out more, click here.
To find out more, click here.
Financial Aid
For more information on Financial aid, click here.
Contact Information:
Multimedia Design
Email:

cfyong@tarc.edu.my
Email:
Yongfy@tarc.edu.my