Programme Overview:
This programme integrates theoretical and specialized practical knowledge to prepare students for careers in the fashion industry. Professional seeking to upgrade skills in apparel construction, pattern making, draping, tailoring and other related fashion design related areas can also pursue this programme for career enhancement. The curriculum blends creative and intellectual approaches to visual-design innovations encompassing learning in both traditional and computer-generated designs. This stimulates students to develop their own sense of design and style and enable graduated to excel in the competitive local and international fashion industry.
This programme is designed with a focus on acquiring the technical and professional skills required by the fashion industry. At the same time, it hones students personal fashion signature and prepares them for entry-level employment namely costume designer, assistant fashion buyer, fashion designer or seamstress.
Whether you want to make your mark as a designer, fashion stylist, or the force behind driving demand for the latest designs, this programme ensures that you will be all prepared for a thriving and creative industry.
Duration:
3 Years
Intakes:
YEAR 1 : JUNE & NOV
YEAR 2 : JUNE & NOV
Campus:
Kuala Lumpur Main Campus (R/214/6/0096)(09/23)(MQA/FA 3879)
General Progression Route:

Programme Outline:
Introduction to Art

Fundamentals of Fashion Design

Garment & Pattern Construction 1

Figure Drawing for Fashion

History of Costume

Fashion Design Illustration

Fashion Design Concepts OR Print Design

Basic Photography OR Digital Illustration

Colour Theory

Draping 1

Garment & Pattern Construction II

Software Application for Fashion

Advanced Fashion Design Illustration

Painting Techniques OR Applied Photography

Research For Arts & Design

Malaysia Costumes & Cultural Studies

Textile: Exploration and Practices

Draping II

Fashion Buying & Merchandising

Sculpture OR Batik Appreciation

Industrial Training

Media & Advertising for Fashion

Garment & Pattern Construction III

Fashion Design Project Planning

Fashion Embroidery

Fashion Business Management

Fashion Design Project & Portfolio

Fashion Event Management

Design & Society

Type in Motion OR Fashion Accessories

Professional Practices for Designers
Compulsory courses:
Penghayatan Etika dan Peradaban / Bahasa Melayu Komunikasi 2, Falsafah dan Isu Semasa / Philosophy and Contemporary Issues, Critical Thinking, Bahasa Kebangsaan A, Contemporary Malaysian Issues, Co-curricular, English For Tertiary Studies, Academic English, English For Career Preparation
Entry Requirements: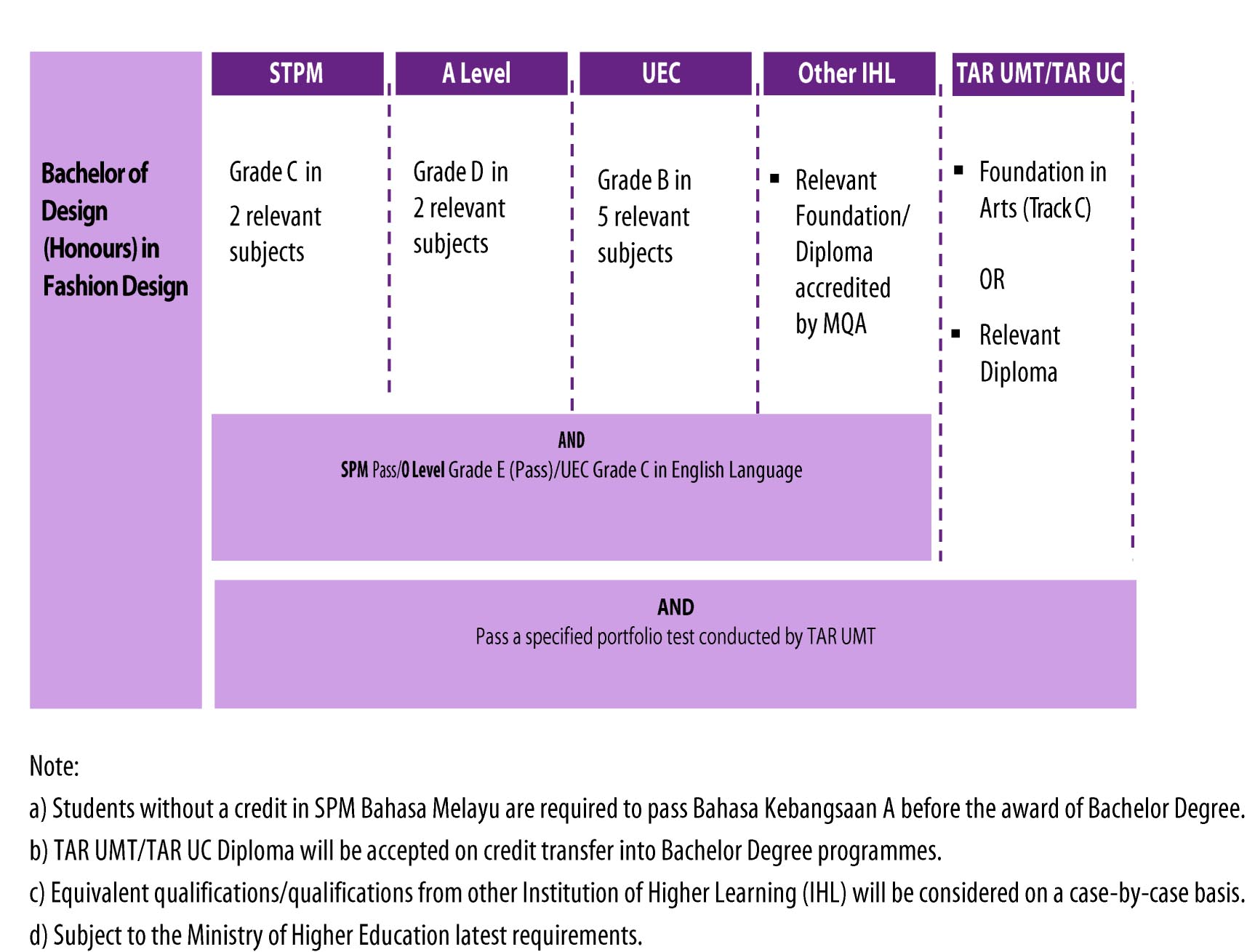 Career Prospects:
Fashion & Image Consultant

Fashion & Apparel Designers

Garment Manufacturing Designers

Garment and Textile Designers

Fashion Designers

Fashion and Textile Buyers

Fashion and Textile Merchandisers

Costume for Performing Arts Designers

Fashion Retails

Retail Buyers

Pattern & Marker Makers
Visual Merchandisers

Fashion Event Organisers

Production Assistants
Fashion Stylists
Fashion Illustrators
Wardrobe Assistants
Fees & Financial Aid :
Estimated Total Fees: RM35,300 (Malaysian Students), RM61,800 (International Students)
The estimated total fees may vary by 10%.
For more information on fees, click here.
To find out more, click here.
To find out more, click here.
Financial Aid
For more information on Financial aid, click here.
Contact Information:
Fashion Design
Mr. Jamalruddin Bin Zamahuri
En. Raja Iskandar Shazrim Shah B. Raja Shahriman