Programme Overview:
The Bachelor of Design (Honours) in Graphic Design programme nurtures your design capabilities across a range of creative industry-relevant practices from commercial, education, to the environment, cultural, and communities. The programme focuses on graphical aspects of print, illustration and interactive design which contributes to the problem-solving challenges in any area of visual communication.
Throughout the programme, you will develop skills in design management, creative portfolio and design research. You will be managing a range of group and individual projects, in which you will demonstrate effective organisation and production of your work. Courses offered focus on moving you from broad-based learning to your own design research investigations, where you will focus on your specialism in preparation for your final year graduation showcase project.
The programme also encompasses a semester of industrial training as you will be attached to an established industry network, helping you to gain insights and skills you need as an industry-ready graduate. During your internship, you will further develop and enhance your portfolio needs, preparing for a better future career prospect.
Duration:
3 Years
Intakes:
YEAR 1 : JUNE & NOV
YEAR 2 : JUNE & NOV
Campus:
Kuala Lumpur Campus (R/213/6/0146)(09/23)(MQA/FA 3936)
General Progression Route:

Programme Outline:
Basic Software Application for Designers

Fundamentals of Design

Colour Theory

Drawing

Introduction to Art

Basic Photography

Layout & Typography

Illustration & Concept OR Fashion Design Illustration

Print Design

Digital Typography OR Batik Appreciation

Design Thinking

Information Graphics

Packaging Design

Painting Techniques OR Applied Photography

Research For Arts & Design

Corporate Identity & Branding

Advertising & Design

Digital Visualization

Sales Promotion Design

Sculpture OR Editorial Design

Industrial Training

Graphic Design Project Management

Web Design & Production

Publication Design

Exhibition Management & Implementation

Interactive Multimedia

Graphic Design Project & Portfolio

Design & Society

Type in Motion OR Fashion Accessories

Professional Practices for Designers
Compulsory courses:
Penghayatan Etika dan Peradaban / Bahasa Melayu Komunikasi 2, Falsafah dan Isu Semasa / Philosophy and Contemporary Issues, Critical Thinking, Bahasa Kebangsaan A, Contemporary Malaysian Issues, Co-curricular, English For Tertiary Studies, Academic English, English For Career Preparation
Entry Requirements: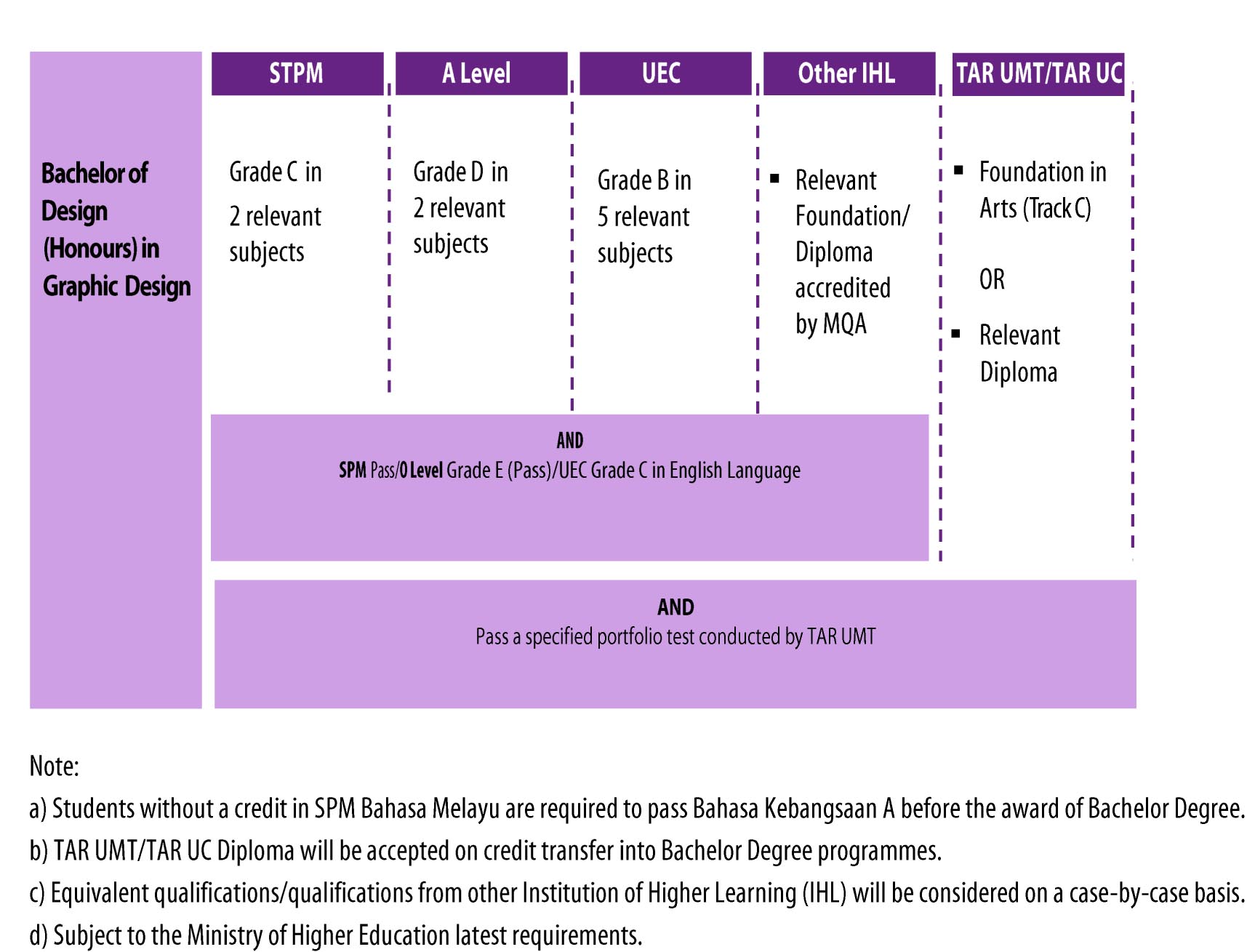 Career Prospects:
Educators

Visualisers

Illustrators

Typographers

Art Directors

Photographers

Brand Designers

Signage Designers

Graphic Designers

Design Consultants

In-House Designers

Packaging Designers

Web Page Designers

Marketing Managers

Interaction Designers

General Merchandisers

Instructional Designers

Event Display Designers

Communication Designers

Sales Promotion Designers

Advertising Agencies & Publishing Agencies
Fees & Financial Aid:
Estimated Total Fees: RM35,100 (Malaysian Students), RM61,400 (International Students)
The estimated total fees may vary by 10%.
For more information on fees, click here.
To find out more, click here.
To find out more, click here.
Financial Aid
For more information on Financial aid, click here.
Contact Information:
Graphic Design
Ms. Sim Fei Chin Jacqueline