Programme Overview:
This programme develops students' practical expertise in formulating media strategies, managing and running PR campaigns, producing PR write-­ups and promotional material. To produce PR professionals, media liaisons and strategic managers, it entails courses in corporate communication, integrated marketing communication, crisis management, employee and community relations, public opinion, advertising, social media, ethics, in both the Malaysian and global contexts. Students' experiential skills are enhanced via case studies, campaigns and internship.
Duration:
3 Years
Intake:
YEAR 1 : JUNE (KL&PG)
YEAR 2 : JUNE (KL&PG)
*Only offered in Kuala Lumpur Campus (KL) & Penang Branch (PG)
Campus:
Kuala Lumpur Campus KL (R2/0323/6/0101A)(10/28)(MQA/FA3940)
Penang Branch (N/321/6/0251)(01/25)(MQA/FA 12307)
General Progression Route:

Entry Requirements: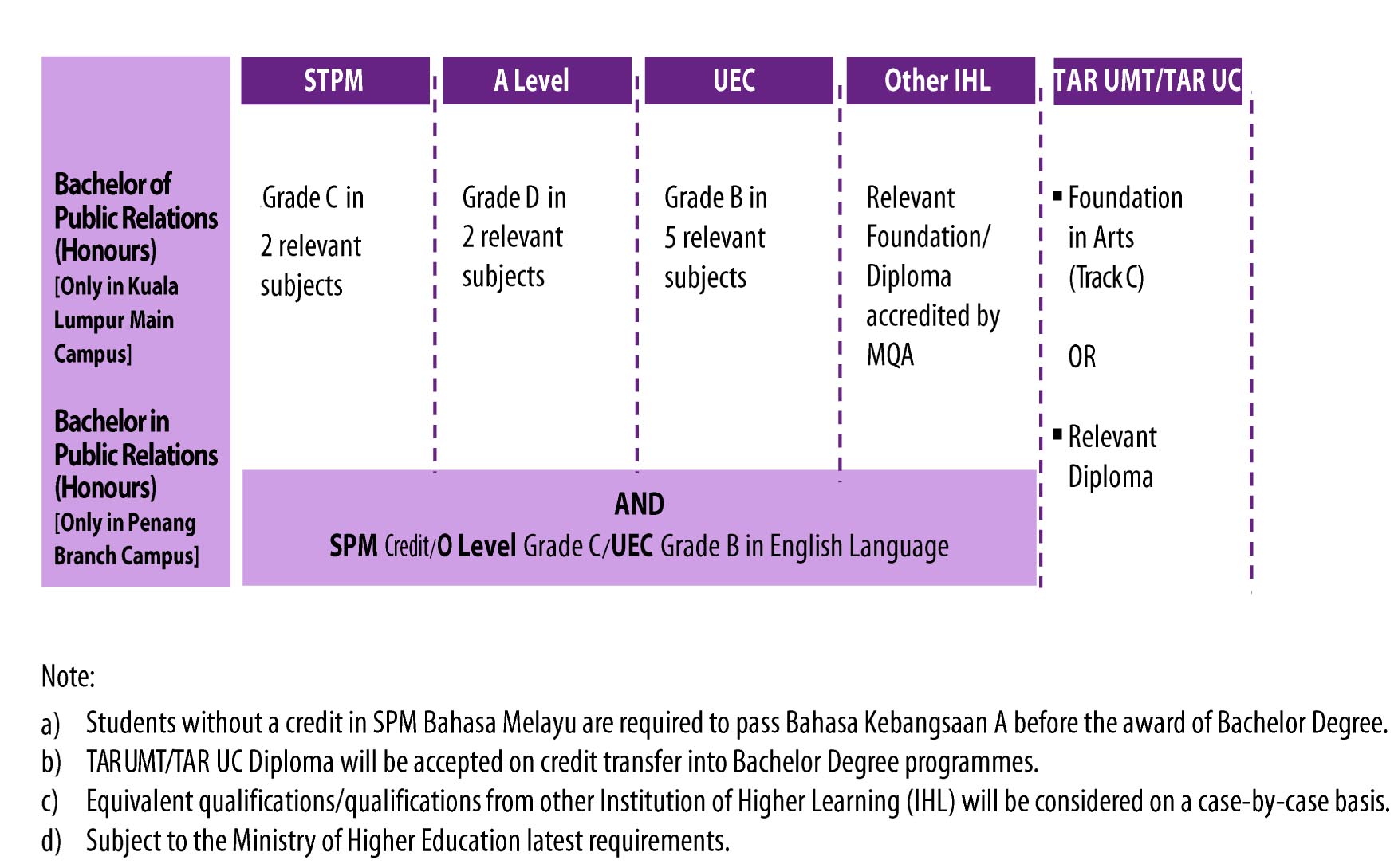 Career Prospects:
PR Department and Consultancy

Ads and Marketing Firm

Media Companies

Event Management

Corporate Communication

Hospitality and Service Industries

Banks

A Myriad of Service Providers
Fees & Financial Aid:
Estimated Total Fees: RM 33,200 (Malaysian Students), RM58,500 (International Students)
The estimated total fees may vary by 10%.
For more information on fees, click here.
To find out more, click here.
To find out more, click here.
Financial Aid
For more information on Financial aid, click here.
Contact Information:
Public Relations