Programme Overview:
This programme aims to provide students a holistic exposure of media especially in this era of convergence. Students will have greater understanding of the mass media – their functions, impact and future direction. Students will also acquire writing, speaking and audio-visual production skills that enhance their employment for the multifaceted media industries.
Duration:
2 Years
Intakes:
June & November
Academic Progression:
Graduates may be admitted into Year 2 of Bachelor of Communication Studies (Honours).
Campus:
Perak Branch Campus (R/321/4/0213)(04/27)(MQA/FA 7542)
Programme Outline:
Introduction to Communication and Media Studies

Public Speaking Skills

Fundamentals of Journalism

Communication, Culture and Society

Media Writing 1

Fundamentals of Advertising

Introduction to Electronic Publishing

The New Media

Fundamentals of Public Relations

Media Writing 2

Introduction to Communication Theories and Research

Basic Photography Skills

Music Appreciation (Elective) or Introduction to Drama (Elective)

Malaysian Legal Framework and Policies in Communication

Social Media and Applications

Basic Publication Skills

Basic Video Production

Persuasive Communication

Industrial Attachment
Language, Mata Pelajaran Pengajian Umum (MPU) and Co-curricular Courses:
English for Tertiary Studies, Academic English, Professional English, Pengajian Malaysia 2, Bahasa Kebangsaan A, Social and Work Etiquette, Civic Consciousness and Volunteerism,

*

Co-curricular
*Co-Curricular Courses (Year 1 Semester 1)
Minimum Entry Requirements: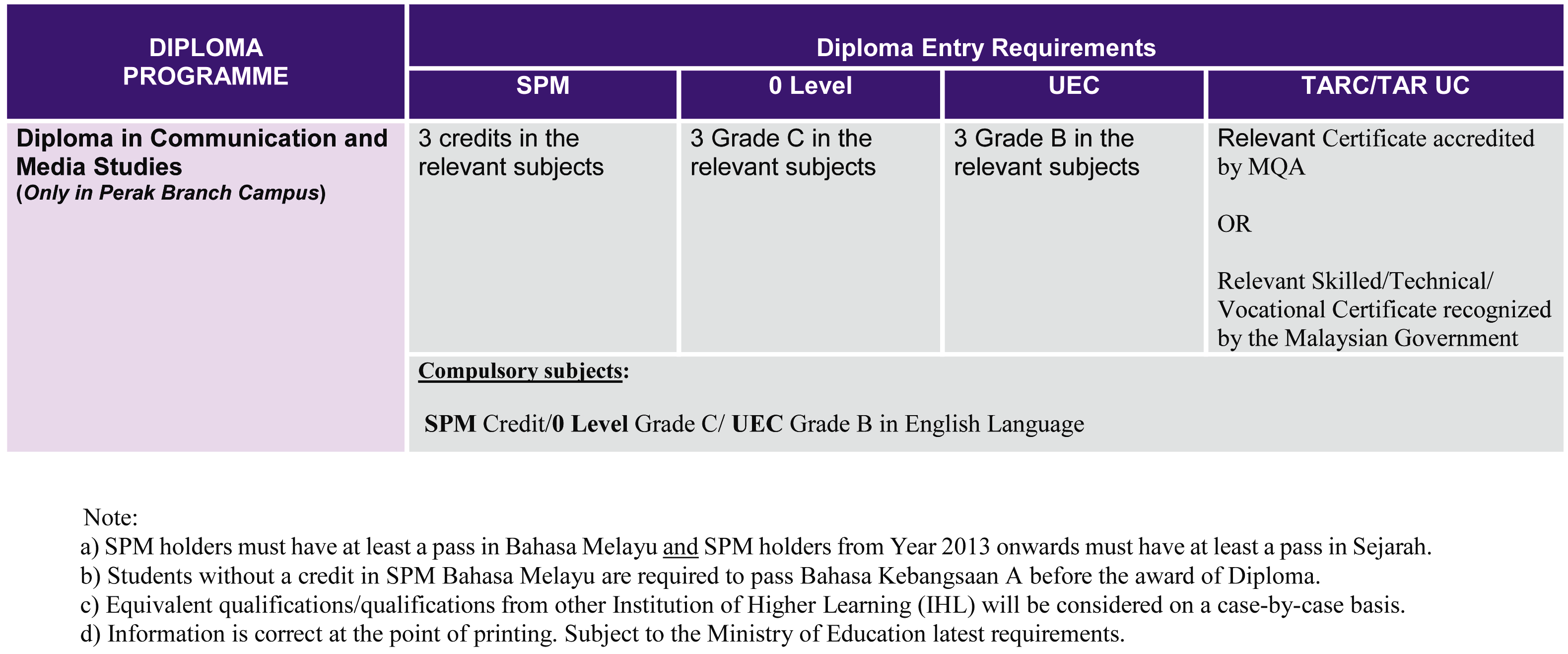 Fees & Financial aid:
Estimated Total Fees: RM18,200 (Malaysian Students)
The estimated total fees may vary by 10%.
For more information on the fees, click here.
To find out more, click here.
To find out more, click here.
Financial Aid
For more information on Financial aid, click here.
Contact Information:
Communication & Media Studies