Programme Overview:
This programme works as a key entry into the world of graphic design where it engages students with creative talent, guiding them to the next level through the training of strong technical skills in conceptual development and design processes. Students will indulge into creative areas such as advertising layout, illustration, typography, photography, commercial design, infographic, digital imaging with specialised skills in both print and digital media.
Duration:
2 Years
Intake:
JUNE
Campus:
Kuala Lumpur Campus KL(R2/213/4/0139)(08/28)(AA0084)
Academic Progression:
Graduates may be admitted into Year 2 of Bachelor of Design (Honours) in Graphic Design.
General Progression Route:

Programme Outline:
Introduction to Information Technology

Creative & Critical Thinking

Design Fundamentals

Drawing Dry Media

Introduction to Art

Basic Photography

Colour Studies

Design for Print

Introduction to Advertising

Drawing: Wet Media

Typography

Fundamentals of Web Page OR Introduction to Drama

Arts Law

Applied Photography

Drawing: Mixed Media

Digital Typography

Packaging Design

Digital Illustration OR Music Appreciation

Design for Creative Industry

Print Production

Commercial Design

Editorial Design

Exhibit Design

Graphic Design Final Project
Compulsory courses:
Penghayatan Etika dan Peradaban / Bahasa Melayu Komunikasi 1, Social and Work Etiquette, Bahasa Kebangsaan A, Civic Consciousness and Volunteerism, Co-curricular, English For Tertiary Studies, Academic English, Professional English
Minimum Entry Requirements: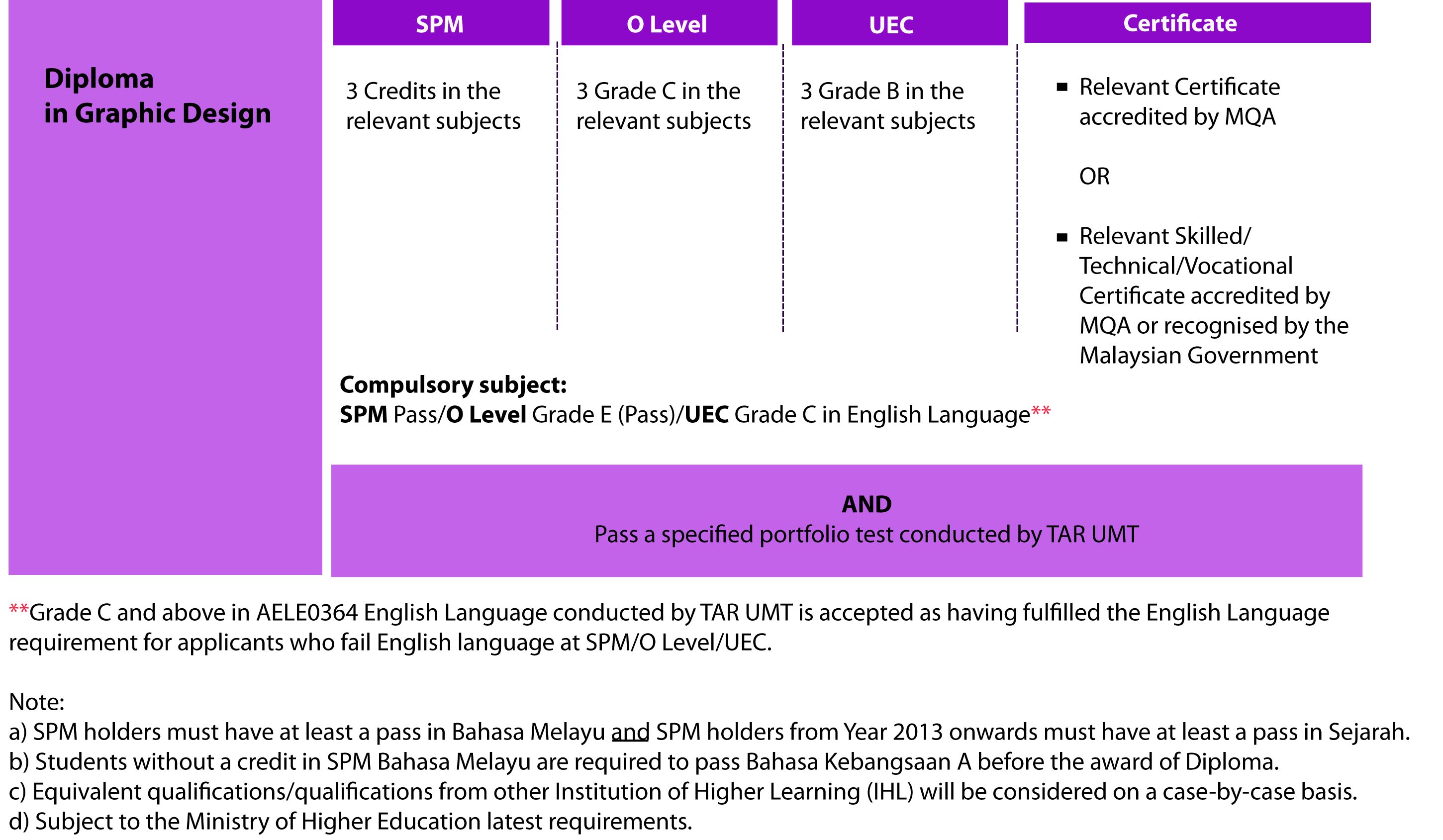 Career Prospects:
Visualisers

Illustrators

Photographers

Signage Designers

Graphic Designers

In-House Designers

Character Designers

Typography Designers

Web Page Designers

General Merchandisers

Instructional Designers

Event Display Designers

Sale Promotion Designers

Support staff in Mass Media Organisation

Advertising Agencies & Publishing Agencies

Graduates may work in a range of profession related to advertising, publishing, packaging design or printing
Fees & Financial aids:
Estimated Total Fees: RM 18,500 (Malaysian Students), RM34,900 (International Students)
The estimated total fees may vary by 10%.
For more information on the fees, click here.
To find out more, click here.
To find out more, click here.
Financial Aid
For more information on Financial aid, click here.
Contact Information
Ms. Sim Fei Chin Jacqueline