Programme Overview:
This programme encompasses the basic knowledge and practical skills of advertising, media and communication. This programme aims not only to produce advertising personnel who can apply the relevant skills in the field of advertising, but also to offer students a greater depth of knowledge and practical skills in terms of management and persuasive communication, preparing students to join a competitive and dynamic industry.
Duration:
2 Years
Intake:
June & November
Campus:
Kuala lumpur Main Campus (R/342/4/0072)(08/23)(AA 0082)
Academic Progression:
Graduates may be admitted into Year 2 of Bachelor of Communication (Honours) in Advertising.
General Progression Route:

Programme Outline:
Introduction to Information Technology

Introduction to Mass Communication

Design Fundamentals

Introduction to Electronic Publishing

Mass Media and Society

Chinese Writing for the Mass Media OR Music Appreciation

Consumer Behaviour

Introduction to Advertising

Malaysia: Cultural & Religious Practices

Basic Photography

Design for Print

Advertising Copywriting

Multimedia for Advertising

Effects of Advertising

Communication Law

Advertising Creative Campaign

Media Planning

Measurement of Advertising Effectiveness

Industrial Attachment

Translation : BM, English & Chinese OR Translation : BM & English

Marketing
Language, Mata Pelajaran Pengajian Umum (MPU) and Co-curricular Courses:
English for Tertiary Studies, Academic English, Professional English, Pengajian Malaysia 2, Bahasa Kebangsaan A, Social & Work Etiquette, Civic Consciousness and Volunteerism, Co-curricular
Minimum Entry Requirements: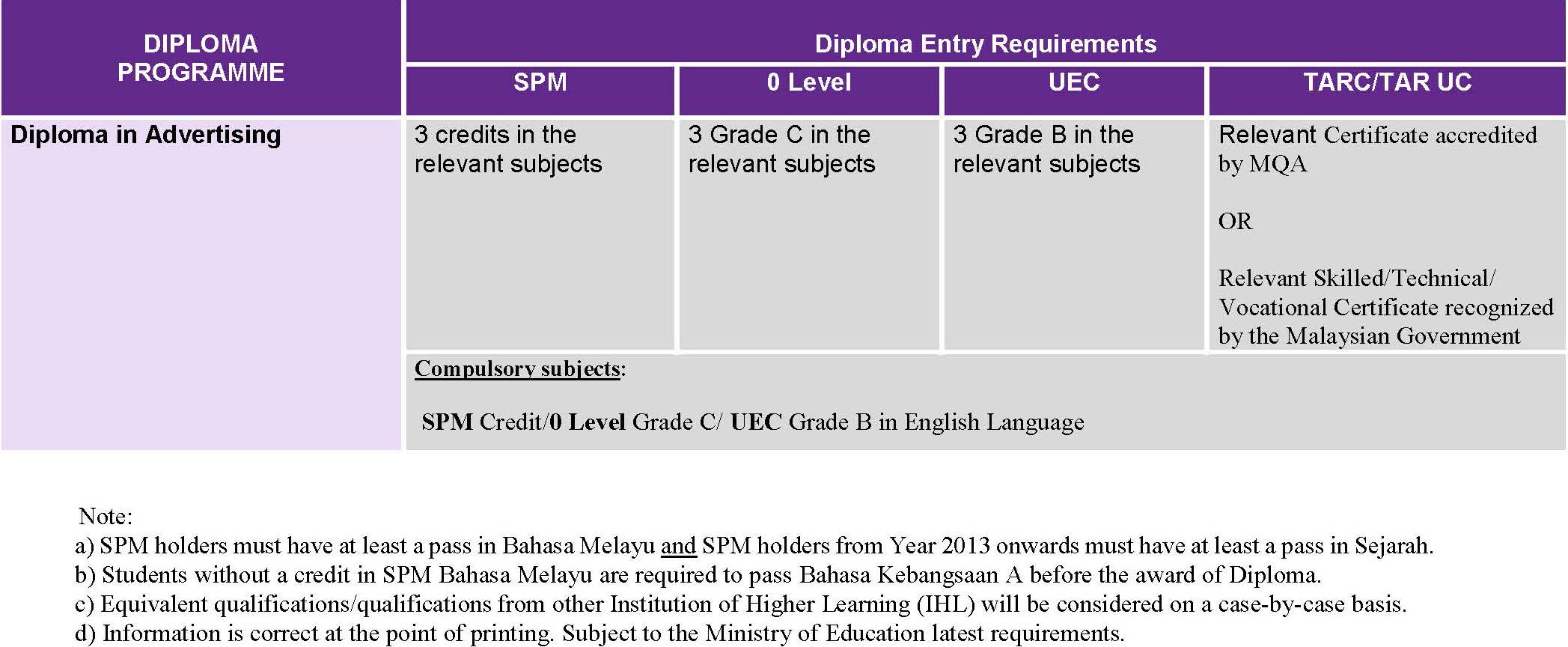 Career Prospects:
Advertising

Account Executive

Media Buyers

Media Planners

Advertising & Promotion Personnel

Social Media Executives

Brand Executives and Copywriters

Multimedia Content Creator

Copywriter

Market & Consumer Analyst
Fees & Financial aids:
Estimated Total Fees: RM18,300 (Malaysian Students), RM34,600 (International Students)
The estimated total fees may vary by 10%.
For more information on fees, click here.
To find out more, click here.
To find out more, click here.
Financial Aid
For more information on Financial aid, click here.