Programme Overview:
This programme entails knowledge and skills for the technical understanding, writing, scripting, presenting and organising of traditional and new broadcast media. There are also specific courses designed to enhance the depth of knowledge and appreciation of the broadcast communication industry.
Duration:
2 Years
Intake:
JUNE (KL/PG) & NOV (KL)
*Penang Brach (PG)

Campus:
Kuala lumpur Main Campus (R/321/4/0087)(8/23)(AA 0083)

Penang Branch Campus (R/321/4/0106)(11/23)(MQA/FA 3524)
Academic Progression:
Graduates may be admitted into Year 2 of Bachelor of Communication (Honours) in Broadcasting.
General Progression Route:

Programme Outline:
Introduction to Information Technology

Introduction to Mass Communication

Chinese Modern Writing OR Music Appreciation

Chinese Writing for the Mass Media OR Introduction to Drama

Malaysia: Cultural & Religious Practices

Basic Digital Photography

Mass Media and Society

Broadcast Writing (Radio)

Film and Society

The Modern Electronic Media

Radio and DJ

Applied Photography

Broadcast Writing - Television

Globalisation & Communication

Communication Law

Malaysia & International Relations

Videography

Advertising for the Electronic Media

Translation : BM, English & Chinese OR Translation : BM & English

Media Ethics

Industrial Attachment
Compulsory courses:
Penghayatan Etika dan Peradaban / Bahasa Melayu Komunikasi 1, Social and Work Etiquette, Bahasa Kebangsaan A, Civic Consciousness and Volunteerism, Co-curricular, English For Tertiary Studies, Academic English, Professional English
Minimum Entry Requirements: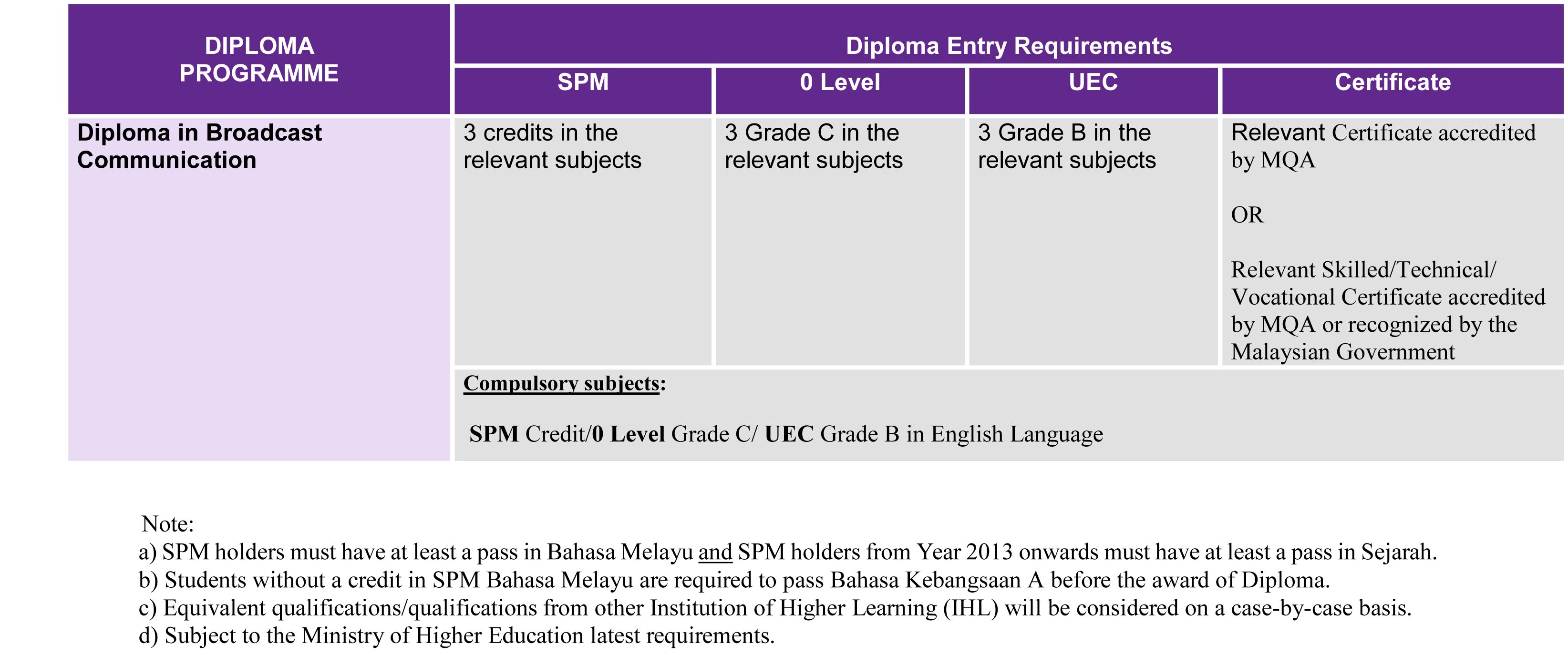 Career Prospects:
Director-Television and Radio

Film & Video Editor, News Editor

Videographer

Photographers

Radio & Television Announcer

Copy Writer for Broadcast and Internet-Based Media
Fees & Financial aid:
Estimated Total Fees: RM18,000 (Malaysian Students), RM33,900 (International Students)
The estimated total fees may vary by 10%.
For more information on the fees, click here.
To find out more, click here.
To find out more, click here.
Financial Aid
For more information on Financial aid, click here.
Contact Information:
Broadcast
Puan Khairana Binti Sabtu
Puan Hazwani Husna Binti Zainal Abu