Programme Overview:
This programme is catered for students who wish to develop a successful career in journalism and the media industry. The programme equips students with practical skills for media reporting with an emphasis on hands-on learning experience.With industry relevant content, the programme offers a holistic learning experience that produces graduates that are employable in the journalism and media industry.
Duration:
2 Years
Intake:
May
Campus:
Kuala Lumpur Main Campus (R/321/4/0088)(08/23)(AA 0081)
Academic Progression:
Graduates may be admitted into Year 2 of Bachelor of Communication (Honours) in Journalism.
General Progression Route:

Programme Outline:
Introduction to Information Technology

Introduction to Mass Communication

Introduction to Human Communication

Chinese Writing for the Mass Media OR Introduction to Drama

Mass Media and Society

Writing for the Electronic Media

Journalism I

The Malaysian Mass Media

Introduction to Electronic Publishing

Malaysia: Cultural & Religious Practices

Journalism II

Media Ethics

Photojournalism

Chinese Creative Writing OR Creative Writing

Malaysian Constitutional Framework and Policies

Communication Law

Copy Editing

Malaysia and International Relations

Production & Publication

Translation: BM & English OR Translation: BM, English & Chinese

Industrial Attachment
Language, Mata Pelajaran Pengajian Umum (MPU) and Co-curricular Courses:
English Language, Pengajian Malaysia 2, Bahasa Kebangsaan A, English for Communication, Social & Work Etiquette, Civic Consciousness and Volunteerism, English for IELTS, Co-curricular
*Co-Curricular Courses can be taken in any semester of the study
Minimum Entry Requirements: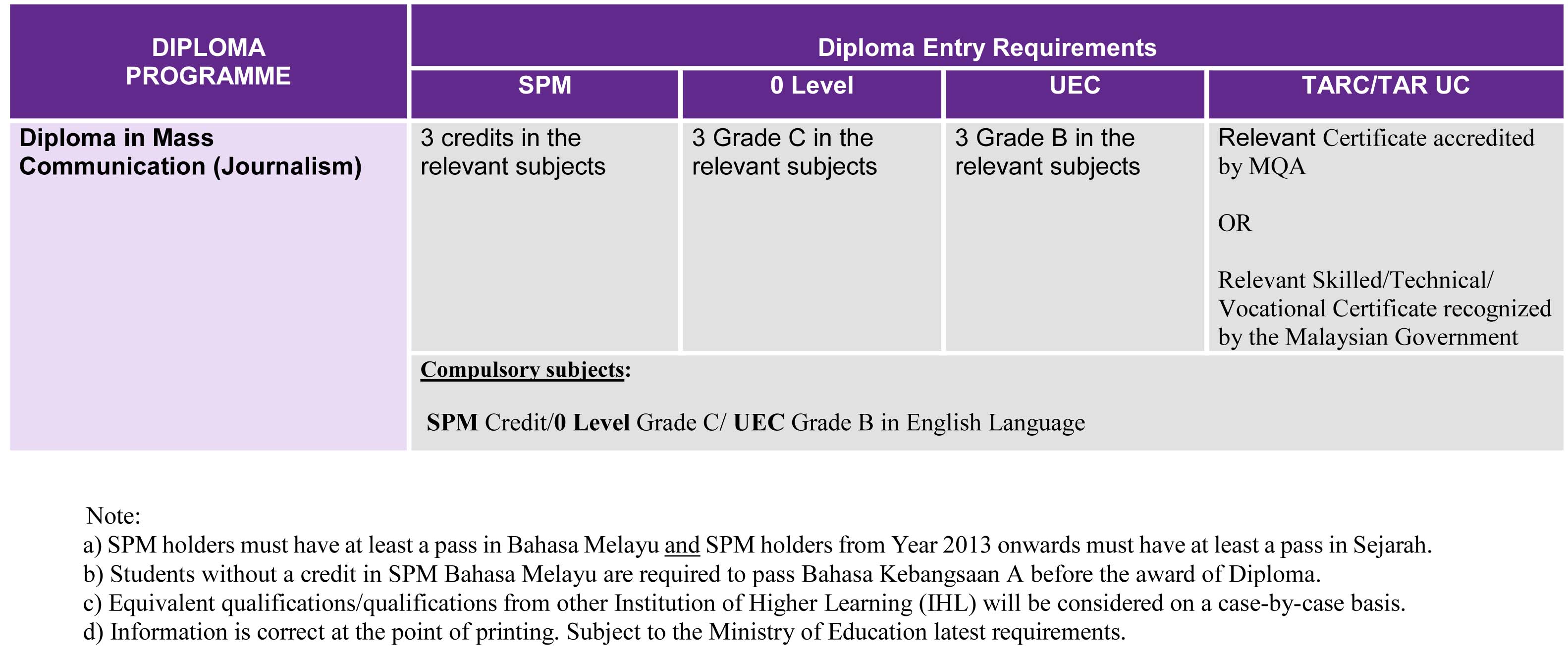 Fees & Financial aid:
Estimated Total Fees: RM18,300 (Malaysian Students), RM29,500 (International Students)
The estimated total fees may vary by 10%.
For more information on the fees, click here.
To find out more, click here.
To find out more, click here.
Financial Aid
For more information on Financial aid, click here.
Contact Information:
Journalism
Mr. Satwant Singh A/L Karam Singh