Programme Overview:
This programme develops students' knowledge and practical expertise in formulating PR plans and publicity activities, producing PR write-ups and promotional material. To produce capable PR and media relations practitioners, the programme entails courses in PR strategies, PR writing, media relations, integrated marketing, digital media, public opinion and public oration. Students' experiential skills are enhanced via case studies, presentations, event and internship.
Duration:
2 Years
Intakes:
JUNE (KL/PG/PK)
Academic Progression:
Graduates may be admitted into Year 2 of Bachelor of Public Relations (Honours).
General Progression Route:

Programme Outline:
Fundamentals of Public Relations

Fundamentals of Integrated Marketing

Fundamentals of Communication Theories

Introduction to Information Technology

Public Oration

Customer Relations

Electronic Media Studies

Introduction to Electronic Publishing

Presentation Tactics for PR

Production and Publication for PR

Writing for the Mass Media OR

*

Chinese Writing for the Mass Media

*

is only for students with a pass in Bahasa Cina at SPM level.

Public Relations Writing

Introduction to PR Event

Public Opinion and Persuasion

Communication Law

Public and Media Relations

Introduction to Digital PR

Introduction to Research Methods

Entrepreneurship

Electronic Media Writing OR Media Copy Editing

Internship
Compulsory courses:
Penghayatan Etika dan Peradaban / Bahasa Melayu Komunikasi 1, Social and Work Etiquette, Bahasa Kebangsaan A, Civic Consciousness and Volunteerism, Co-curricular, English For Tertiary Studies, Academic English, Professional English
Minimum Entry Requirements: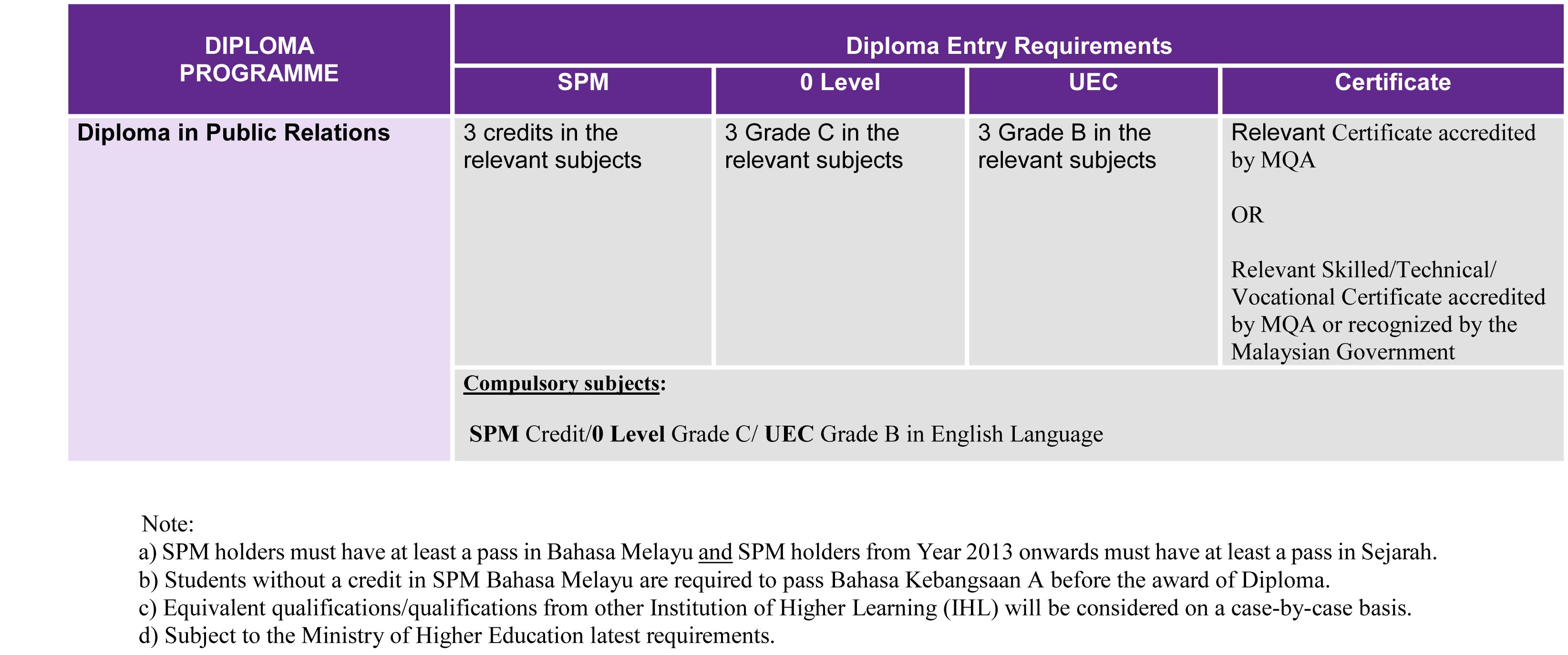 Career Prospects:
Fees & Financial aid:
Estimated Total Fees: RM18,000 (Malaysian Students), RM33,900 (International Students)
The estimated total fees may vary by 10%.
For more information on the fees, click here.
To find out more, click here.
To find out more, click here.
Financial Aid
For more information on Financial aid, click here.
Contact Information:
Public Relations