Programme Overview:
This programme offers students the opportunity to explore an extensive multimedia education. Students will be taught the way to integrate the theoretical, creative, conceptual, and technical aspects of design and development with modern technology. It helps students to develop a range of interactive media production skills, including design, motion graphics, web development, video and sound editing, prototyping, graphic production, and interactive design.
On top of that, the practical hands-on activities provided in this programme will help to cultivate students' teamwork and project management skills. This programme also includes an industrial training course, allowing students to experience and involve in industrial-level projects.
Duration:
2 Years 4 months
Intake:
JUNE
Campus:
Kuala Lumpur Campus KL(R2/0211/4/0138A)(08/28)(AA0090)
Academic Progression:
Graduates may be admitted into Year 2 of Bachelor of Creative Multimedia (Honours).
General Progression Route:

Programme Outline:
Introduction to Illustration

Image Manipulation

Introduction to Art

Colour Studies

Basic Photography

Creative & Critical Thinking

Basic Typography

Fundamentals of Web Page

Digital Typography

Conceptual Design

Applied Photography

Digital Illustration

Interface Design

Arts Law

2D Animation

Multimedia Video & Audio

Instructional Design

Interactive Web Design

Multimedia Design Project

3D Modeling

Industrial Training
Compulsory courses:
Penghayatan Etika dan Peradaban / Bahasa Melayu Komunikasi 1, Social and Work Etiquette, Bahasa Kebangsaan A, Civic Consciousness and Volunteerism, Co-curricular, English For Tertiary Studies, Academic English, Professional English
Minimum Entry Requirements: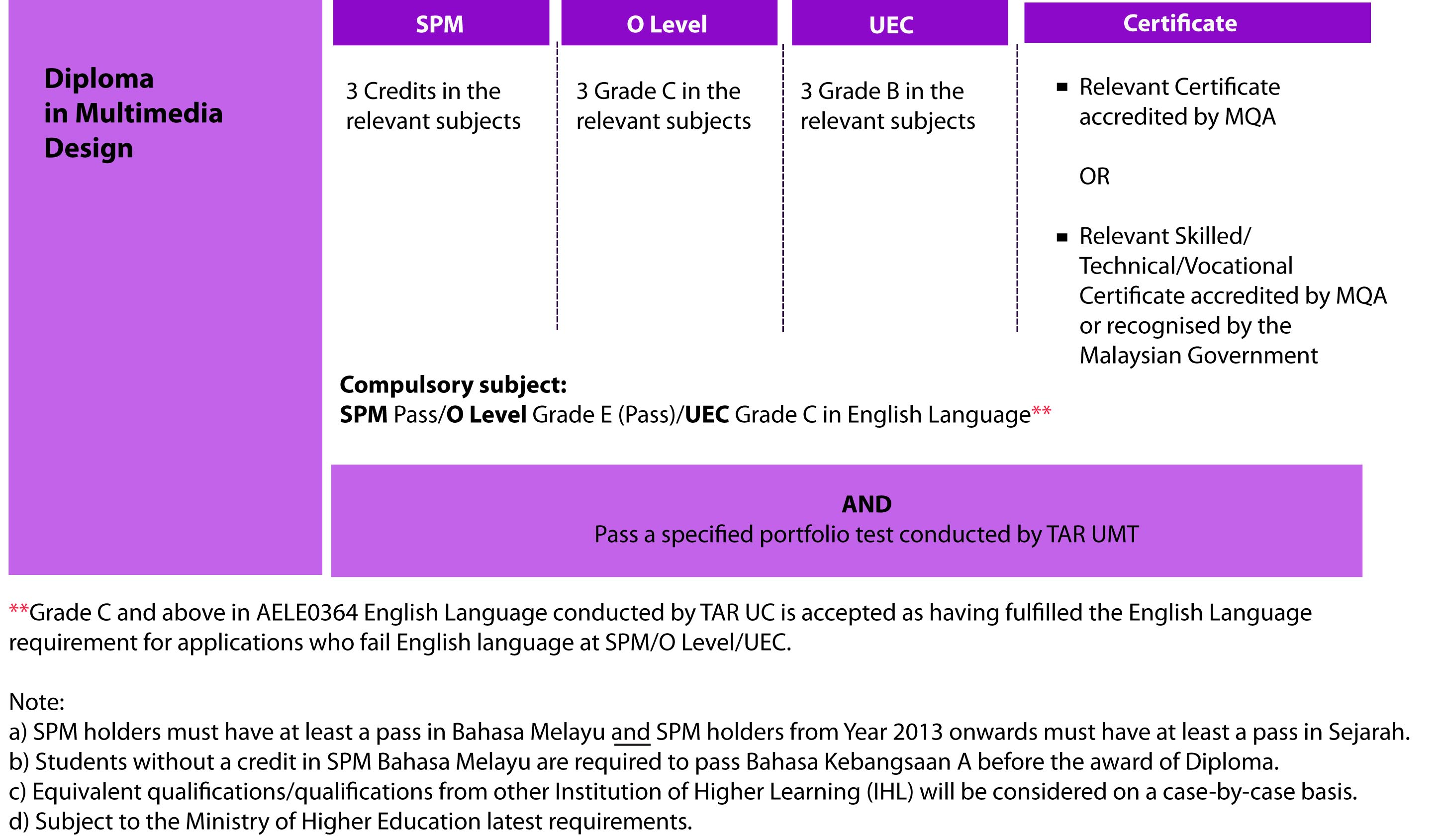 Fees & Financial aids:
Estimated Total Fees: RM18,500 (Malaysian Students), RM35,900 (International Students)
The estimated total fees may vary by 10%.
For more information about the fee, click here.
To find out more, click here.
To find out more, click here.
Financial Aid
For more information on Financial aid, click here.
Contact Information
Multimedia Design
Email:

yongfy@tarc.edu.my
Email:
cfyong@tarc.edu.my