Programme Overview:
This programme educates and trains knowledgeable personnel to join the nation's work force with the direct focus to make Malaysia an innovative high income society. Students will be trained for careers in semiconductors, IC design, embedded systems and computing which are important knowledge/ skills to support the electrical & electronics sectors.
The curriculum of this programme has been designed to meet the demands of the Malaysian Economic Transformation Programme (ETP). Students are trained in analogue and digital electronics, Application-Specific Integrated Circuit (ASIC), field programmable array (FPGA) and IC design using current professional tools. These knowledge and skills will be important to meet the demand of fabless design firms under the ETP. To complement the microelectronics content of the programme, students are also trained in embedded systems design using current microcontrollers (ARM/PIC) as well as real time operating systems (RTOS) with emphasis on effcient programming techniques.
Graduates will be sought after by design houses/companies in IC design and fabrication, automation, robotics, identifcation and monitoring, test and measurement, and consumer electronics.
NOTE: This programme is a Bachelor of Science Degree, not a Bachelor of Engineering Degree.
Duration:
3 years
Campuses:
Progression Route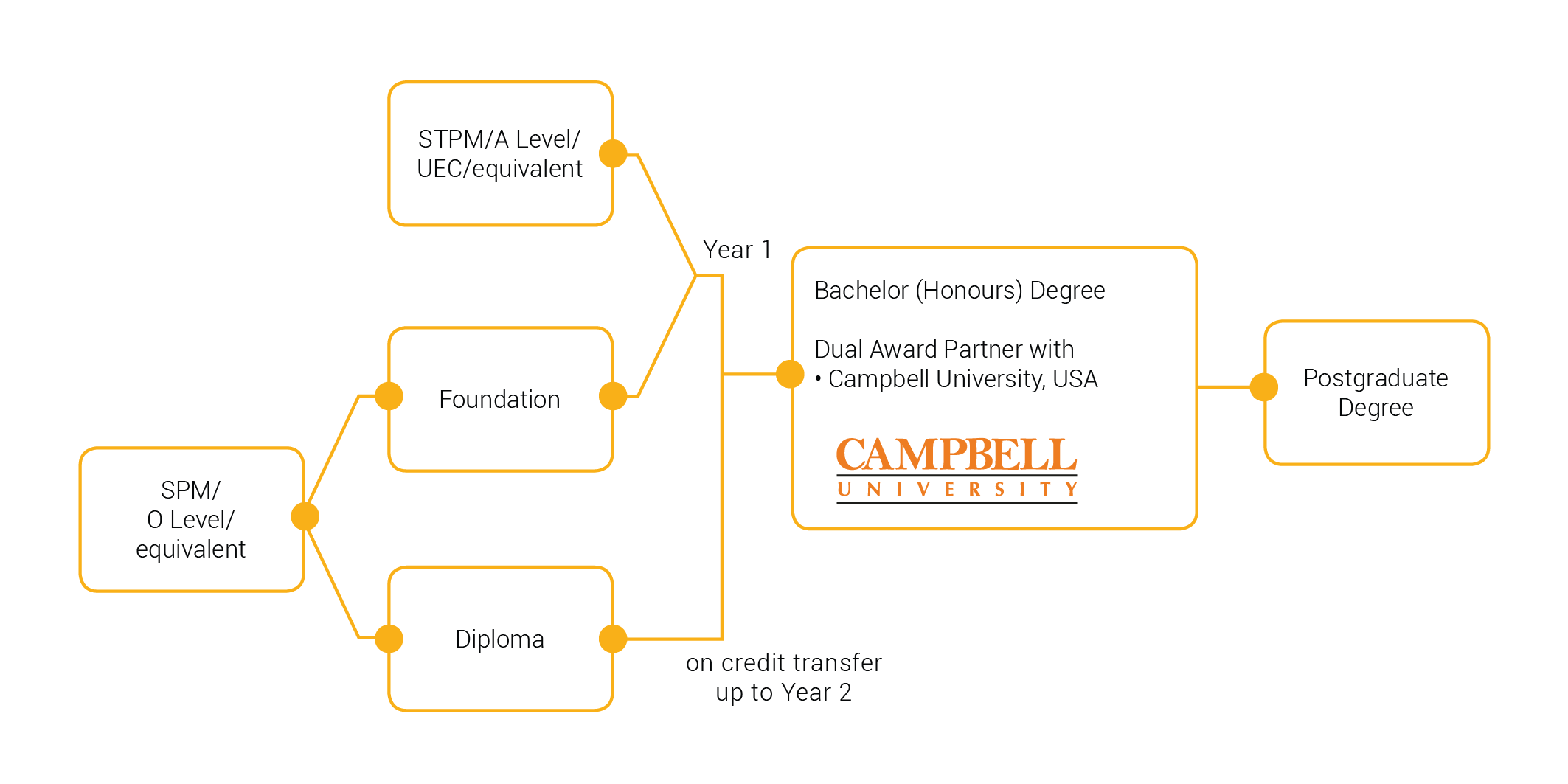 Entry Requirements:
Click to enlarge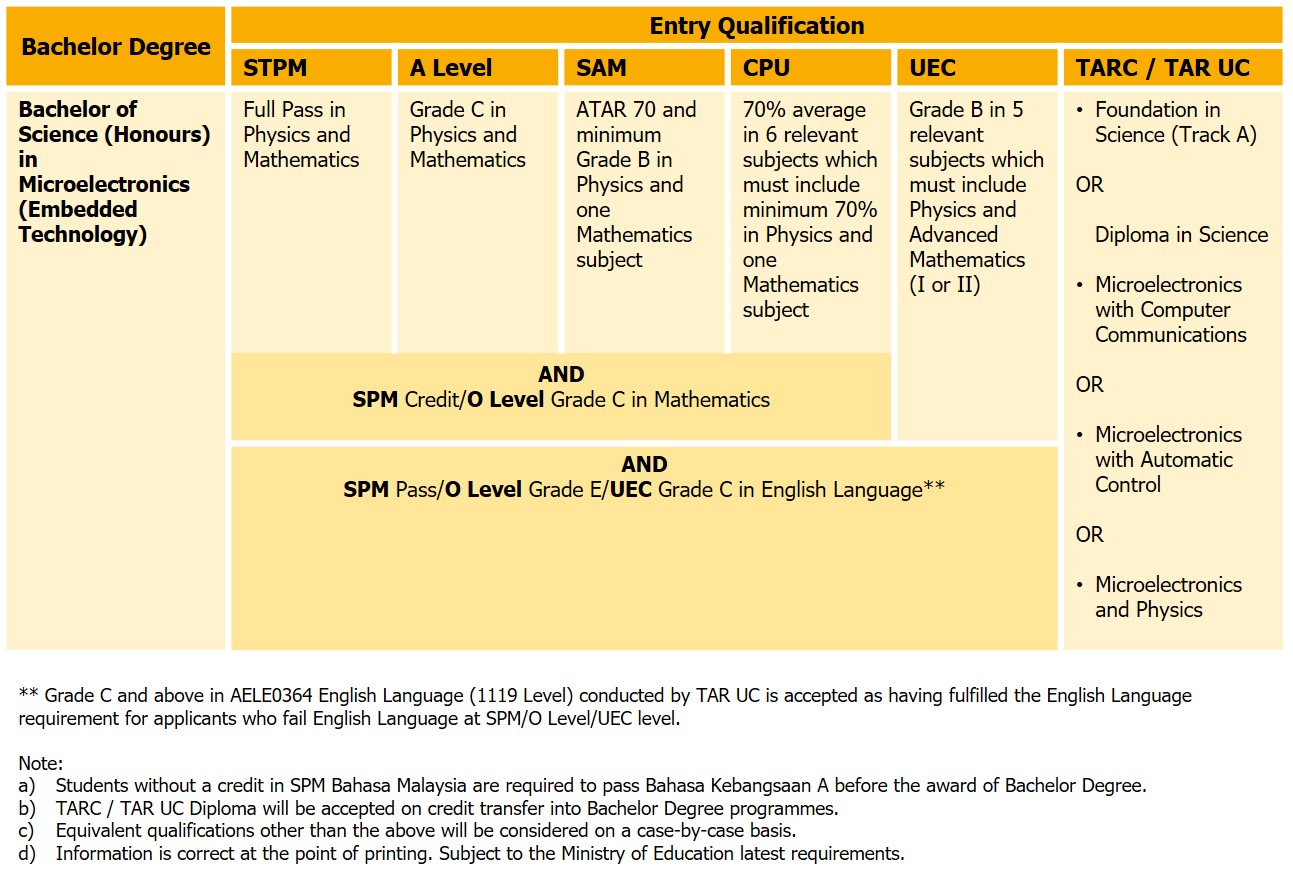 Find out more about AELE0364 English Language (1119 Level)
Programme Outline:
Circuit Theory
Analogue Electronics I
Analogue Electronics II
Digital Logic Principles
Digital System Design
Introduction to IC Layout and Fabrication
ASIC and FPGA Design
Integrated Circuit Design
Semiconductors Devices
Electrogmagnetics
Control Systems
Digital Signal Processing
Introduction to Microcontrollers
Microcontroller Peripherals
Programming Concepts
C Language Programming for Microcontrollers
Test Driven Development
Algorithms & Data Structure
RTOS for Embedded Systems
Agile Software Development
Algebra and Calculus
Mathematics for Science I
Mathematics for Science II
Public Speaking
Project
Industrial Training
Elective I (Choose 1):
Data Communication (TCP/IP)
Power Electronics
Virtual Instrumentation
Object-Oriented Programming
Elective II (Choose 1):
Analogue Integrated Circuit Design
Data Acquisition and Instrument Interfacing
GUI Programming
Language, Mata Pelajaran Pengajian Umum (MPU) and Co-curricular Courses:
English Language, Tamadun Islam dan Asia, English for Communication, Hubungan Etnik, English for the Profession, Entrepreneurship, Bahasa Kebangsaan A, Contemporary Malaysian Issues, Co-curricular
Note: General College Curriculum and Liberal Arts requirements must be fulfilled for Campbell University BS Degree programme
Career Prospects:
Research & Development Engineers
Microelectronic Engineers
Firmware Engineers
Embedded Systems Design Engineers
IC Design Engineers