Programme Overview:
This programme equips students with an in-depth understanding of the core principles and methodologies underlying current biotechnological research, thus, able to pursue careers in bioscience and biotechnology either in industry or academic research. In this programme, students are able to develop the transferable qualities and skills required for employment or research in the biosciences sector. Bioscience students are not only trained in laboratory and research skills but equip with the relevant business and entrepreneurial skills. Students will have an opportunity to work with industry through their internship and to carry out a real-life research project in the bioscience area. All such training will add value to their qualification and benefit their employment.
Intake:
February, June & November
Duration:
3 years
Campus:
KL Main Campus (R2/0511/6/0017A) (10/28) (MQA/FA 3921)
Entry Requirements:
Click to enlarge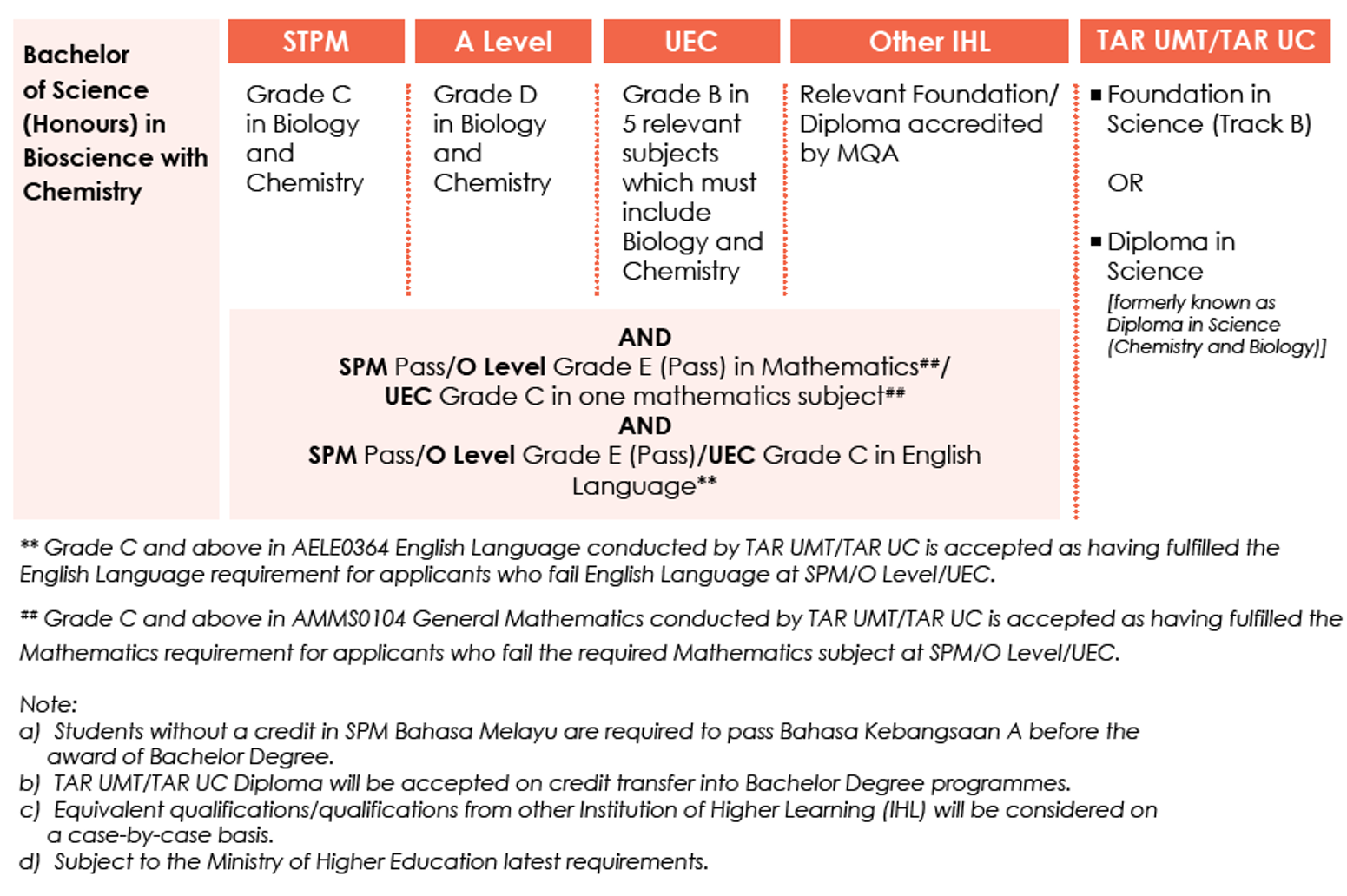 For more information about AELE0364 English Language, click HERE
Programme Outline:
Integrated Biology
Ecology and Biodiversity
Microbiology
Cell Biomolecules and Enzymes
Principles of Genetics
Recombinant Technology
Physiology and Behaviour of Plants
Metabolic Biochemistry
Molecular Biology
Integrative Physiology
Immunology
Techniques and Applications in Molecular Biosciences
Cell and Tissue Culture
Physical Chemistry
Organic Chemistry
Inorganic Chemistry
Analytical Chemistry
Kinetics, Mechanism and Stereochemistry
Spectroscopy and Properties of Organic Compounds
Instrumental Methods of Chemical Analysis
Environmental Chemistry and Analysis
Polymer Chemistry
Calculus and Algebra
Basic Statistical Methods for Scientifc Analysis
Project
Industrial Training
Bioscience Elective:
Advanced Microbiology
Genomics, Proteomics and Bioinformatics
Cancer Biology
Reproduction and Developmental Biology
Nutrition in Health and Diseases
Conservation Biology
Industrial Microbiology
Medicinal Biochemistry
Chemistry Elective:
Food Chemistry and Analysis
Industrial Organic Chemistry
Chemical Lab Management
Chemical Safety and Security
Cosmetic Chemistry
Occupational Safety and Health
Medicinal Chemistry
Language, Mata Pelajaran Pengajian Umum (MPU) and Co-curricular Courses:
English for Tertiary Studies, Falsafah dan Isu Semasa, Academic English, Penghayatan Etika dan Peradaban, English for Career Preparation, Entrepreneurship, Bahasa Kebangsaan A, Contemporary Malaysian Issues, Co-curricular
Career Prospects:
Research Scientists
Chemists
Quality Control/Assurance Executives
Marketing & Sales Executives
Life Science Technologists
Biochemists
Microbiologists
Life Sciences Product Specialists
Biotechnologists
Occupational Health and Safety Specialists
Environmentalists
Fees & Financial Aids:
Estimated Total Fees: RM34,900 (Malaysian Student), RM60,800 (International Student)
The estimated total fees may vary by 10%.
For more information on Fees, click here.
Merit scholarship
To find out more, click here.
Other scholarship
To find out more, click here.
Financial Aid
For PTPTN, click here.
For Study Loan, click here.
For more information on Financial aid, click here.