Programme Overview:
This programme applies the pure science subjects, such as chemistry, biochemistry, nutrition, biology and microbiology to the study of the nature, properties and composition of foods. It also covers the changes which they undergo during storage and processing including transformation into safe and quality food products for consumers. Graduates will be given exposures to areas in functional foods leading to healthy and vibrant lifestyle. In addition, this programme prepares graduates with advanced laboratory skills and current techniques in food science including those related to safety practices and standards, leading to the professionalism in the area of food science.
Graduates of this programme, therefore, will have developed a range of skills which will enable them to occupy production and managerial positions in food and food-related industries, consulting laboratories, government organisations and regulatory bodies. This programme also aims to prepare technically competent graduates to venture into entrepreneurship and new product developments in food industry.
Intake:
February, June & November
Duration:
3 years
Campus:
KL Main Campus (R2/0721/6/0019A) (10/28) (MQA/FA 3923)
Entry Requirements:
Click to enlarge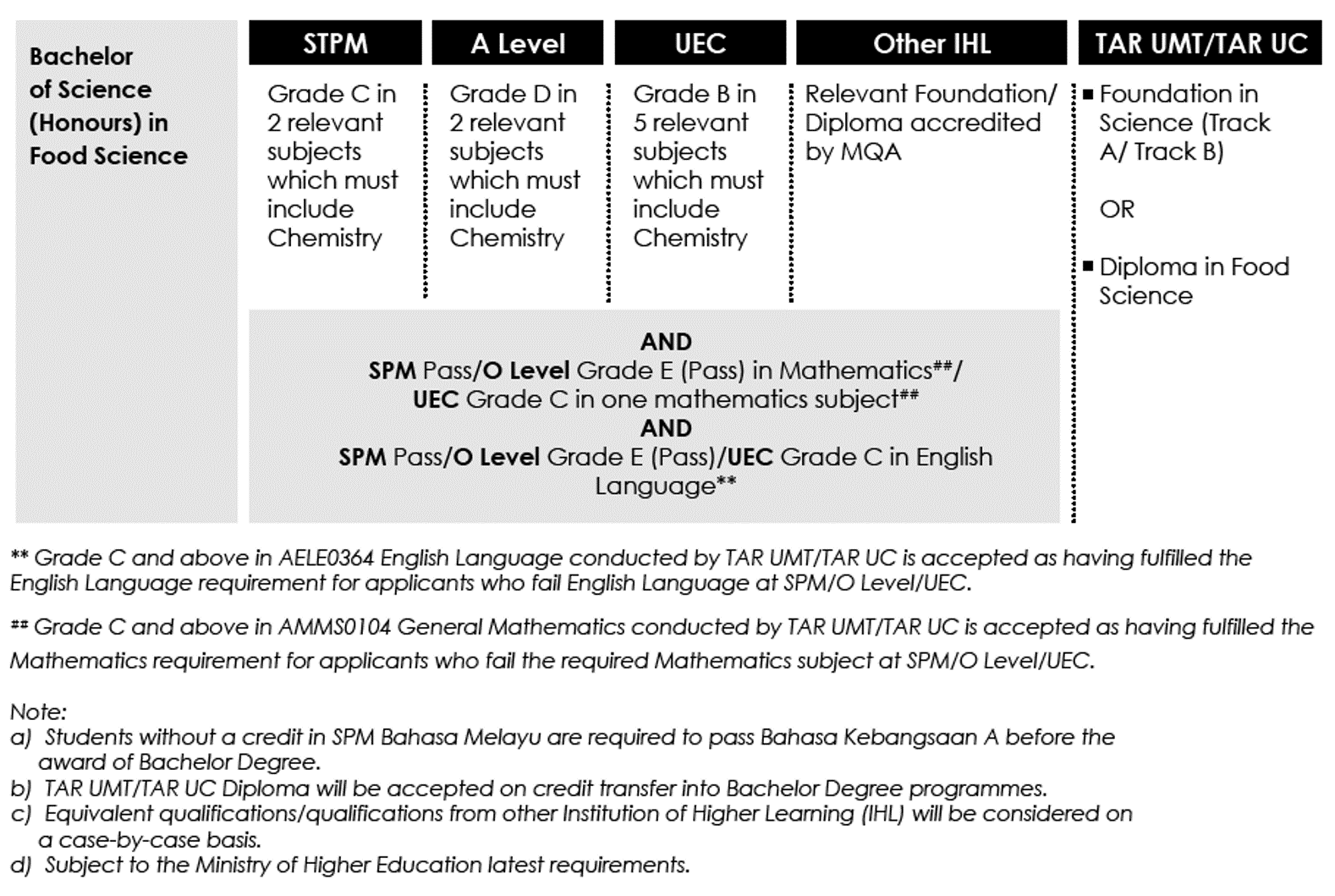 For more information about AELE0364 English Language, click HERE
Programme Outline:
Introduction to Food Science
Food Chemistry
Food Analysis
Food Physics
Microbiology
Food Microbiology
Unit Operations in Food Processing
Food Processing Technology
Food Biotechnology
Sensory Evaluation
Food Quality Assurance and Food Safety
Food Product Development
Food Preservation
Food Fermentation
Human Nutrition
Nutritional Assessment
Fundamentals of Biology and Biochemistry
Metabolic Biochemistry
Fundamentals of Molecular Biology
Physical + Analytical Chemistry
Organic + Inorganic Chemistry
Instrumental Methods of Food Analysis
Calculus and Algebra
Statistical Methods for Scientific Analysis
Project
Industrial Training
Elective:
Nutrition and Health
Sport Nutrition I
Applied Statistics
Contemporary Issues in Health and Nutrition
Therapeutic Nutrition
Food Toxicology
Nutritional Immunology
Sport Nutrition II
Language, Mata Pelajaran Pengajian Umum (MPU) and Co-curricular Courses:
English for Tertiary Studies, Falsafah dan Isu Semasa, Academic English, Penghayatan Etika dan Peradaban, English for Career Preparation, Entrepreneurship, Bahasa Kebangsaan A, Contemporary Malaysian Issues, Co-curricular
Career Prospects:
Food Technologists
Food Chemists
Quality Control/Assurance Executives
Food Product Development Specialists
Food Product Specialists
Nutrition Executives
Food Microbiologists
Food Researchers
Food Services Executives
Industrial/Retail Buyers
Marketing & Sales Executives
Fees & Financial Aids:
Estimated Total Fees: RM35,100 (Malaysian Student), RM61,200 (International Student)
The estimated total fees may vary by 10%.
For more information on Fees, click here.
Merit scholarship
To find out more, click here.
Other scholarship
To find out more, click here.
Financial Aid
For PTPTN, click here.
For Study Loan, click here.
For more information on Financial aid, click here.