Programme Overview:
The Sports Coaching and Performance Analysis programme provides the basis for understanding academic content related to sports coaching and performance analysis settings. This programme is designed to equip students with a comprehensive understanding of the theoretical and practical knowledge to adopt a scientific approach toward enhancing sports skills relevant to sports coaching as well as to improve sporting performance, sports skills, sport tactical and technical effectiveness using performance analysis. Students are exposed to courses such as sports coaching, biomechanics, sports nutrition, sports performance analysis, strength and conditioning, application of performance analysis, sports pedagogy and training plans. In order to experience a high-quality learning experience, the programme is equipped with facilities such as the Biomechanical Analysis Lab, Exercise Physiology Lab, Athletic Training Lab, and Sports Nutrition Lab. In addition, graduates will have hands-on experience using state-of-the-art equipment and software such as a 3D motion analysis system, indoor athletic track with embedded force platform, sports performance analysis software, world-class timing and training system, flywheel training instrument, cognitive-motor and functional training instrument and many more.
Graduates will be able to demonstrate competencies in applying the theoretical, practical and instructional skills gained in performing effective planning, evaluating and managing sports coaching and performance analysis activities. Graduates will also comprehend the ability to utilize objective information to make more evidence-based decisions, which is essential for sports performance. Also, graduates will acquire information to explore emerging trends, research, and the impact of technology on sports coaching and performance analysis industries. Hence, preparing them to gain employment in the sports, coaching and fitness industry.
Intake:
February & June
Duration:
3 years
Campus:
KL Main Campus (N/813/6/0053) (08/28) (MQA/PA 14637)
Entry Requirements:
Click to enlarge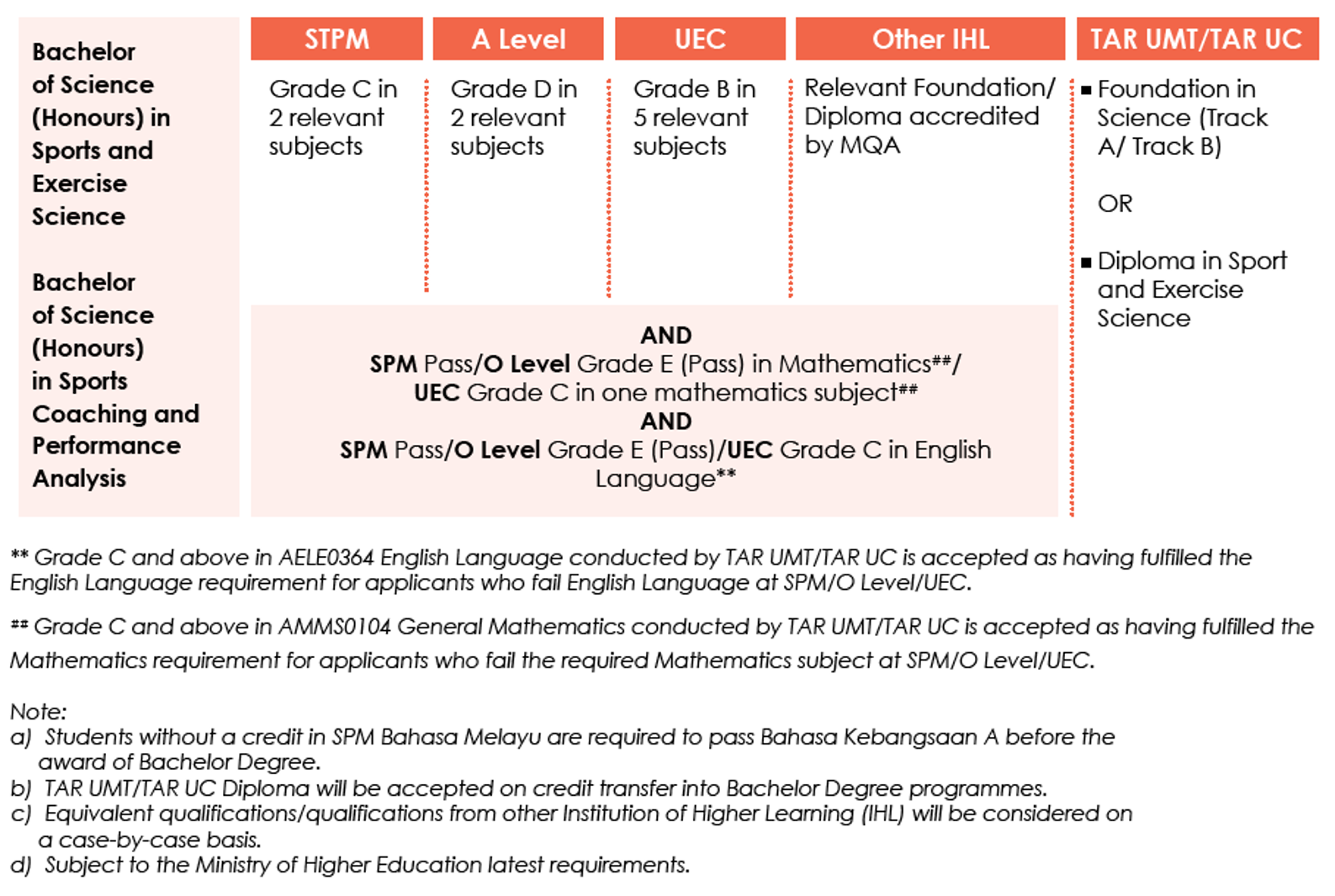 For more information about AELE0364 English Language, click HERE
Programme Outline:
Human Anatomy and Physiology
Sports Psychology
Sports Coaching
Sports Nutrition
Sports Injuries and Prevention
Basic Biomechanics
Sport Performance Analysis
Sports and Exercise Psychology
Sport Performance Analysis 2
Exercise Physiology
Advanced Sports Biomechanics
Sports Team and Facility Management
Strength and Conditioning
Testing and Measurement in Sports & Exercise
Research Methodology in Sports & Exercise
Research Project I & II
Industrial Training
Behaviour Modification in Sports & Exercise
Core Elective:
Exercise Programming and Assessment
Application of Performance Analysis I (Team & Individual Sports)
Sports Pedagogy and Training Plan
Application of Performance Analysis II
Sports Coaching for Special Populations
Developing Children and Young Performers in Sports
Contemporary Issues in Sport Performance Analysis
Case Study in Sport Performance


Games Elective:
Games I: Gym Workout and Swimming
Games II: Tennis and Gymnastics
Games III: Track & Field
Games IV: Basketball and Badminton
Games V: Golf and Squash
Games VI: Fencing
Games VII: Advanced Gymnastics
Games VIII: Soccer and Volleyball
Language, Mata Pelajaran Pengajian Umum (MPU) and Co-curricular Courses:
English for Tertiary Studies, Falsafah dan Isu Semasa, Academic English, Penghayatan Etika dan Peradaban, English for Career Preparation, Entrepreneurship, Bahasa Kebangsaan A, Contemporary Malaysian Issues, Co-curricular
Career Prospects:
Sport Performance Analyst
Sports Coaches
Sport Coaching Scientists
Strength and Conditioning Coaches
Sport Biomechanist
Fitness Trainers
Personal Trainer
Health and Wellness Specialists
Sports Coaching Development Officers
Physical Educators
Sport Administrators
Sport Entrepreneurs
Research and Development officers
Talent Identification Officers
Fees & Financial Aids:
Estimated Total Fees: RM34,300 (Malaysian Student), RM59,900 (International Student)
The estimated total fees may vary by 10%.
For more information on Fees, click here.
Merit scholarship
To find out more, click here.
Other scholarship
To find out more, click here.
Financial Aid
For PTPTN, click here.
For Study Loan, click here.
For more information on Financial aid, click here.