Programme Overview:
This programme is one of the few construction management programme being offered in Malaysia. It is designed to provide essential knowledge and skills in the discipline of construction management and property development in the construction industry. This programme focuses on planning, co-ordination and control of the construction project from inception till completion stage as well as the entire property development phases. Students are equipped with essential building technology knowledge, construction health and safety knowledge, procurement strategies, contract administration and project management skills. Students are also trained in the theory and software application in project planning, programming and production. In line with our national initiatives in construction digitalisation, students will be trained to utilise Building Information Modelling (BIM) software for managing construction process more effectively to improve productivity. This programme equips students with essential skill sets for construction management and property development. It also provides effective pathway for students to further their studies at postgraduate level in the area of construction project management, construction contract management and other related discipline.
Intake
January, July & November
Duration:
3 Years
Campus
KL Main Campus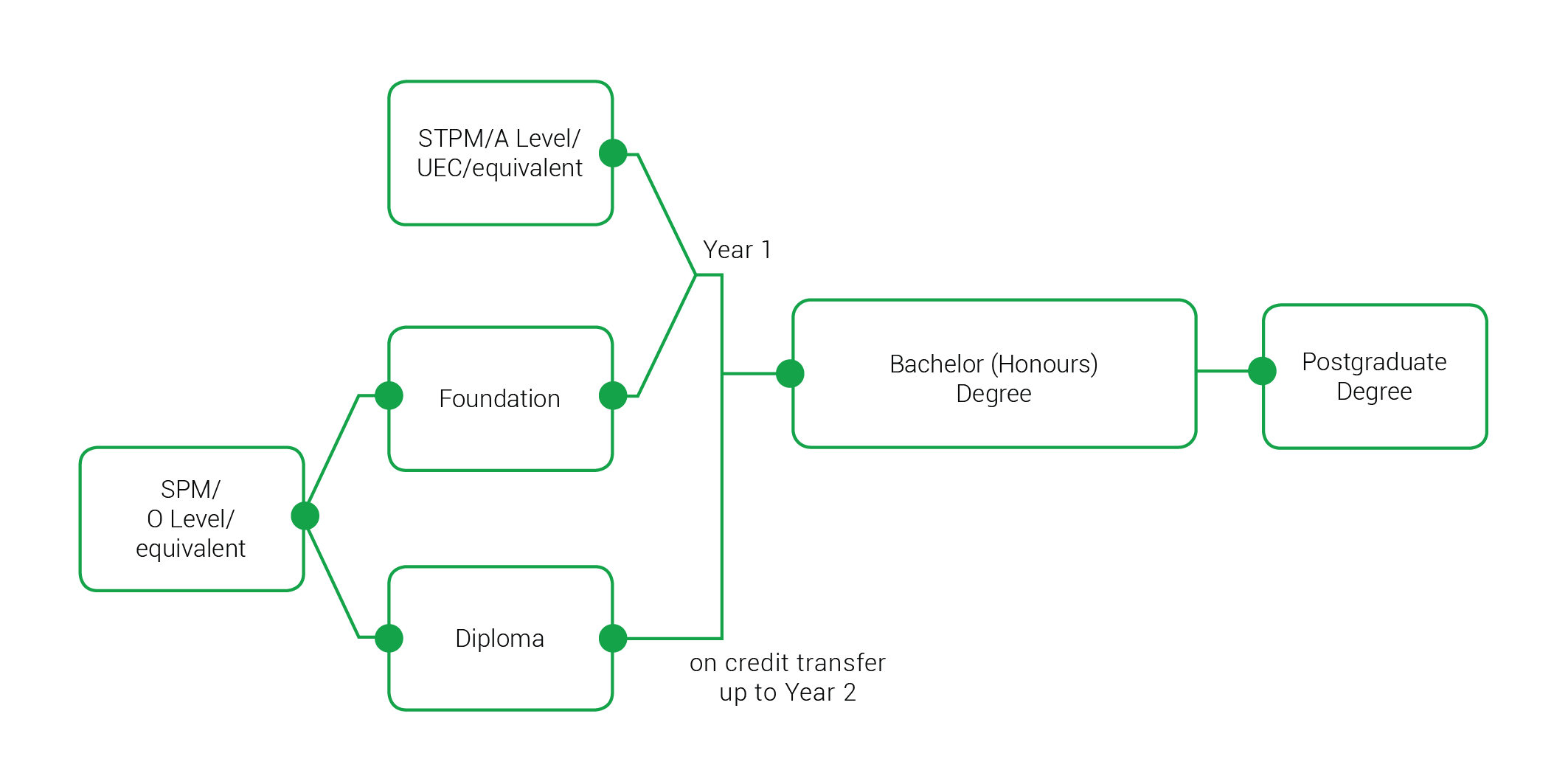 Programme Outline:
Principles of Management
Accounting & Financial Management
Project Planning, Programming & Production
Management of Building Production
Site Management
Construction Health and Safety Management
Digital Transformation with BIM
Digital Integration with BIM
Project Management
Principles of Economics
Construction Economics
Advanced Construction Economics
Building Construction Technology
Construction Materials
Civil Engineering Construction Technology
Structural Studies
Site Surveying
Prices Analysis for Construction Works
Measurement & Contract Documentation
Environmental Science & Building Services
Mechanical & Electrical Services
Principles of Law
Land Development Law
Building By-Laws, Acts &Contracts
Procurement Strategy
Contract Administration
Integrated Projects
Research Methodology
Project & Dissertation
Industrial Training
Minimum Entry Requirements: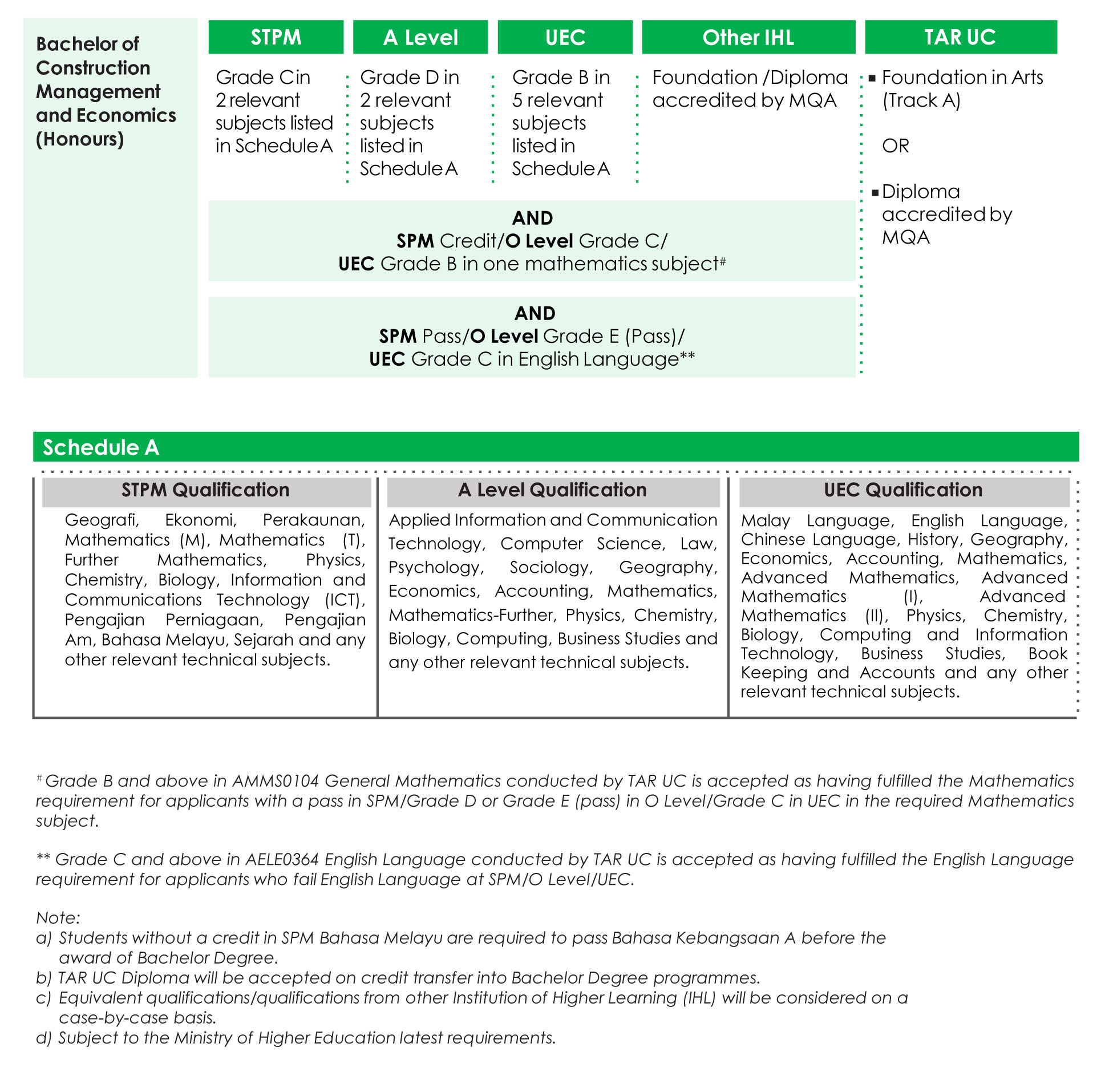 Career Prospects:
Graduates can be employed as:
Construction Coordinator
Site Supervisor
Planner
Building Inspector
Purchasing Coordinator
Contract Administrator
And gradually, the graduate with experienced can be employed as :
Assistant Construction Manager / Construction Manager
Assistant Prooject Manager/Project Manager
Planner Engineer
Contract Manager
Fees & Financial Aid:
Estimated Total Fees: (RM) 36,700 – Malaysian Students
(RM) 63,800 – International Students
The estimated total fees may vary by 10%. It covers all fees payable to TAR UMT i.e.:
Tuition fee
Caution money
Registration fee
Award assessment
Orientation & activity fee
Facilities & resources fee
Laboratory/ workshop fee
Special administration fee (where applicable)
For more information about the fee, click here.
Merit scholarship
To find out more, click here.
Other scholarship
To find out more, click here.
Financial Aid
For PTPTN, click here.
For Study Loan, click here.
For more information on Financial aid, click here.