Programme Overview:
The Bachelor of Interior Architecture (Honours) is a 3 ½ years pre-professional programme that provides a recognised qualification in Interior Architecture, which is a necessary pathway to become a Registered Interior Designer. As one of the newest interior architecture courses in Malaysia, the programme is led by a dynamic team with extensive practice and research-based experience in the field of interior architecture and spatial design. Every member of the team contributes to the delivery of the Design Studio, as well as leading in other specific areas, including Professional Practice, Theory and Technology. There are a range of part-time specialist staff that provides discipline specialist knowledge and valuable insights from industry. This programme focuses on the design of architectural interiors with emphasis on sustainability, materials, lighting and acoustics as well as the social and cultural aspects of habitable space. It concentrates on developing skills for designing adaptive re-use spaces and interior space with specific functions including various institutional, commercial, residential and mixed use buildings. Opportunities to gain practical work experience are provided as an integral part of the programme, which include placements within a wide range of interior design and architectural practice.
Intake
May
Duration:
3½ Years
Campus
KL Main Campus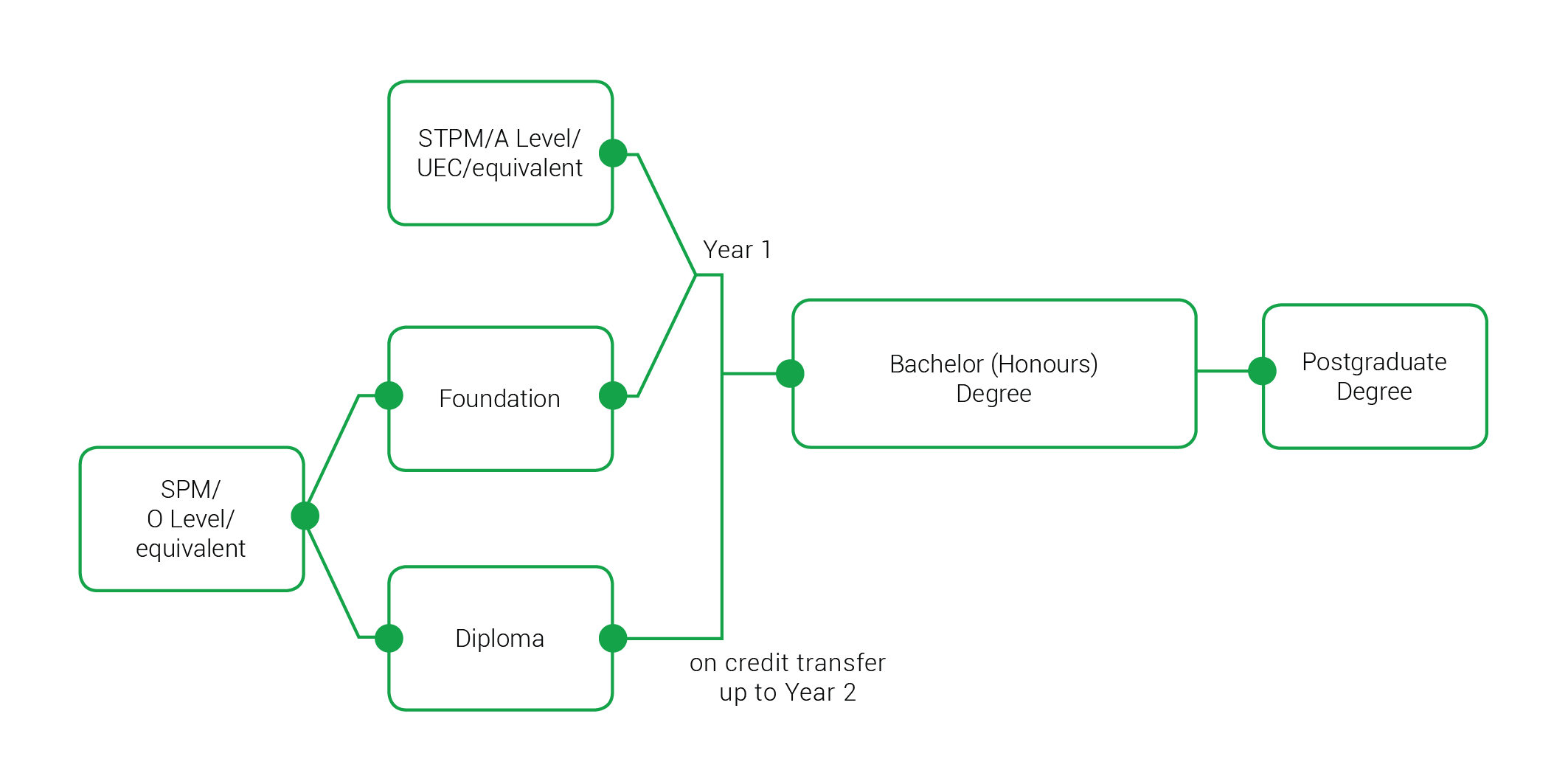 Programme Outline:
Principles of Design
Principles of Construction and Materials
Architectural Graphic Techniques
Interior Design Studio I
Environmental Science and Building Services
Graphic Communication for Interiors
History of Architecture
Structural Studies
Building By-Laws
Interior Design Studio II
Interior Architecture Technology
CADD
Mechanical and Electrical Services
History of Interior Architecture
Interior Design Studio III Economics
Lighting and Acoustics
Furniture Design
Finishes and Furnishing Materials
Digital Modelling
Interior Design Studio IV
Environmental Psychology
Interior Design Studio V
Interior Design Management and Practice
Industrial Training
Minimum Entry Requirements:
Career Prospects:
Graduates of this programme can be employed as
Interior and Spatial Designer
Furniture and Manufacturer Designer
Visual Merchandising Designer
Fit-out and Retail Designer
Set and Production Designer
Exhibition Designer
Interior Landscaping Designer
Interior Conservation and Lighting Consultant
Colour Specialty Consultant
Computer Modelling and Animation
Facilities Space Programming
Kitchen and Bath Design Consultant
Document Drafting and Detailing
Fees & Financial Aid:
Estimated Total Fees: (RM) 37,900 – Malaysian Students
(RM) 61,300 – International Students
The estimated total fees may vary by 10%. It covers all fees payable to TAR UC i.e.:
Tuition fee
Caution money
Registration fee
Award assessment
Orientation & activity fee
Facilities & resources fee
Laboratory/ workshop fee
Special administration fee (where applicable)
For more information about the fee, click here.
Merit scholarship
To find out more, click here.
Other scholarship
To find out more, click here.
Financial Aid
For PTPTN, click here.
For Study Loan, click here.
For more information on Financial aid, click here.