Programme Overview:
The Bachelor of Interior Architecture (Honours) programme is geared to produce graduates and equip them with in-depth knowledge and skills that are essential to work as professionals in the interior design, architectural sector and research field. Graduates will be well trained to develop competencies in being conceptual design and planning thinkers in all areas within the interior design disciplines such as interior design consultancy, design of stage, lighting and furniture and design research development for the betterment of the human environment.
Graduates will enjoy good prospects for employment in various sectors ranging from interior design and architectural practices, interior contractors, and other organisations within the interior architecture sector. The Bachelor of Interior Architecture (Honours) is a pre-professional programme that provide an effective pathway for the graduates to be Registered Interior Designer upon the passing of LAM Professional Examinations
.
Intake
July
Duration:
3½ Years
Campus
KL Main Campus
Programme Outline:
Interior Design Studios

Principles of Design

Principles of Construction and Materials

Architectural Graphic Techniques

Environmental Science

Building Services

Graphic Communication for Interiors

History of Architecture

Structural Studies

Building By-Laws

Interior Architecture Technology

CADD

Mechanical & Electrical Services

Working Drawing

Experiencing Architecture

History of Interior Architecture

Lighting and Acoustics

Furniture Design

Finishes and Furnishing Materials

Digital Modelling

Environmental Psychology

Interior Design Management and Practice

Design Theory for Interiors

Interior Design Dissertation

Industrial Training

Measurement and Contract Documentation (Elective)

Building Analysis (Elective)

Accounting and Financial Management (Elective)

Facilities Management (Elective)

Construction Health and Safety Management (Elective)
LANGUAGE, MATA PELAJARAN PENGAJIAN UMUM (MPU) AND CO-CURRICULAR COURSES:
English Language, English for Communication, English for Architectural Presentation, Tamadun Islam dan Asia, Hubungan Etnik, Bahasa Kebangsaan A, Entrepreneurship, Contemporary Malaysian Issues, Co-curricular.
Minimum Entry Requirements:
Career Prospects:
Graduates of this programme can be employed as
Interior and Spatial Designer
Furniture and Manufacturer Designer
Visual Merchandising Designer
Fit-out and Retail Designer
Set and Production Designer
Exhibition Designer
Interior Landscaping Designer
Interior Conservation and Lighting Consultant
Colour Specialty Consultant
Computer Modelling and Animation
Facilities Space Programming
Kitchen and Bath Design Consultant
Document Drafting and Detailing
Progression Route and Pathway to Become a Registered Interior Designer: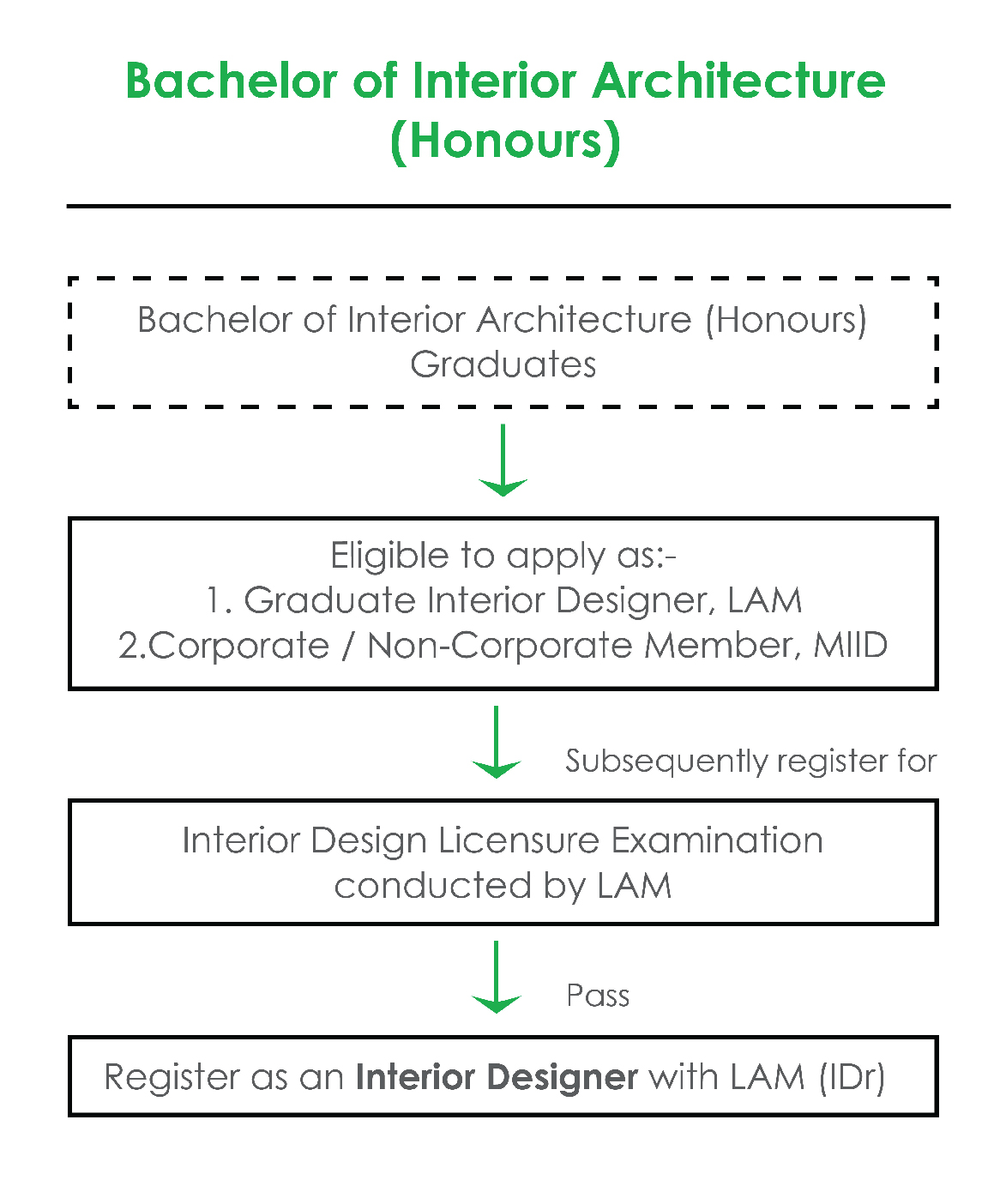 Fees & Financial Aid:
Estimated Total Fees: (RM) 37,900 – Malaysian Students
(RM) 66,400 – International Students
The estimated total fees may vary by 10%. It covers all fees payable to TAR UMT i.e.:
Tuition fee
Caution money
Registration fee
Award assessment
Orientation & activity fee
Facilities & resources fee
Laboratory/ workshop fee
Special administration fee (where applicable)
For more information about the fee, click here.
Merit scholarship
To find out more, click here.
Other scholarship
To find out more, click here.
Financial Aid
For PTPTN, click here.
For Study Loan, click here.
For more information on Financial aid, click here.