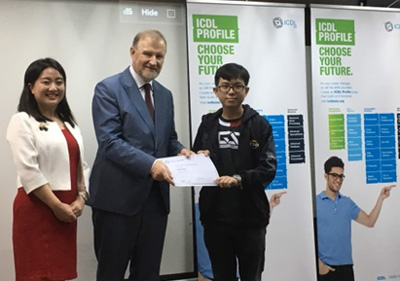 Ambassador Eamon Hickey, Irish Ambassador to Malaysia (centre) presenting the certificate of achievement to Wong Yik Han (right), accompanied by Ms Tina Wu (left), General Manager of ICDL Asia.
A TAR UC Diploma in Science (Internet Technology) Year 2 student, Wong Yik Han, came up top in the ICDL Asia Digital Challenge 2018 (tertiary category) at national level held on 7 July 2018.
This competition is open to full time students from 2 levels: secondary students and tertiary students. The challenge aims to uncover and recognise top students with the best ICT skills. Only 2 top students from each category will represent Malaysia in the grand finals in Bangkok, Thailand.
Yik Han spoke about what motivated him to win in the competition. "What motivated me was my own aim to do my best in everything I do, especially when it comes to competitions. I must also thank Ms Pua Bee Lian, a lecturer cum mentor, in assisting me throughout the competition. When she got to know that I selected IT Security as one of my modules, she helped me search for extra material to help me in the competition," he said.
He went on to share about his habits and practices that had contributed to his success. "3 steps – prepare yourself, do your best and learn from your mistakes. Prepare yourself before the event, conduct necessary research or study. Do your best during the event and God will do the rest. Learn from your mistakes after the event, so that you will improve and do better next time," he said.
"Do not fear to make the first step and do not fear to fail. Try to take every opportunity presented to you and most of the time, you will find unexpected rewards," advised this bright young lad. He will be representing Malaysia for the grand finals held in Bangkok, Thailand, from 4 – 6 September 2018.