Programme Overview:
This programme provides students with the fundamental knowledge and skills of entrepreneurs, managerial skills and communication skills. It also provides students with the skills in creating new business opportunities, as well as essential skills to pursue higher level of study and life-long learning.
This programme also equips students with strong elements of analytical and critical thinking in order for the students to obtain the essential skills required to become IT entrepreneurs and start a new IT-based business venture.
Students will also have the opportunity to experience 9 weeks of industrial training in related industry. The aim is to expose students to real-life projects in the aspects of IT Entrepreneurship. Such training will add value to their qualification and increase their employment opportunities.
Duration:
2 years
Intake:
May
Campuses:
Entry Requirements:
Click to enlarge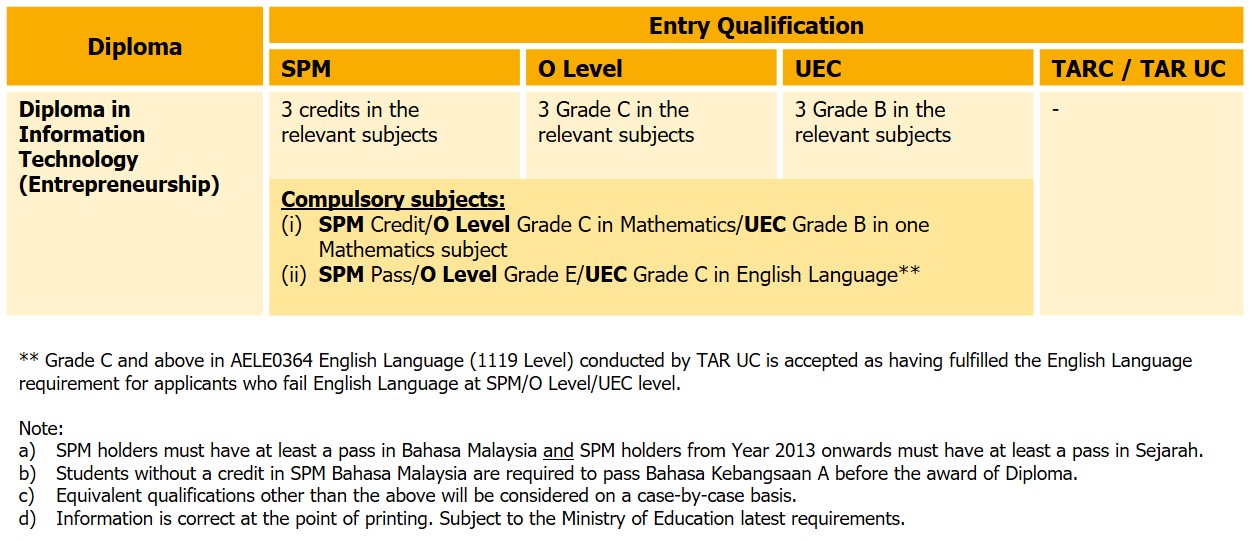 Find out more about AELE0364 English Language (1119 Level)
Programme Outline:
Programming I
Introduction to Information Technology
Introduction to Technopreneurship
Principles of Accounting
Inventive Problem Solving
Accounting Software Packages
Introduction to Database
Introductory Statistics
Systems Analysis and Design
Multimedia Technology
Web Design and Development
Introduction to Human Resource Management
Fundamentals of Marketing
Essentials of Financial Management
Entrepreneurial Practices
Business and Cyber Law
Electronic Commerce
Mobile Commerce and Marketing
Small Business Venture
Industrial Training
Elective I (Choose 1):
Mobile Web Development
Programming II
Elective II (Choose 1):
Introduction to Mobile Game Development
Internet Programming
Language, Mata Pelajaran Pengajian Umum (MPU) and Co-curricular Courses:
English Language, Pengajian Malaysia 2, English for Communication, Bahasa Kebangsaan A, English for IELTS, Civic Consciousness and Volunteerism, Public Speaking, Co-curricular
Career Prospects:
Junior Technology Evaluators
Junior IT Entrepreneurs
Business Development Executives
Assistant E-Commerce Consultants