Programme Overview:
Information systems are the heart of many organisations that support their daily business processes and in turn promote business growth. As the size and demand of information systems has grown tremendously, many of the business functions like sales & marketing, finance & accounting, manufacturing & processes, human resources, supply chain management, customer relationship management, knowledge management and many other business functions are integrated into enterprise information systems to further improve organisational performance.
This programme is designed to equip students with the ability to solve practical problems in the implementation of enterprise information systems in large organisations. In addition to fundamentals of computing, the specialisation subject area covers Business and Information Systems, Systems Analysis and Design, Enterprise Systems, Enterprise Resource Planning, Data Warehouse Technology, Business Intelligence, Business Process Management and Information Systems Implementation.
Electives courses like Principles of Accounting, Introduction to Computer Security, Visual Programming, Software Project Management, Decision Support Systems, Advanced Database Management, Database Administration and IS Strategy and Management will be offered to students undergoing this programme.
Students will have an opportunity to work with the industry through their 6 months of industrial training and carry out real-life projects on software development, implementation of enterprise information systems and data analysis. All such training will add value to their qualification and increase their employment opportunities.
Duration:
3 years
Campuses:
Progression Route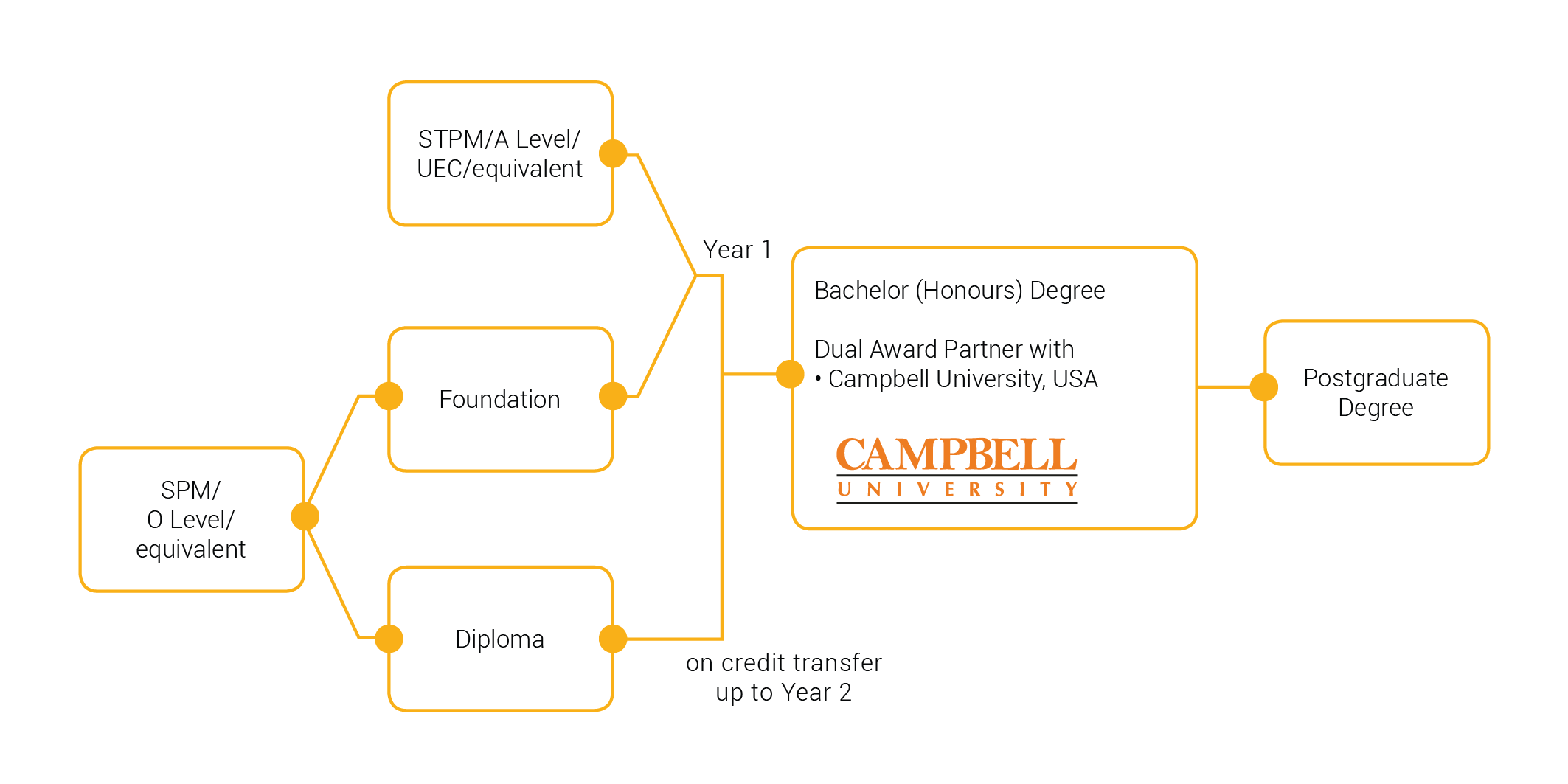 Entry Requirements:
Click to enlarge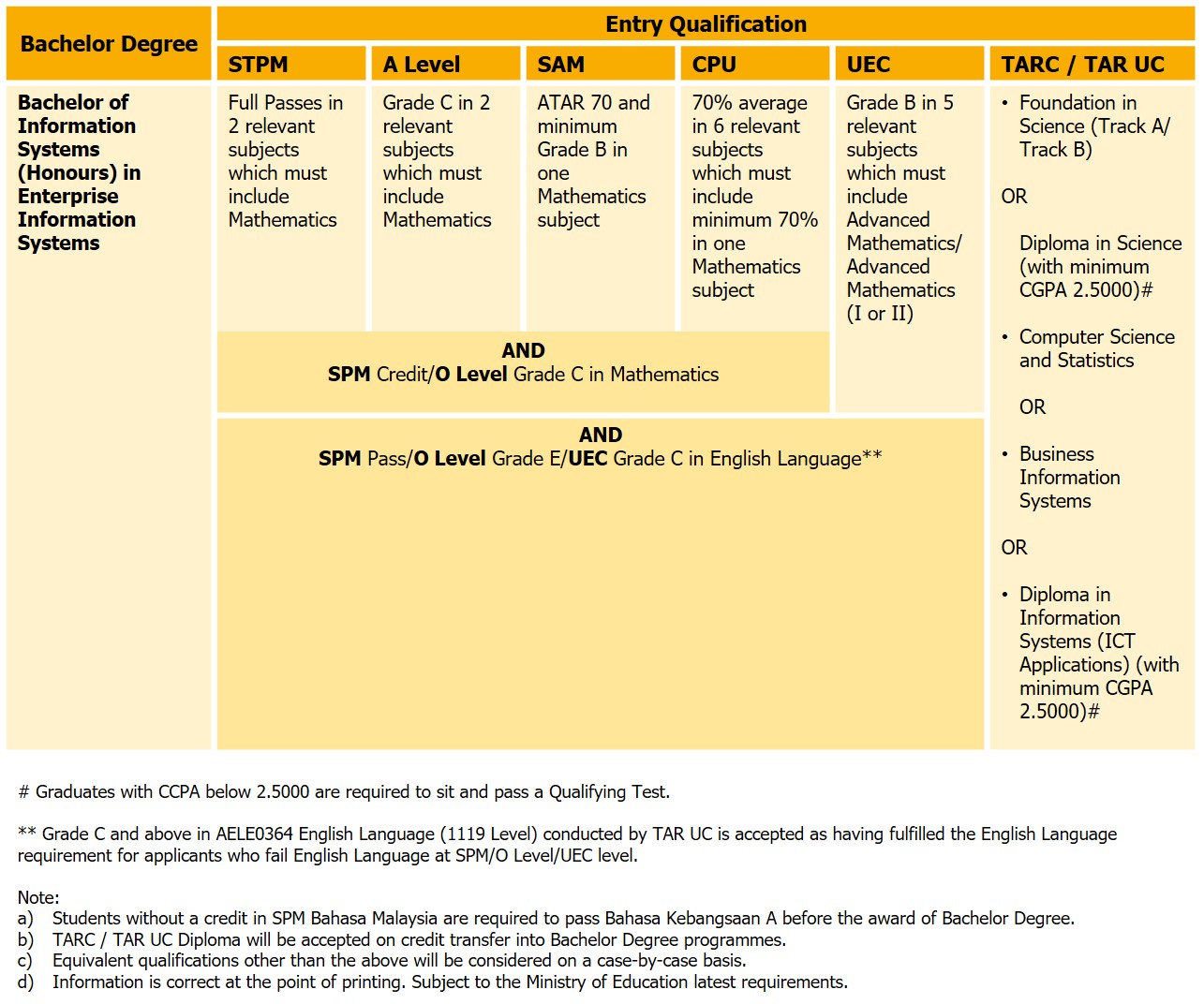 Find out more about AELE0364 English Language (1119 Level)
Programme Outline:
Business and Information Systems
Problem Solving and Programming
Database Management
Computer Organization and Architecture
Object-Oriented Programming
Research Methods
Object-Oriented Analysis and Design
Data Structures and Algorithms
Operating Systems
Enterprise Resource Planning
Information Systems Implementation
Social and Professional Issues
IT Fundamentals
Web Design and Development
Systems Analysis and Design
Enterprise Systems
Fundamentals of Computer Networks
Business Process Management
Data Warehouse Technology
Business Intelligence
Probability and Statistics
Discrete Mathematics
Business Organisation and Management
Project I
Project II
Industrial Training (6 months)
Electives (Choose 4):
Advanced Database Management
Introduction to Computer Security
Visual Programming
IS Strategy and Management
Database Administration
Software Project Management
Decision Support Systems
Introduction to the Short Story
Music Appreciation
Principles of Accounting
Language, Mata Pelajaran Pengajian Umum (MPU) and Co-curricular Courses:
English Language, Tamadun Islam dan Asia, English for Communication, Hubungan Etnik, English for the Profession, Entrepreneurship, Bahasa Kebangsaan A, Contemporary Malaysian Issues, Co-curricular
Note: General College Curriculum and Liberal Arts requirements must be fulfilled for Campbell University BS Degree programme
Career Prospects:
ERP Consultants
Business and Systems Analysts
Business Process Consultants
Business Intelligence Specialists
Data Warehouse Developers
IT Consultants
IT Managers
Programmers
Web Designers
Database Administrators