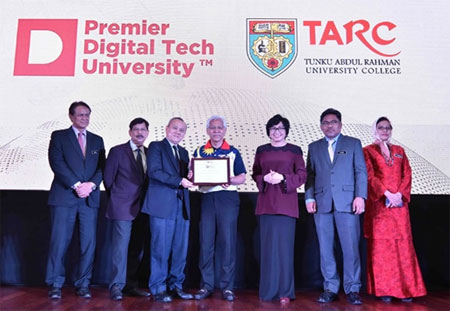 YB Dato' Seri Haji Idris Jusoh (fourth from right), presenting the award to Datuk Dr Tan Chik Heok (third from left), as witnessed by Dato' Yasmin Mahmood (third from right), YBhg Datuk Nik Ali Bin Mat Yunus (second from left), Timbalan Ketua Setiausaha Pembangunan Pejabat Timbalan Ketua Setiausaha Pembangunan, YBhg Dato' Kamel Bin Mohamad (second from right), Timbalan Ketua Setiausaha Pengurusan, Pejabat Timbalan Ketua Setiausaha (Pengurusan), YBhg Datin Paduka Ir Dr Siti Hamisah Binti Tapsir (rightmost), Ketua Pengarah Pendidikan Tinggi, Pejabat Ketua Pengarah Pendidikan Tinggi and YBhg Prof Dato' Dr Mohd Ismail Bin Abd Aziz, Ketua Pengarah, Pejabat Ketua Pengarah Jabatan Pendidikan Politeknik.
Tunku Abdul Rahman University College ('TAR UC') was recently accorded prestigious recognition from Malaysia Digital Economy Corporation ('MDEC'), the lead agency in spearheading and driving digital economy in Malaysia, and Ministry of Higher Education ('MOHE') which further cements TAR UC's position as one of the leading institutions of higher learning in the field of information and communication technology ('ICT'). During the announcement of Malaysia digital tech institutions on 28 August 2017, TAR UC was one of the eight local universities that were awarded Premier Digital Tech University by MDEC and MOHE.
The award is testament to TAR UC's commitment and excellence in the delivery of ICT education that meets the needs of the industries. The objectives of selecting institutions of higher learning for this recognition are as follows:
| | |
| --- | --- |
| 1. | To recognise selected institutions of higher learning as the preferred institutions for future digital talents |
| 2. | To set benchmark to other institutions of higher learning aspiring to be the preferred talent suppliers for the digital tech industry |
| 3. | To enhance awareness and confidence in digital tech graduates amongst the industry and general public |
| 4. | To enable institutions of higher learning and MDEC to focus specific resources in order to enhance the quality of the Premier Digital Tech graduates |

Datuk Dr Tan Chik Heok was very proud of the latest recognition received by TAR UC. "Since introduced in the early 80s, TAR UC's ICT programmes are one of the most comprehensive in the country in terms of the curriculum and areas of specialisation which is highly industry-relevant. With the strong industry linkage and highly focused academic teaching delivered by our Faculty of Computing and Information Technology ('FOCS'), we have produced many top talents in digital technology who are leaders in their own areas of expertise".
"On top of that, our students from FOCS have won various external ICT competitions for many years such as the E-Genting Programming Competition, Cisco Netriders Malaysia Competition, Windows 10 Game Jam, SAP Lumira Challenge and IBM Bluemix Appnovator Challenge, demonstrating that TAR UC's holistic education produces students who are not only well-equipped with all the relevant knowledge and skills, but they are excellent problem solvers with the capability of producing excellent work," he remarked.
Datuk Dr Tan received the award from YB Dato' Seri Haji Idris Jusoh, Minister of Higher Education. Also present at the award ceremony was Dato' Yasmin Mahmood, Chief Executive Officer of MDEC.
About TAR University College
Tunku Abdul Rahman University College ('TAR UC'), formerly known as TAR College, is a premier institution of higher learning in Malaysia with a track record of excellence for 48 years. Its brand is synonymous with holistic education, offering academic programmes which are professionally driven, industry-relevant and entrepreneurship-focused and the institution is well recognised locally and internationally among the academic fraternity and professional bodies. The University College has educated more than 180,000 graduates many of whom are the eminent leaders in various industries