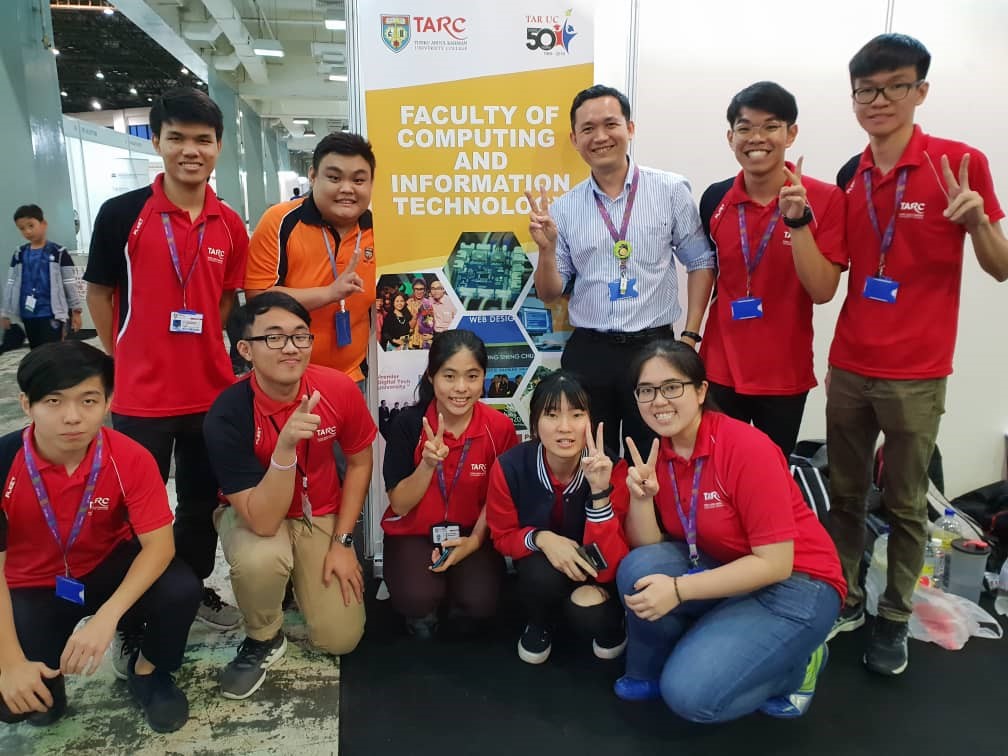 A group photo of FOCS Senior Lecturer, Mr See Kwee Teck (standing 3rd from right) and student helpers who conducted workshops at KLESF 2018
Over the 3 days at the Kuala Lumpur Engineering Science Fair (KLESF) 2018, FOCS lecturers and students conducted Digital Workshops for Beginners focusing on 6 STEM (Science, Technology, Engineering and Mathematics) areas.
Held from 2nd-4th November 2018 at the MINES International Exhibition and Convention Centre (MIECC), the workshops targeted primary and secondary school students who were interested to try their hand at 6 different STEM software of their choice, which included mobile app development, cyber security, web development, enterprise informatics, artificial intelligence, and computational mathematics. Each mini workshop was structured into 15 minutes that was specially designed for beginners. The participants joined the workshops of their choice on an on-demand basis.
The mobile app development mini workshop was led by Ms. Tan Li Peng and Mr. See Kwee Teck. Themed "Are You Fit?", the workshop introduced Android Fundamentals and development of a Body Mass Index (BMI) mobile application. Meanwhile, the second mini workshop with the theme "Security and You", led by Ms. Lim Shen Huoy and Dr. Wong Thien Lai, introduced the possible dangers in the cyber world and how best to keep ourselves safe. Participants got to learn and practice how to protect themselves in the cyber world which has become a prominent part of everyone's daily lives.
Another mini workshop themed "Fun with Web", led by Mr. Liaw Chun Voon, introduced fundamental web development concepts via three core web technologies (HTML, CSS and JS). Participants were guided to develop their own web pages and enhance them using attractive animations and transitions. Led by Dr. Yu Yong Poh, the fourth mini workshop on enterprise informatics introduced data visualization using Tableau software. Participants were able to adopt and select data from the sample dataset and visualise desired information through a dashboard.
Mr. Liaw Chun Voon (FOCS Senior Lecturer) with students at KLESF
The fifth mini workshop, themed "Rise of the Brain", introduced digital image processing for artificial intelligence. Led by Dr. Lim Khai Yin, this workshop included basic processes of manipulating a digital image such as enhancing the image quality or extracting useful information from the image using Python. Lastly, the mini workshop on computational mathematics, led by Dr. Tan Yan Bin, introduced simple logic circuits and methods of reasoning to the participants. Participants learned basic logical operations to construct simple logic circuits and presented them using Logicly software.