Programme Overview:
Graduates of this programme will be able to develop, manage and maintain high-quality software in a systematic, controlled and efficient manner. In addition to fundamentals of computing, core courses such as Data Structures and Algorithms, Research Method, Artificial Intelligence, Human Computer Interaction, and Distributed Systems and Parallel Computing will be offered to students.
Students will develop their specialisation by going through the following courses; Systems Analysis and Design, Software Engineering, Software Requirements Engineering, Software Design and Architecture, Formal Methods for Software Engineering, Software Quality Assurance and Testing, Software Evolution and Maintenance, and Software Project Management.
Elective courses like Introduction to Computer Security, Advanced Database Management, Mobile Application Development, Web Application Development, Blockchain Application Development, Agile Software Development, Data Science, and Cloud Computing also will be offered to students undergoing this programme.
Students will have an opportunity to work with the industry through their 6 months industrial training and carry out real-life projects on software engineering. All such training will add value to their qualification and increase their employment opportunities.
Duration:
3 years
Campuses:
Intake:
Year 1 Intake: January (KL); June (KL, PG); November (KL)
Year 2 Intake: June (KL, PG)
Academic Progression: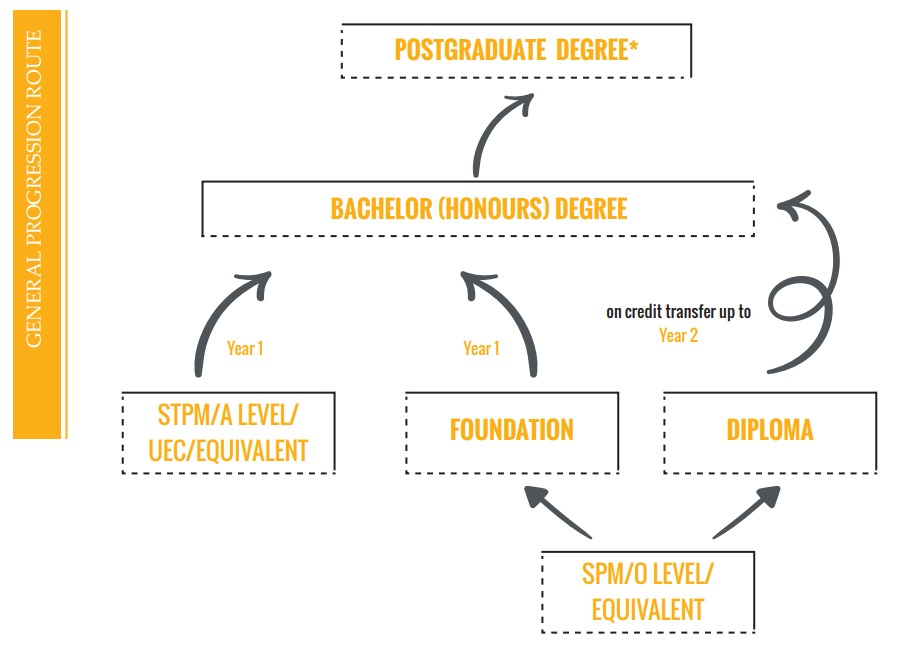 Programme Outline:
Problem Solving and Programming
Database Management
Introduction to Computer Systems
Object-Oriented Programming
Research Methods
Data Structures and Algorithms
Software Engineering
Social and Professional Issues
Software Quality Assurance and Testing
Software Requirements Engineering
Software Design and Architecture
Software Project Management
Formal Methods for Software Engineering
Software Evolution and Maintenance
Systems Analysis and Design
Introduction to Computer Networks
Web Design and Development
Human Computer Interaction
Probability and Statistics
Discrete Mathematics
Advanced Discrete Mathematics
Music Appreciation
Project I
Project II
Industrial Training (6 months)
Electives (Choose 6):
Advanced Database Management
Artificial Intelligence
Web Application Development
Blockchain Application Development
Introduction to Computer Security
Distributed Systems and Parallel Computing
Mobile Application Development
Graphic Programming
Integrative Programming
Image Processing
Data Science
Cloud Computing
Agile Software Development
Language, Mata Pelajaran Pengajian Umum (MPU) and Co-curricular Courses:
English for Tertiary Studies, Falsafah dan Isu Semasa, Academic English, Penghayatan Etika dan Peradaban, English for Career Preparation, Entrepreneurship, Bahasa Kebangsaan A, Contemporary Malaysian Issues, Co-curricular
Career Prospects:
Software Engineers
Software Testers
Software Quality Assurance Engineers
Software Developers
Software Architects
Systems Analysts
Web Developers
Mobile Application Developers
IT Consultants
IT and Project Managers
Programmers
Fees & Financial Aid:
Estimated Total Fees : RM 34,600 (Malaysian Student), RM60,400 (International Student)
The estimated total fees may vary by 10%
For more information on Fees, click here.
Merit Scholarship
To find out more, click here.
Other Scholarship
To find out more, click here.
Financial Aid
For PTPTN, click here.
For Study Loan, click here.
For more information on Financial Aid, click here.