Programme Overview:
This programme is a multi-disciplinary blend with Management Mathematics as the major, Computing as the minor and Economics or Accounting Methods as the associate study. Management Mathematics covers mathematical techniques, including resource allocation and planning, optimisation, project management, quantitative decision, applied statistics, quality control and financial mathematics. Computing courses prepare students for software design and development including skills on programming and information management.
This programme also prepares graduates to branch into other disciplines for further academic pursuit such as master in business management, statistics, and information technology.
It also lays the foundation for graduates to achieve further professional qualifications in actuary, financial planning, financial analysis and risk management.
Duration:
3 years
Campuses:
Intake:
Year 1 Intake: June
Year 2 Intake: June
Academic Progression: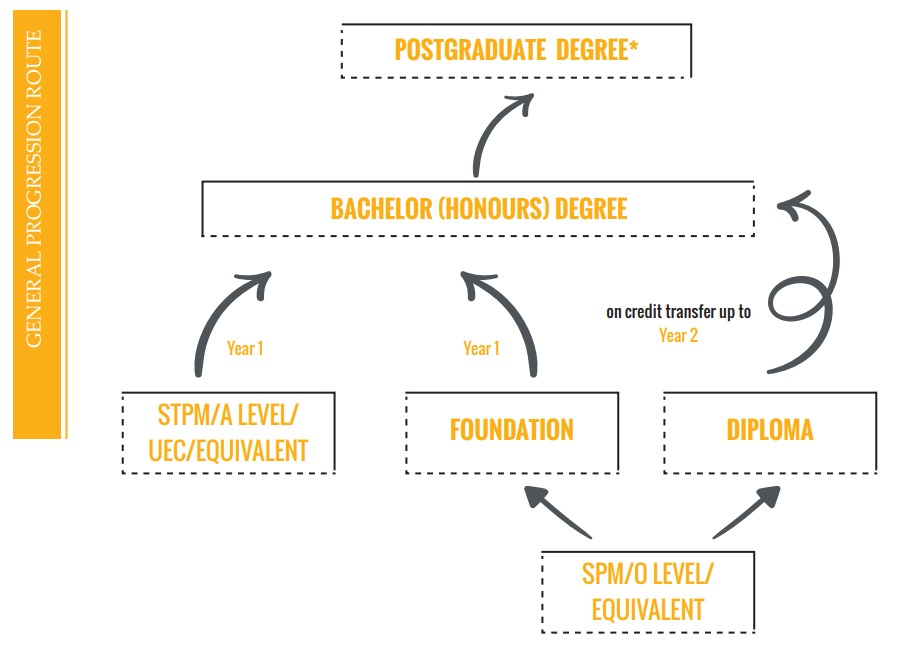 Programme Outline:
Discrete Mathematics
Calculus I
Calculus II
Algebra
Probability and Statistics
Linear Algebra
Advanced Calculus
Numerical Methods
Mathematical and Statistical Software
Problem Solving and Programming
Database Management
Computer Organisation and Architecture
Object-Oriented Programming
Operating Systems
IT Fundamentals
Visual Programming
Industrial Training
Project
Mathematical Statistics
Applied Statistics
Operations Research I
Operations Research II
Financial Mathematics
Quality Control
Contemporary Malaysian Issues
Elective 1A and 1B (Choose 2):
Microeconomics
Macroeconomics
Accounting Methods I
Accounting Methods II
Elective (Mathematics)(Choose 1):
Further Applied Statistics
Cryptography
Advanced Financial Mathematics
Elective (ICT)(Choose 1):
Machine Learning
Cloud Computing
Business Intelligence
Data Science
Language, Mata Pelajaran Pengajian Umum (MPU) and Co-curricular Courses:
English for Tertiary Studies, Falsafah dan Isu Semasa, Academic English, Penghayatan Etika dan Peradaban, English for Career Preparation, Entrepreneurship or Bahasa Kebangsaan A, Contemporary Malaysian Issues, Co-curricular
Career Prospects:
Officers in financial institutions such as banks, insurance firms, and investment houses
Quantitative Analysts
Quality Managers
Research Officers
Investment Analysts
Financial Analysts
Management Consultants
Financial Planners and Advisors
Pricing Analysts
Market Risk Managers
Credit Risk Managers
Asset/Liability Managers
IT Managers
Programmers
Fees & Financial Aid:
Estimated Total Fees : RM 34,100 (Malaysian Student), RM59,500 (International Student)
The estimated total fees may vary by 10%
For more information on Fees, click here.
Merit Scholarship
To find out more, click here.
Other Scholarship
To find out more, click here.
Financial Aid
For PTPTN, click here.
For Study Loan, click here.
For more information on Financial Aid, click here.