Programme Overview:
This programme is a multi-disciplinary blend with Management Mathematics as the major, Computing as the minor and Business Management as the associate study. Management Mathematics covers mathematical techniques for business management, including resource allocation and planning, optimisation, project management, quantitative decision, applied statistics, quality control and financial mathematics. Computing courses prepare students for software design and development including skills on programming and information management.
This programme also prepares graduates to branch into other disciplines for further academic pursuit such as master in business management, statistics, and information technology.
It also lays the foundation for graduates to achieve further professional qualifications in actuary, financial planning, financial analysis and risk management.
Duration:
3 years
Campuses:
Progression Route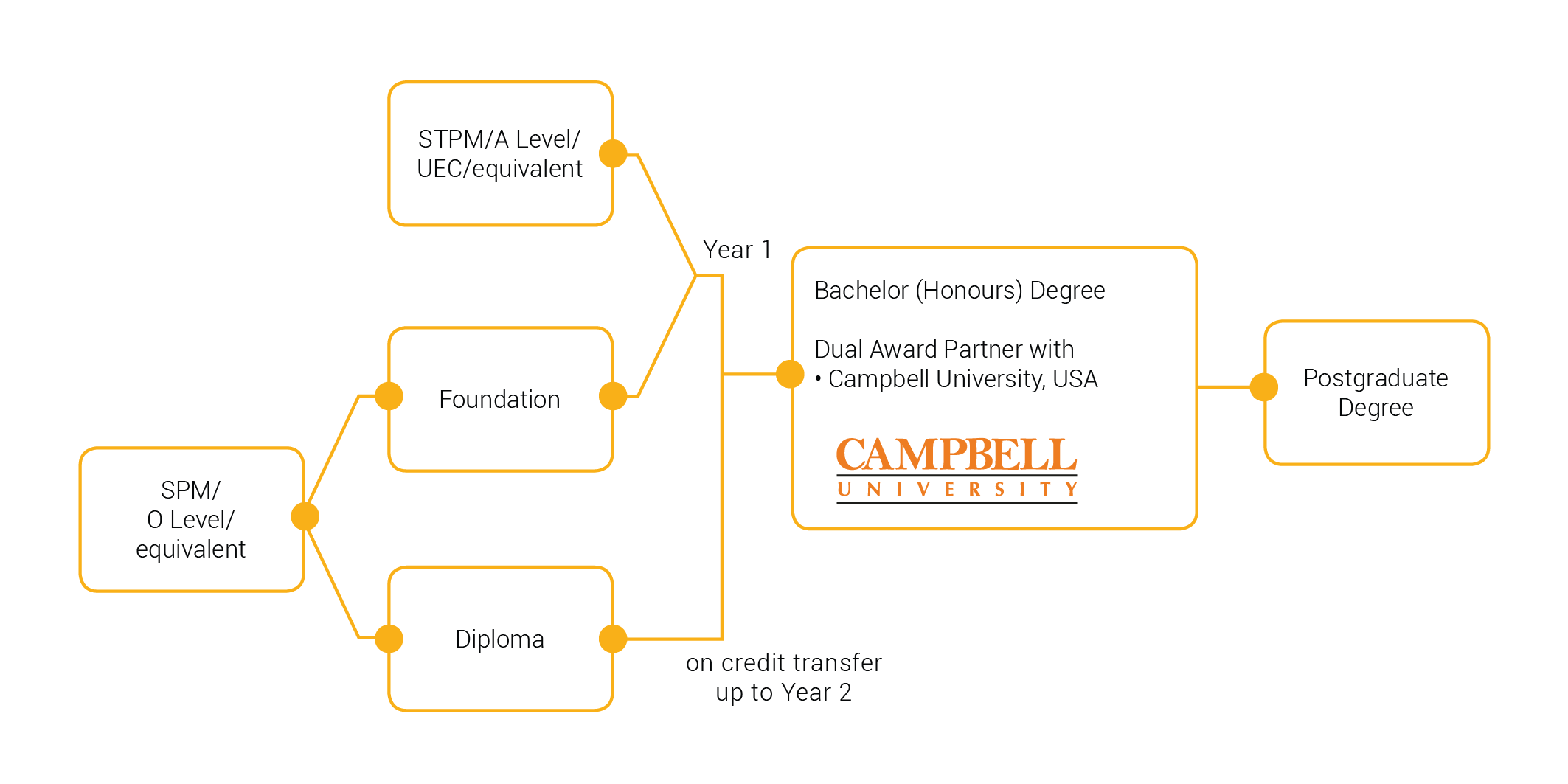 Entry Requirements:
Click to enlarge

Find out more about AELE0364 English Language (1119 Level)
Programme Outline:
Discrete Mathematics
Calculus I
Calculus II
Algebra
Probability and Statistics
Linear Algebra
Advanced Calculus
Numerical Methods
Mathematical Statistics
Applied Statistics
Operations Research I
Operations Research II
Financial Mathematics
Quality Control
Mathematical & Statistical Software
Problem Solving and Programming
Database Management
Computer Organisation and Architecture
Object-Oriented Programming
Operating Systems
IT Fundamentals
Visual Programming
Industrial Training
Project
Electives:
Microeconomics
Macroeconomics
Accounting Methods I
Accounting Methods II
Business Organisation & Management
Further Applied Statistics
Cryptography
Mathematics for Computer Science
Advanced Financial Mathematics
Graph Theory and Appplications
Actuarial Mathematics
Software Engineering
Social and Professional Issues
Web Design and Development
Digital Multimedia
Mobile Application Development
Systems Administration
Corporate Finance
Risk Management
Music Appreciation
Introduction to the Short Story
Data Structures and Algorithms
System Analysis and Design
Language, Mata Pelajaran Pengajian Umum (MPU) and Co-curricular Courses:
English Language, Tamadun Islam dan Asia, English for Communication, Hubungan Etnik, English for the Profession, Entrepreneurship, Bahasa Kebangsaan A, Contemporary Malaysian Issues, Co-curricular
Note: General College Curriculum and Liberal Arts requirements must be fulfilled for Campbell University BS Degree programme
Career Prospects:
Officers in financial institutions such as banks, insurance firms, and investment houses
Quantitative Analysts
Quality Managers
Research Officers
Investment Analysts
Financial Analysts
Management Consultants
Financial Planners and Advisors
Pricing Analysts
Market Risk Managers
Credit Risk Managers
Asset/Liability Managers
IT Managers
Programmers
Fees & Financial Aid:
For more information on Fees, click here.