Programme Overview:
Students are trained in both theoretical knowledge and practical skills for software development, system design and related mathematical techniques.
Duration:
2 years
Campuses:
Intake:
May
Academic Progression:
Graduates may be admitted into Year 2 of:
Entry Requirements:
Click to enlarge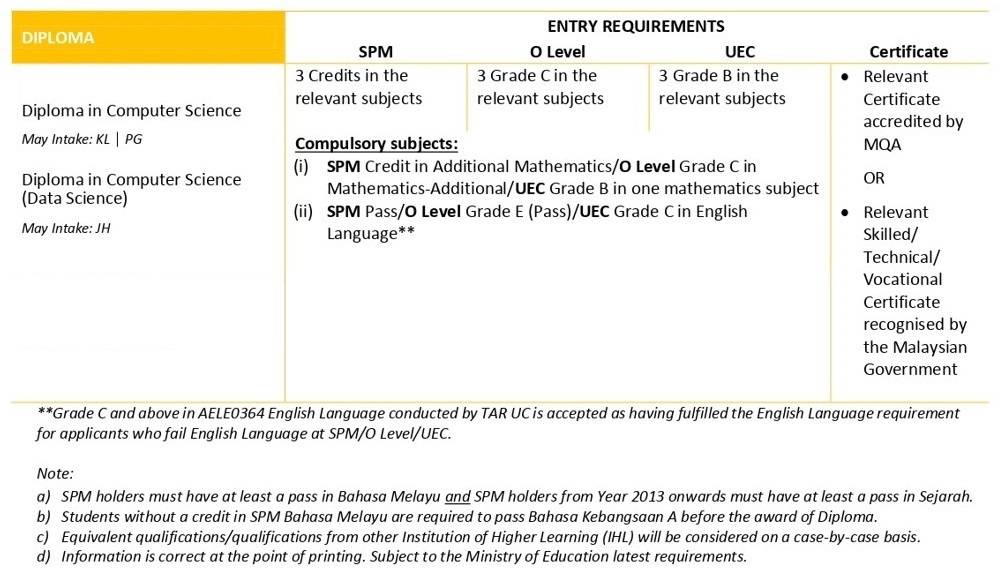 Find out more about AELE0364 English Language (1119 Level)
Programme Outline:
Introduction to Information Technology
Programming Concepts and Design I
Programming Concepts and Design II
Operating Systems
Web Design and Development
Systems Analysis and Design
Object-Oriented Programming Techniques
Computer Systems Architecture
Fundamentals of Computer Networks
Database Development and Applications
Pre-Calculus
Introductory Calculus
Statistics I
Statistics II
Discrete Mathematics
Algebra
Industrial Training
Elective I (Choose 1):
Accounting Methods I
Introduction to Data Science
Computer Games Technology
Software Engineering I
Elective II (Choose 1):
Accounting Methods II
Introduction to Data Mining
Computer Games Studies
Software Engineering II
Elective III (Choose 1):
Principles of Information Systems
Fundamentals of Artificial Intelligence
Computer Game Development
GUI and Web Application Programming
Language, Mata Pelajaran Pengajian Umum (MPU) and Co-curricular Courses:
English Language, English for Communication, Bahasa Kebangsaan A or Public Speaking, Pengajian Malaysia 2, English for IELTS, Civic Consciousness and Volunteerism, Co-curricular
Career Prospects:
Junior Analyst Programmers
Junior Systems Analysts
Junior Software Engineers
Junior Systems Engineers
Junior Research Officers
Junior Quantitative Analysts
Junior Software Developers
Fees & Financial Aid:
Estimated Total Fees : RM 17,600 (Malaysian Student), RM28,400 (International Student)
The estimated total fees may vary by 10%
For more information on Fees, click here.
Merit Scholarship
To find out more, click here.
Other Scholarship
To find out more, click here.
Financial Aid
For PTPTN, click here.
For Study Loan, click here.
For more information on Financial Aid, click here.