Programme Overview:
This programme trains students in the area of ICT Systems Support, which includes information and communication technologies, system installation and configuration, system troubleshooting and maintenance, ICT user support, computer operational procedures and computer security. Students will also be trained in the area of software and information systems development and database management.These core areas are the most basic knowledge and skills required for students in their future workplace and study.
Students will also have the opportunity to experience 9 weeks of industrial training in related industry. The aim is to expose students to system and user support training, which will add value to their qualification and increase their employment opportunities.
Duration:
2 years
Intake:
May
Campuses:
Academic Progression:
Graduates may be admitted into Year 2 of: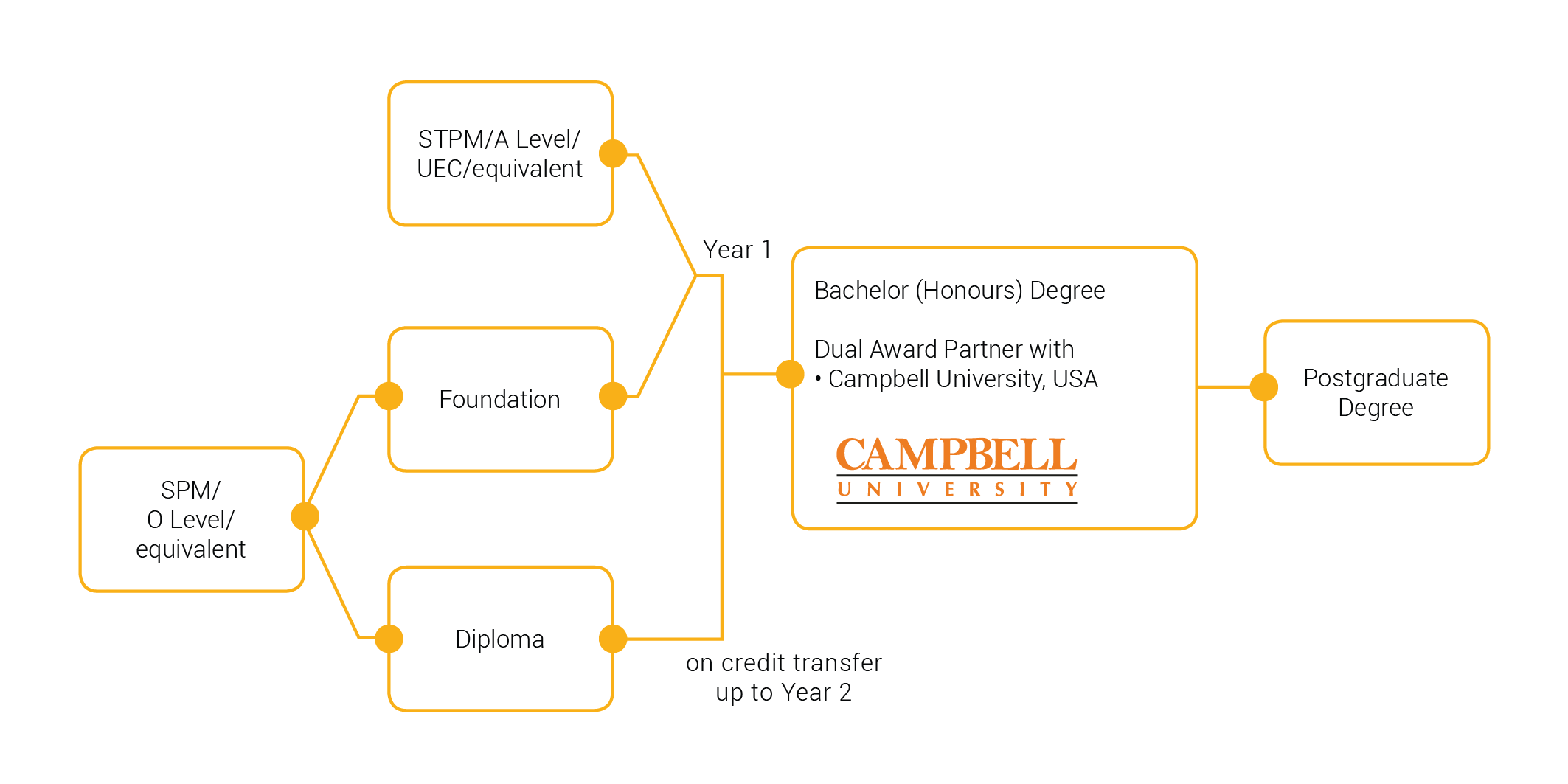 Programme Outline:
Problem Solving and Programming
Information and Communication Technologies
Computer Installation and Configuration
Probability and Statistics
Computer Troubleshooting and Maintenance
Computer Operational Procedures
Web Design and Development
Computer Systems Architecture
Object-Oriented Programming Techniques
Fundamentals of Computer Networks
Systems Analysis and Design
Database Development and Applications
Discrete Mathematical Structures I
Discrete Mathematical Structures II
Cloud Computing for Business
Operating Systems
Introduction to Computer Security
ICT User Support
Industrial Training
Elective I (Choose 1):
Event-Driven Programming
Principles of Information Systems
Elective II (Choose 1):
Web Systems and Technologies
Business Organisation and Management
Elective III (Choose 1):
Mobile Application Development
Web Application Programming
Language, Mata Pelajaran Pengajian Umum (MPU) and Co-curricular Courses:
English Language, English for Communication, Bahasa Kebangsaan A, Pengajian Malaysia 2, Public Speaking, English for IELTS, Civic Consciousness and Volunteerism, Co-curricular
Career Prospects:
Junior Entry-level User Support Specialists
Junior Help-desk Support Staff
Junior IT Executives
Junior Programmers
Assistant Systems Analysts
Assistant Database Administrators
Fees & Financial Aid:
Estimated Total Fees: RM 17,800 (Malaysian Student)
The estimated total fees may vary by 10%
For more information on Fees, click here.
For more information on Financial Aid, click here.