Programme Overview:
Electronics Engineering is one of the largest and fastest growing industries, especially in Penang – Malaysia's electronics manufacturing hub. This programme deals with the design, application, installation, manufacturing, operation or maintenance of electronics systems. Unlike conventional electronics engineering programme which emphasises on general theories and conceptual designs, the Bachelor of Electronics Engineering Technology with Honours programme covers a specialised discipline in application of electronic engineering, design and implementation, with a broad knowledge of curriculum in the area of industrial robotic, very-large-scale integration (VLSI) design system, microwave communication system, digital signal processing, microelectronics and etc.
Students are also given work placement opportunities with the industry partners includes Plexus Manufacturing Sdn Bhd, Jabil Circuit Sdn Bhd, ViTrox Corporation Berhad, UWC Berhad, VeecoTech Web & Ecommerce Sdn Bhd and Community Marketplace Technology Sdn Bhd throughout their studies, particularly during their semester breaks and internship. This programme produces highly sought-after talents for the industry as students will go through an enriching learning experience that is industrial-relevant.
Intake
May/June
Duration
4 years
Campus
Penang Campus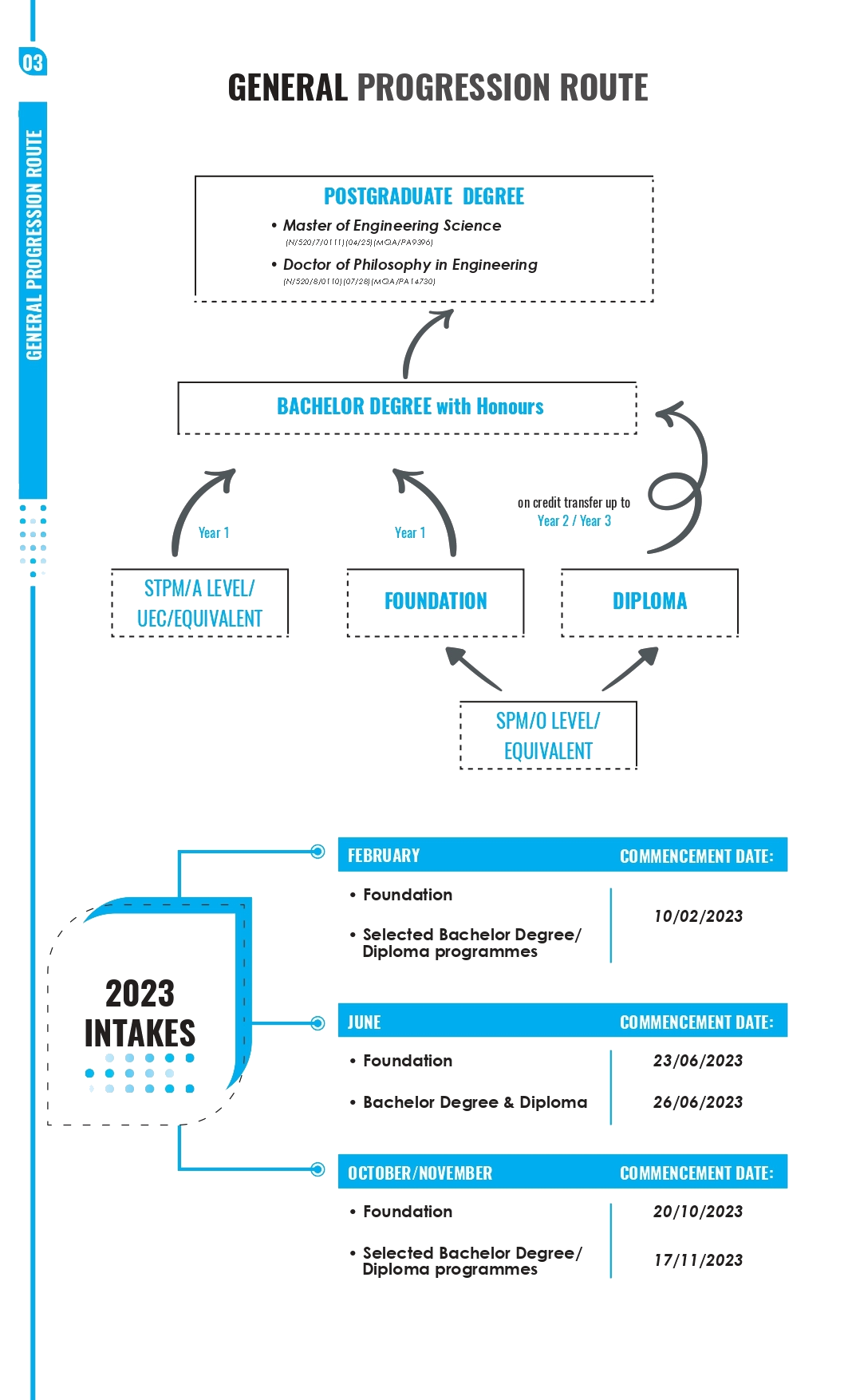 Engineering Programming
Principles of Electrical and Electronic Engineering/ Electronic Devices/ Circuit Theorem
Engineering Drawing & CADD
Engineering Physics/ Mechanics
Digital Electronics
Project Management and Finance
Microprocessors/ Embedded System
Analogue Electronics
Electronic Instrumentation and Communications
Industrial Control and Automation
Engineering Technologist and Society
Digital Signal Processing
Microelectronics/ VLSI System Design
Control Systems Engineering
Microwave Communication Systems
Power Electronics and Drives
Artificial Intelligence/ Internet of Things
Data Science/ Cloud Computing
Machine Learning/ Industrial Robotic
Language, Mata Pelajaran Pengajian Umum (MPU) and Co-Curricular Courses: English for Tertiary Studies, Academic English, English for Career Preparation, Entrepreneurship, Penghayatan Etika Dan Peradaban, Falsafah dan Isu Semasa,Contemporary Malaysian Studies, Co-curricular

Credit: 140
The career prospect of engineering technologist covers a broad spectrum in the engineering field:
Product development & manufacturing
Aerospace
Communications
Instrumentation & control
IT & computing
Consumer & industrial electronics
Microelectronics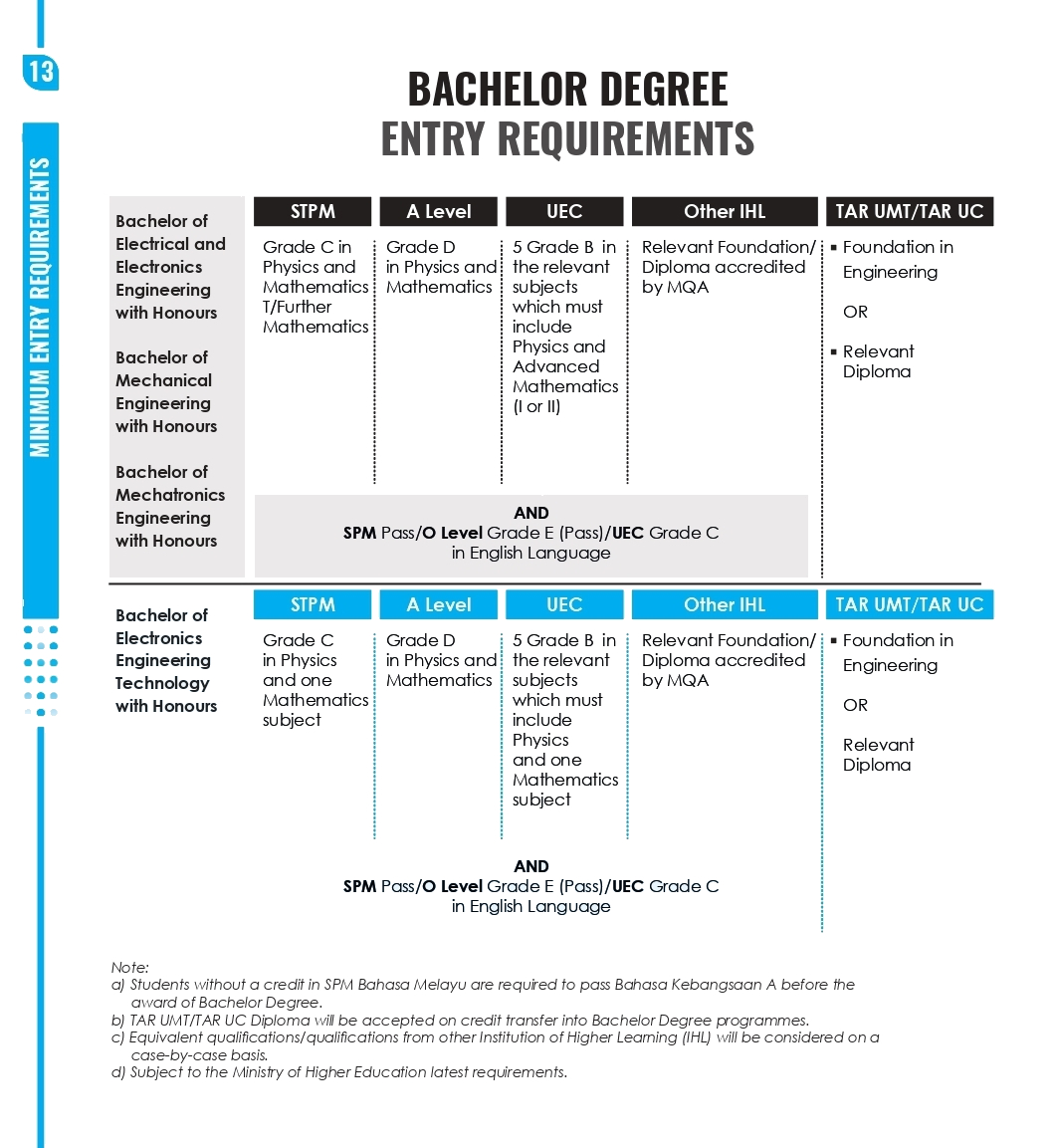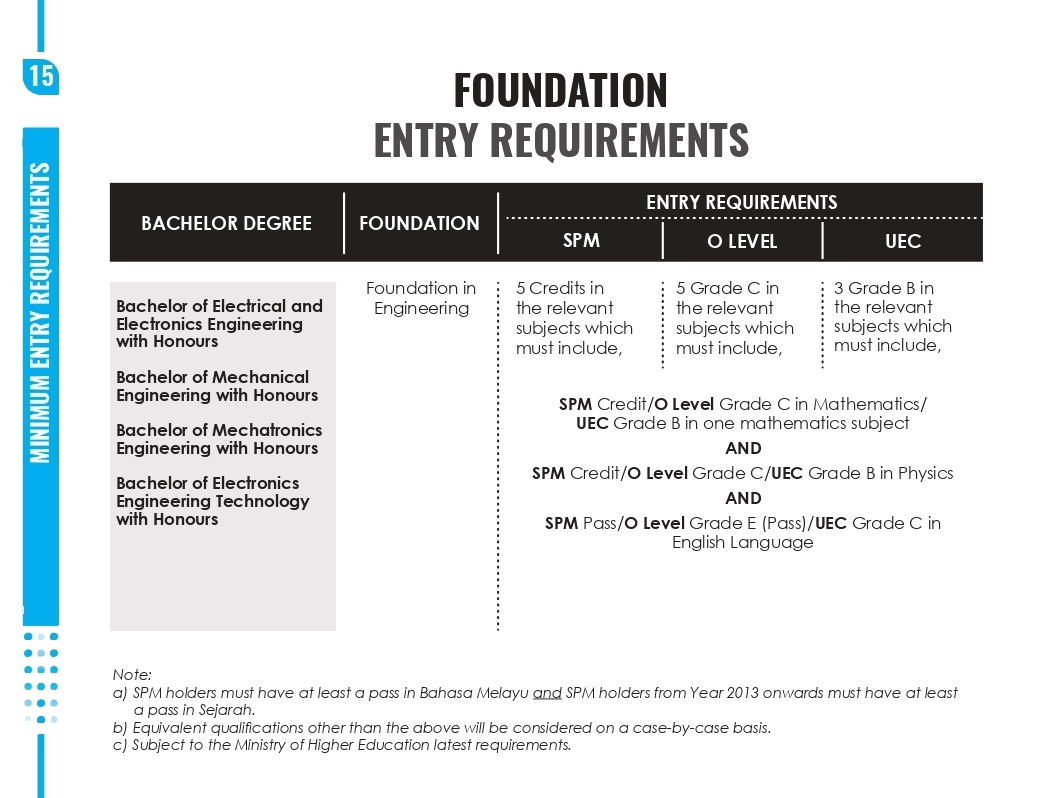 Fees & Financial Aid:
Estimated Total Fees: (RM) 40,500 (Malaysian Student), RM72,400 (International Student).
The estimated total fees may vary by 10%.
For more information on fees, click here.
Merit scholarship
To find out more, click here.
Other scholarship
To find out more, click here.
Financial Aid
For PTPTN, click here.
For Study Loan, click here.
For more information on Financial aid, click here.
The programme objectives describe the expected achievements of the electronics engineering technology programme graduates in their career and professional life a few years after their graduation. The graduates of the electronics engineering technology programme will:
Graduates are able to practice in the field of electronics engineering technology.
Graduates are engaged in lifelong learning and professional development.
Graduates are able to adhere to ethical, moral, legal, and professional requirements in engineering technologist practices and contribute to the society.
Knowledge

- Able to acquire and apply knowledge of electronic engineering technology to defined and applied engineering procedures, processes, systems or methodologies.
Problem Analysis

- Able to solve broadly defined problems using tools and techniques appropriate to their disciplines or areas of specialization.
Design/Development of Solutions

- Able to design solutions for broadly-defined engineering technology problems, and to design systems, components or processes to meet specified needs with appropriate consideration for public health and safety, as well as cultural, societal, environmental and sustainability concerns.
Investigation

- Plan and conduct experimental investigations of broadly-defined problems, using data from relevant sources.
Modern Tool Usage

- Able to select and apply modern engineering tools, appropriate techniques and resources with an understanding of the limitations.
Engineer and Society

- Understand the social, cultural, global and environmental responsibilities of a professional electronic engineering technologist.
Environment and Sustainability

- Understand the sustainability and impact of engineering technologist work in well-defined engineering problems in societal and environmental contexts.
Ethics

- Understand the sustainability and impact of engineering technologist work in well-defined engineering problems in societal and environmental contexts.
Communication

- Able to communicate effectively on engineering technology activities in both oral and written means with people of technical background and non-technical background.
Individual and Team Work

- Able to function effectively as an individual and in groups with the capacity to be a leader or manager.
Life-long Learning

- Recognize that electronic engineering technology is a fast revolving field requiring the need for life-long learning and possessing/acquiring the capacity to do so.
Project Management and Finance

- Understand project management principles and issues that are required to deliver successful engineering projects in multidisciplinary environment.