Programme Overview:
Electrical and Electronic Engineering shows you how a touchscreen responds to your fingers, how your GPS knows exactly where you are and how electricity arrives at your doorstep with a flick of a switch from a power plant hundreds of kilometres away. Electrical and Electronic devices are everywhere, rapidly changing the way we live our lives. It is the leading sector in Malaysia's industry. The programme will prepare you to be a competent engineer well equipped to meet the challenges of a very fast-moving industry. The emphasis of the programme is on sustainable design, development and commercialisation of a wide range of electrical & electronic products and services. This includes consumer electronics, intelligent control systems, electrical energy, power systems and electrical machines.
Intake
January, May/June, November (Selected programme)
Duration
4 years
Campus
KL Main Campus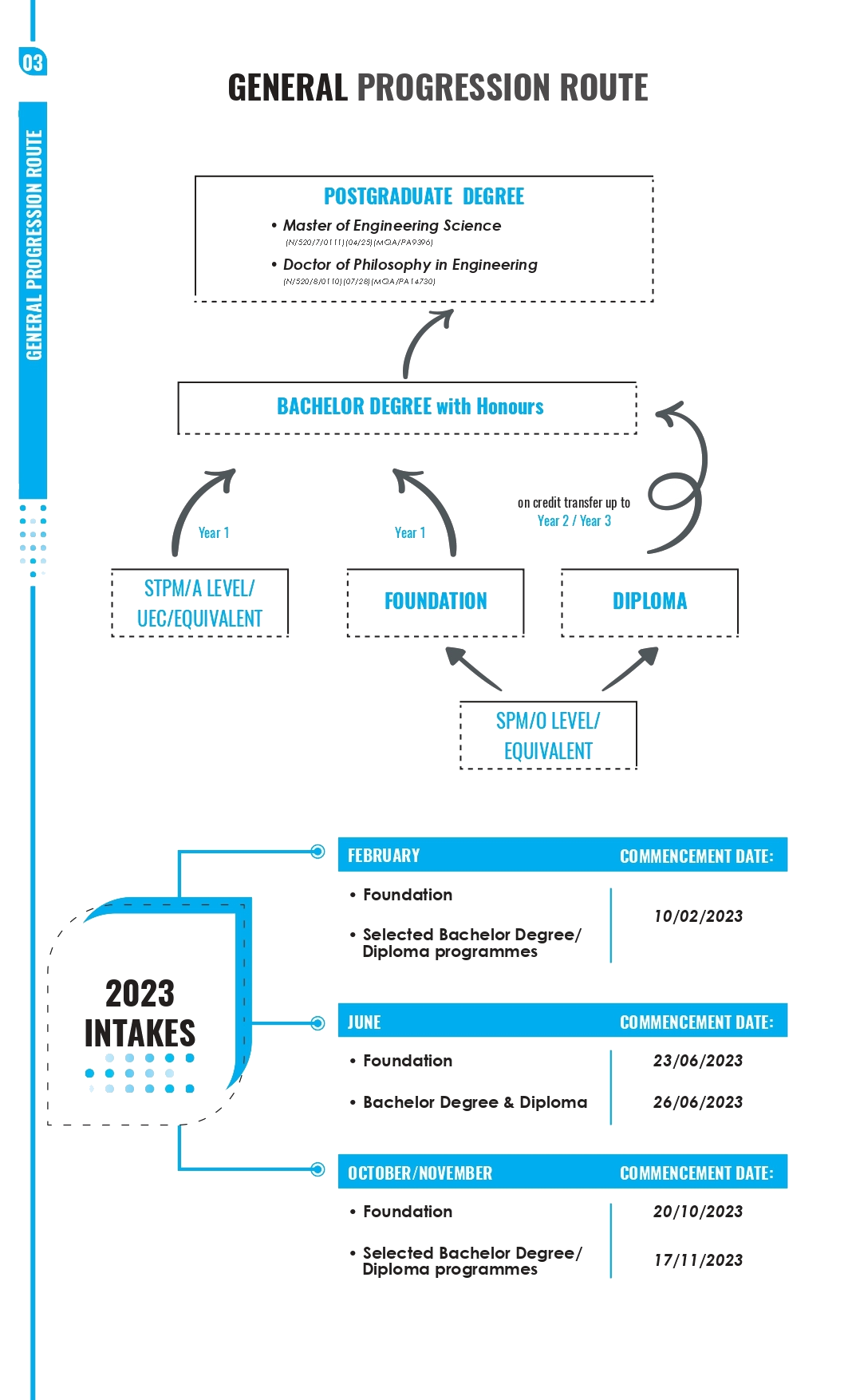 Engineering Mathematics
Programming for Engineers
Engineering Drawing & CADD
Digital and Analogue Electronics
Digital and Analogue Systems Design
Microprocessor Systems
Communication Systems Networks
Circuits Analysis
Signal and Systems
Digital Time Signal Processing
Instrumentation and Measurement
Control Systems Engineering
Artificial Intelligence
High Voltage Engineering
Power Electronics and Drives
Electrical Energy Utilization
Computer Architecture
Power System Analysis, Quality & Protection
Electrical Technology & Machines
Power System Analysis, Quality and Protection
Power Transmission and Distribution
Renewable Energy
Embedded Systems
Microelectronics and Integrated Circuit Technology
Multimedia Technology and Applications
Project Management & Finance
Engineer and Society
Project I & II
Industrial Training
Capstone Project
Language, Mata Pelajaran Pengajian Umum (MPU) and Co-Curricular Courses: English for Tertiary Studies, Academic English, English for Career Preparation, Entrepreneurship, Contemporary Malaysian Issues, Penghayatan Etika Dan Peradaban, Falsafah Dan Isu Semasa/ Philosophy and Contemporary Issues, Bahasa Kebangsaan A, Co-Curricular

Credit: 142
Graduates will find career opportunities in a wide range of sectors, including aerospace, communications, instrumentation & control, IT & computing, consumer & industrial electronics/microelectronics, electrical & power generation machinery & equipment, manufacturing, transport networks, power generation, transmission & distribution, public utilities, building services, scientific, medical and educational institutions, amongst others.

Job scopes may include developing solutions to problems using new or existing technologies, product design, research & development, test & verification, inspection and maintenance, marketing, sales & service, management/supervision of engineering projects & operations, systems installation & testing, ensuring projects meet electrical safety regulations and consultancy, amongst others.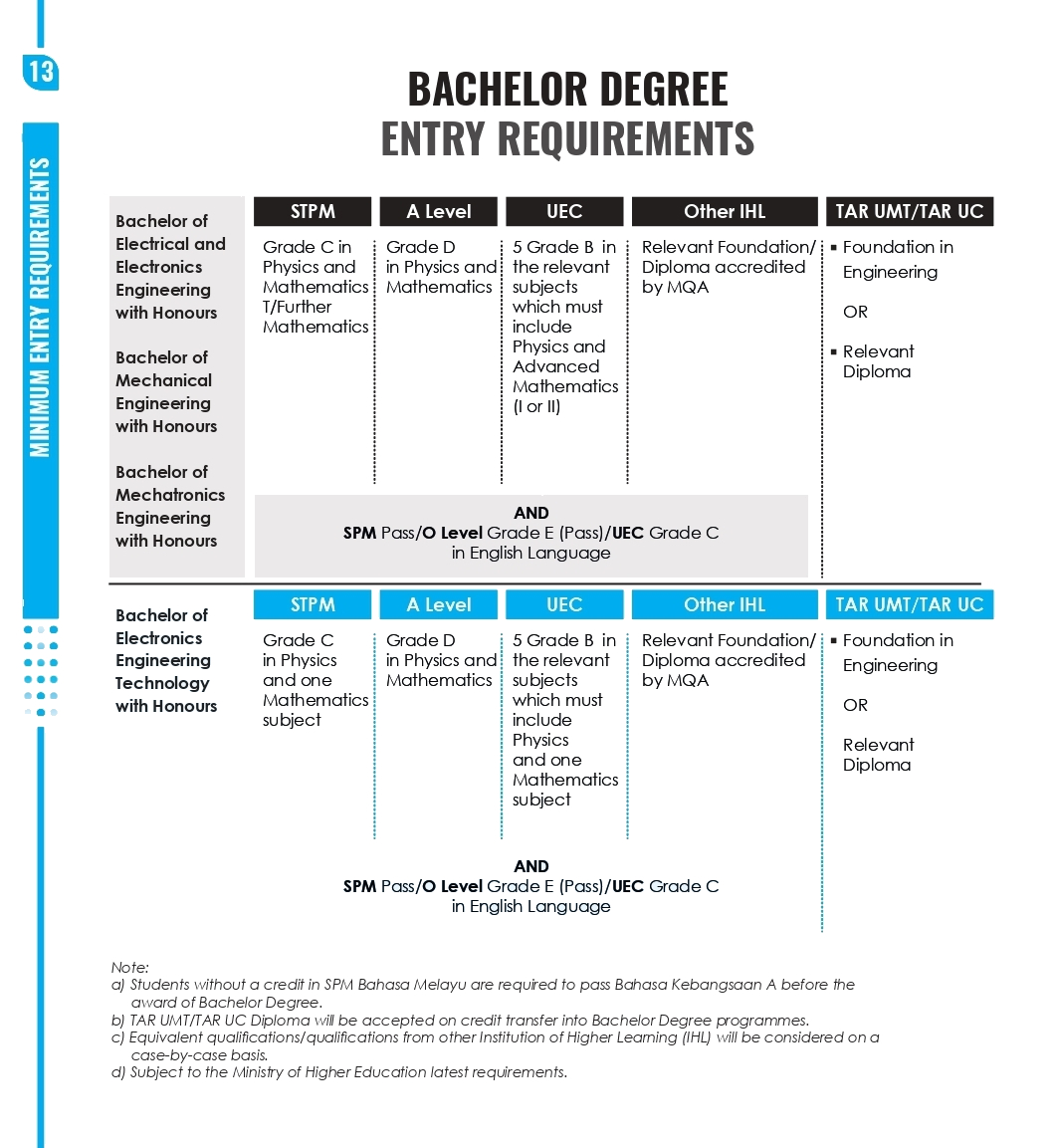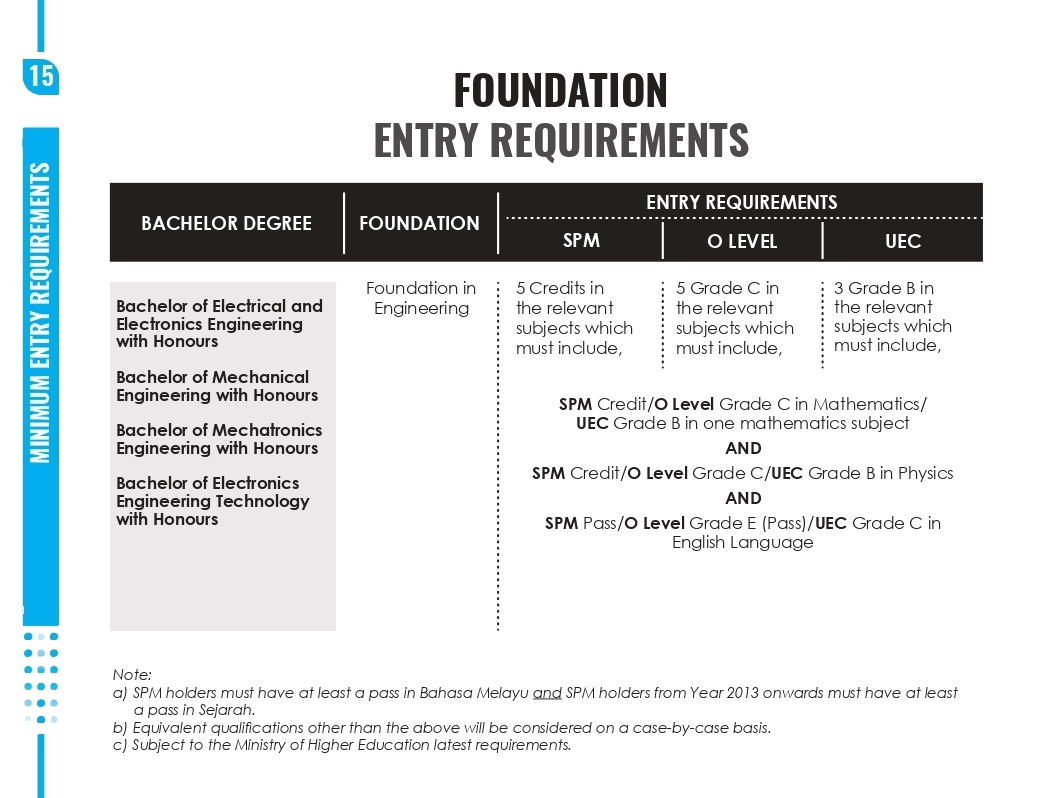 Fees & Financial Aid:
Estimated Total Fees: (RM) 41,000 (Malaysian Student), RM71,500 (International Student).
The estimated total fees may vary by 10%.
For more information on fees, click here.
Merit scholarship
To find out more, click here.
Other scholarship
To find out more, click here.
Financial Aid
For PTPTN, click here.
For Study Loan, click here.
For more information on Financial aid, click here.
The programme objectives describe the expected achievements of the Electrical and Electronics Engineering programme graduates in their career and professional life a few years after their graduation. The graduates of the Electrical and Electronics Engineering programme will:
Graduates are competent in the practice of Electrical and Electronics Engineering.
Graduates are engaged in lifelong learning and professional development.
Graduates are committed to professionalism in engineering practices and contribute to the society.
The programme outcomes are statements that describe what students are expected to know and be able to perform or attain by the time of graduation in relation to the skills, knowledge and behaviour that students acquire through the Electrical and Electronics degree programme. All engineering programmes in the faculty have adopted the Outcome Based Education (OBE) approach in their teaching and learning methodology in accordance to the EAC accreditation requirements.
Students of the programme should have the ability to:
Knowledge

- Ability to acquire and apply knowledge of electrical and electronic engineering to the solution of complex engineering problems.
Problem Analysis

- Ability to perform complex electrical and electronic engineering problem analysis through identification, formulation, research and critical analysis through systematic approach.
Design/Development of Solutions

- Ability to utilise systems approach

to evaluate

performance and design solutions for complex problems in electrical and electronic engineering systems.
Investigation

- Acquire in‐depth technical competence to conduct investigation into complex problems using research based knowledge and research methods to obtain valid conclusions.
Modern Tool Usage

- Ability to create, select and apply modern tools, appropriate techniques and resources to complex electrical and electronic engineering activities, with an understanding of the limitations.
Engineer and Society

- Understand the social, cultural, global and environmental responsibilities of a professional electrical and electronic engineer.
Environment and Sustainability

- Understand the needs and principles of sustainable development and the social/environmental impact of engineering solutions.
Ethics

- Understand the professional and ethical responsibilities of electrical and electronic engineers and the commitment to them.
Communication

- Ability to communicate effectively on complex engineering activities in both oral and written means with people of technical and non-technical background.
Individual and Team Work

- Able to function effectively as an individual and in a group with the capacity to be a leader or manager.
Life-long Learning

- Recognise that electrical and electronic engineering is a fast revolving field requiring the need for life-long learning and possessing/acquiring the capacity to do so.
Project Management and Finance

- Understand project management principles and issues that are required to deliver successful engineering projects in multidisciplinary environment.