Programme Overview:
Electronic communication is a rapidly developing field as a result of modern time's reliance on the Internet, mobile phones, broadband, and wireless network. The communication engineering programme aims to develop engineers who will work at the cutting edge of the communication industry with emphasis on technologies for mobile and broadband communication. The Bachelor of Telecommunication Engineering with Honours programme develops engineers who design, implement, and manage transmission systems for a wide range of telecommunication application such as networking security, signal processing, high-frequency circuits, mobile communication, web technologies, wireless and satellite communication systems.
Intake
May/June, November (Selected programme)
Duration
4 years
Campus
KL Main Campus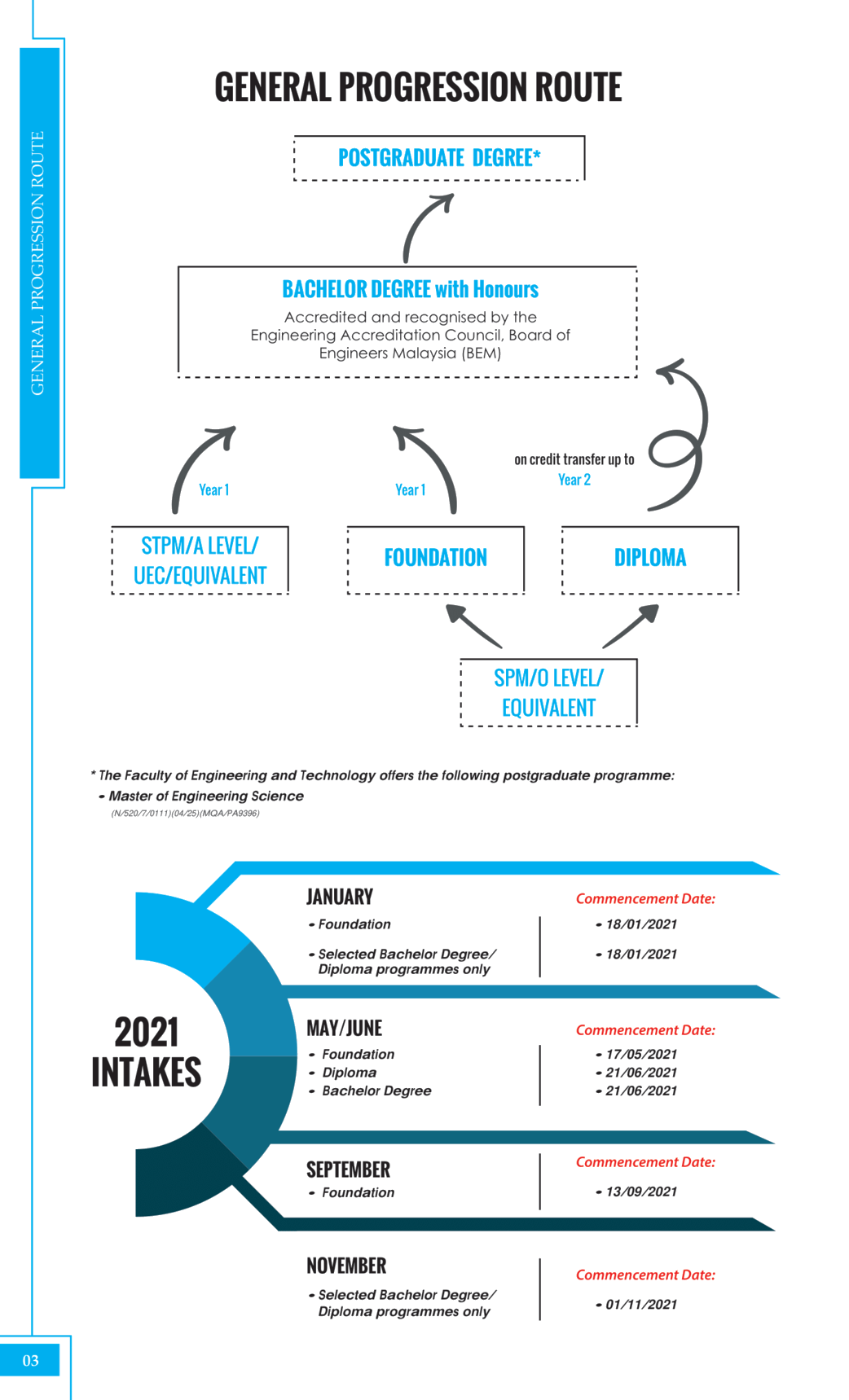 Engineering Mathematics
Programming for Engineers
Engineering Drawing & CADD
Digital and Analogue Electronics
Digital and Analogue Communication System Design
Microprocessor Systems
Digital Signal Processing
Circuits Analysis
Signal and Systems
Discrete Time Signal Processing
Data and Multimedia Network
Applied Electromagnetics
Microwave Engineering
High Frequency Circuit Design
Electromagnetics
Embedded Systems
Microelectronics and Integrated Circuit Technology
Multimedia Technology and Applications
Opto-Electronics
Fibre Optics
Antenna Design
Instrumentation and Measurement
Wireless Communication and Standards
Information Theory and Error Coding
Mobile and Satelite Systems
Engineering Management
Engineer & Society
Final Year Project
Industrial Training
Capstone Project
Credit: 140
Graduates will find career opportunities in a wide range of sectors, including communications, media & entertainment, aerospace, power, instrumentation & control, software engineering/IT computing, consumer & industrial electronics/microelectronics, hardware manufacturing, public utilities, scientific, medical and educational institutions, amongst others. Job scopes may include developing solutions to problems using new or existing technologies, mobile radio network engineering, RF test/product engineering, radio technology development, application & product design, research & development, test & verification, inspection and maintenance, marketing, sales & service, management/supervision of engineering projects & operations, setting up networks & equipment, systems installation & testing, and project consultancy, amongst others.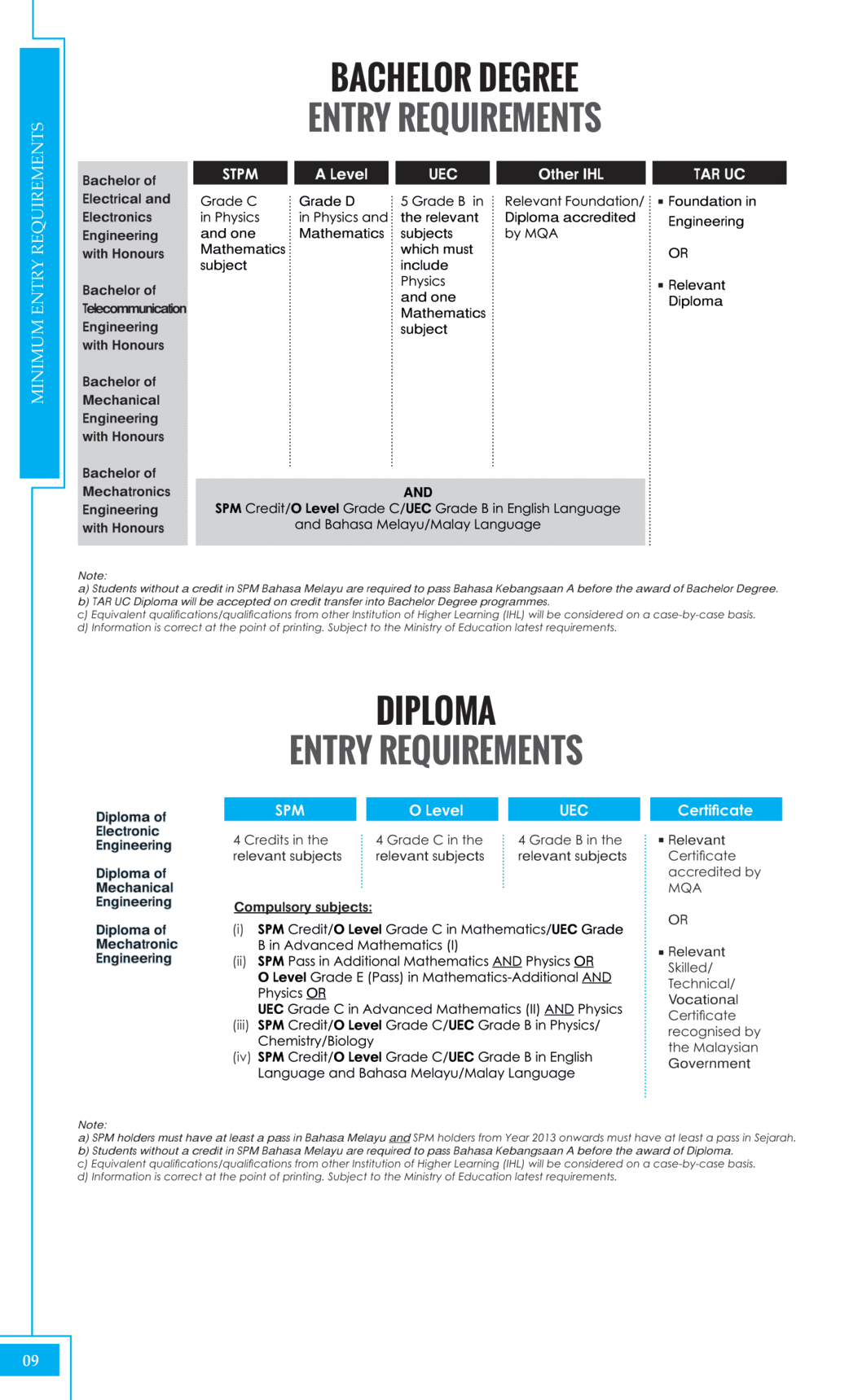 For more information about AELE0364 English Language (1119), click HERE
Fees & Financial Aid:
Estimated Total Fees: (RM) 40,500 (Malaysian Student), RM65,200 (International Student).
The estimated total fees may vary by 10%.
For more information on fees, click here.
Merit scholarship
To find out more, click here.
Other scholarship
To find out more, click here.
Financial Aid
For PTPTN, click here.
For Study Loan, click here.
For more information on Financial aid, click here.
The programme objectives describe the expected achievements of the Electronic Engineering programme graduates in their career and professional life a few years after their graduation. The graduates of the Electronics Engineering programme will:
Graduates are competent in the practice of Electronics Engineering.
Graduates are engaged in lifelong learning and professional development.
Graduates are committed to professionalism in engineering practices and contribute to the society.
The programme outcomes are statements that describe what students are expected to know and be able to perform or attain by the time of graduation in relation to the skills, knowledge and behaviour that students acquire through the Electronics degree programme. All engineering programmes in the faculty have adopted the Outcome-Based Education (OBE) approach in their teaching and learning methodology in accordance to the EAC accreditation requirements.
Students of the programme should have the ability to:
Knowledge

- Ability to acquire and apply knowledge of electronic engineering to the solution of complex engineering problems.
Problem Analysis

- Ability to perform complex electronic engineering problem analysis through identification, formulation, research and critical analysis through systematic approach.
Design/Development of Solutions

- Ability to utilise systems approach to evaluate performance and design solutions for complex problems in electronic engineering systems.
Investigating

- Acquire in‐depth technical competence to conduct investigation into complex problems using research based knowledge and research methods to obtain valid conclusions.
Modern Tool Usage

- Ability to create, select and apply modern tools, appropriate techniques and resources to complex electronic engineering activities, with an understanding of the limitations.
Engineer and Society

- Understand the social, cultural, global and environmental responsibilities of a professional Electronic engineer.
Environment and Sustainability

- Understand the needs and principles of sustainable development and the social/environmental impact of engineering solutions.
Ethics

- Understand the professional and ethical responsibilities of Electronic engineers and the commitment to them.
Communication

- Ability to communicate effectively on complex engineering activities in both oral and written means with people of technical and non-technical background.
Individual and Team Work

- Able to function effectively as an individual and in a group with the capacity to be a leader or manager.
Life Long Learning

- Recognise that Electronic engineering is a fast revolving field requiring the need for life-long learning and possessing/acquiring the capacity to do so.
Project Management and Finance

- Understand project management principles and issues that are required to deliver successful engineering projects in multidisciplinary environment.