Programme Overview:
Mechanical engineering is the broadest among all engineering disciplines. Thus, most of the modern-day inventions are due to knowledge and application of mechanical engineering. Ranging from simple machinery to supersonic jets and self-driving vehicles, mechanical engineers were always involved from the inception of an idea to the creation of the market-ready product. Graduates trained under mechanical engineering will be equipped with the know-how and skills to work in a wide spectrum of industries such as manufacturing, automotive, modern agriculture, bio-medical, building services and product design. They are well prepared to contribute to the modern world, fulfilling the needs of the Fourth Industrial Revolution (IR 4.0).
Intake
January, May/June, November (Selected programme)
Duration
4 years
Campus
KL Main Campus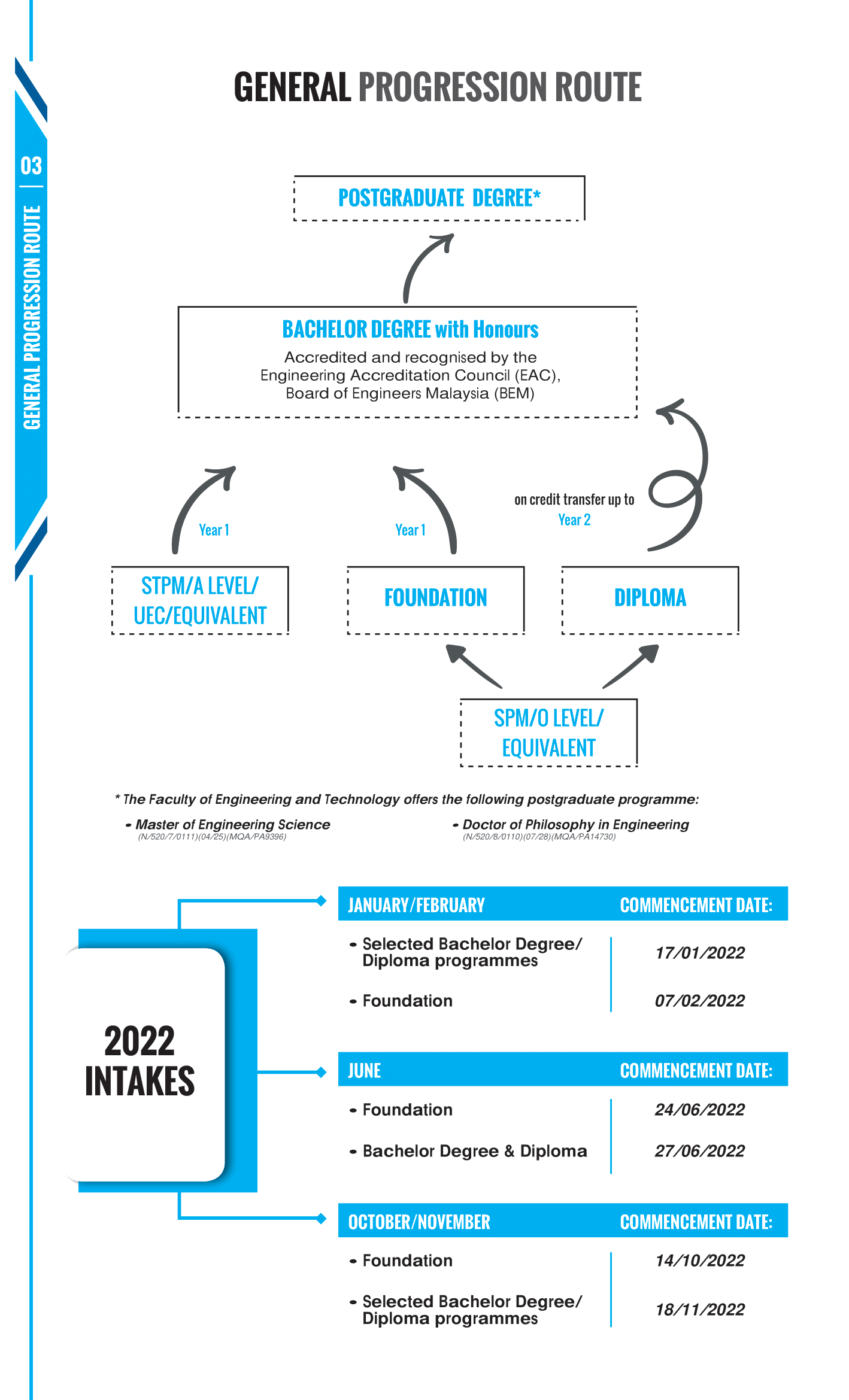 • Engineering Mathematics/ Applied Engineering Mathematics/ Advanced Engineering Mathematics/ Engineering Statistics

• Engineering Drawing and CADD

• Engineering Materials/ Strength of Materials/ Mechanics of Solids / Materials Application and Selection

• Thermodynamics/ Applied Thermodynamics/ Heat Transfer

• Fluid Mechanics/ Applied Fluid Mechanics/ Computational Fluid Dynamics

• Statics/ Dynamics/ Dynamics of Mechanical Systems

• Vibration And Acoustics

• Theory Of Machines/ Electrical Machines

• CNC And Workshop Technology

• Design Of Manufacturing Systems/ Manufacturing Technology/ Manufacturing and Operations Management

• Engineering Design

• Finite Element Analysis

• Programming For Engineers/ Engineering Data Science

• Electric Circuits

• Digital Electronics and Microprocessors

• Control Systems Engineering/ Design of Control Systems

• Measurement And Instrumentation

• Artificial Intelligence

• Industrial Control and Automation/ Automation and Production Systems / Advances In Industrial Revolution 4.0

• Quality And Reliability Engineering

• Project Management and Finance

• Engineer And Society

• Capstone Project

• Industrial Training

• Project And Dissertation

• Language, Mata Pelajaran Pengajian Umum (MPU) and Co-Curricular Courses:

English For Tertiary Studies/Academic English/English For Career Preparation/ Entrepreneurship/Contemporary Malaysian Issues/Penghayatan Etika Dan Peradaban/ Bahasa Melayu Komunikasi 2/Falsafah Dan Isu Semasa/ Philosophy and Contemporary Issues/Bahasa Kebangsaan A/Co-Curricular




Graduates with bachelor degree would find career opportunities as an engineer in various sectors, but not limited to mechanical, manufacturing, process and production, design and development, consultancy and also research and development (R&D). Employment opportunities as equipment or facilities engineer are on the rise nowadays, alongside quality assurance sector.
•Mechanical Engineers
•Design & Development Engineers
•Process/Manufacturing Engineers/Production Engineers
•Equipment/Facilities Engineers
•Service/Technical Support/Field Application Engineers
•Quality Assurance Engineers/ Sales Engineers
•Automation & System Integration Engineers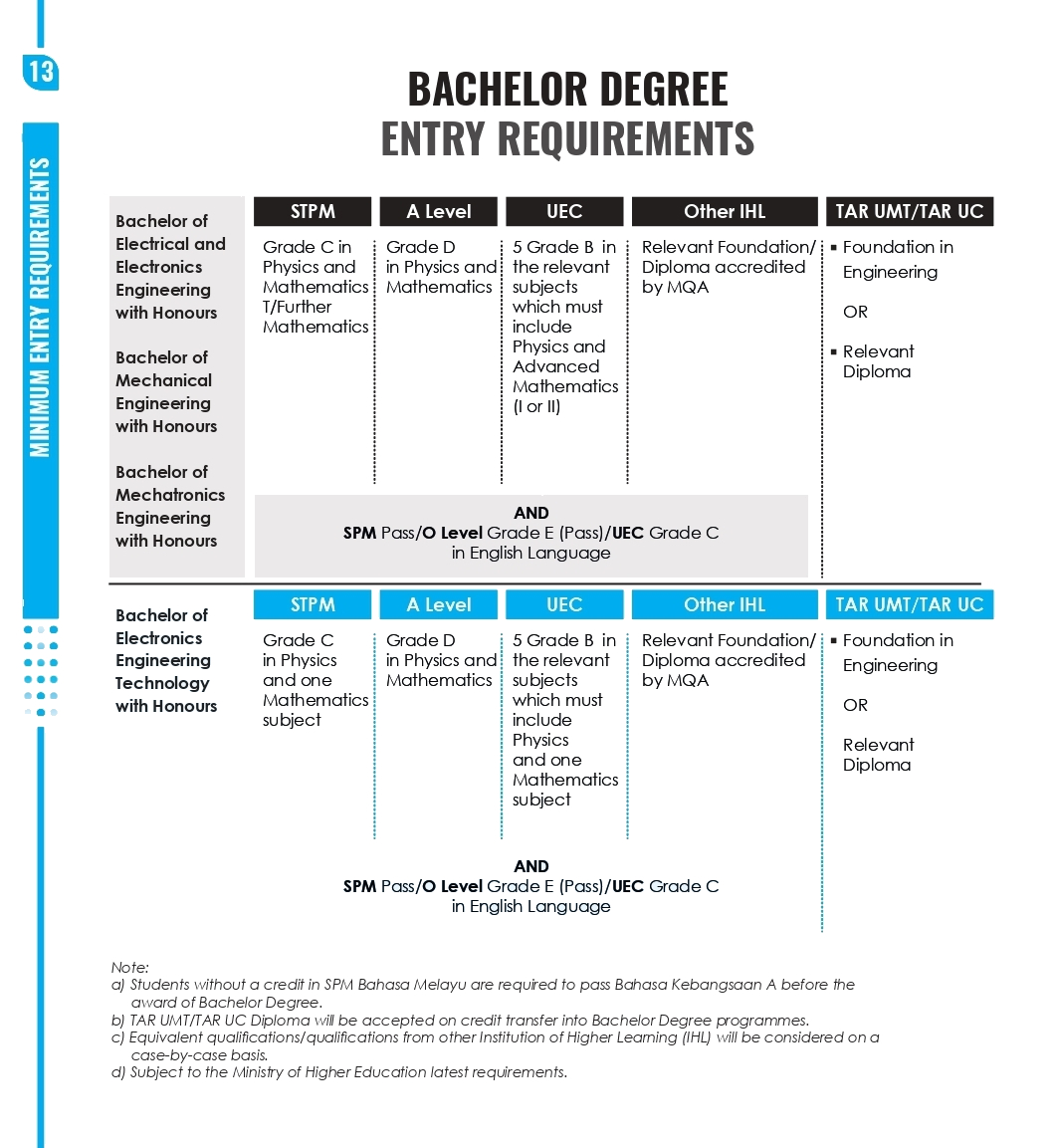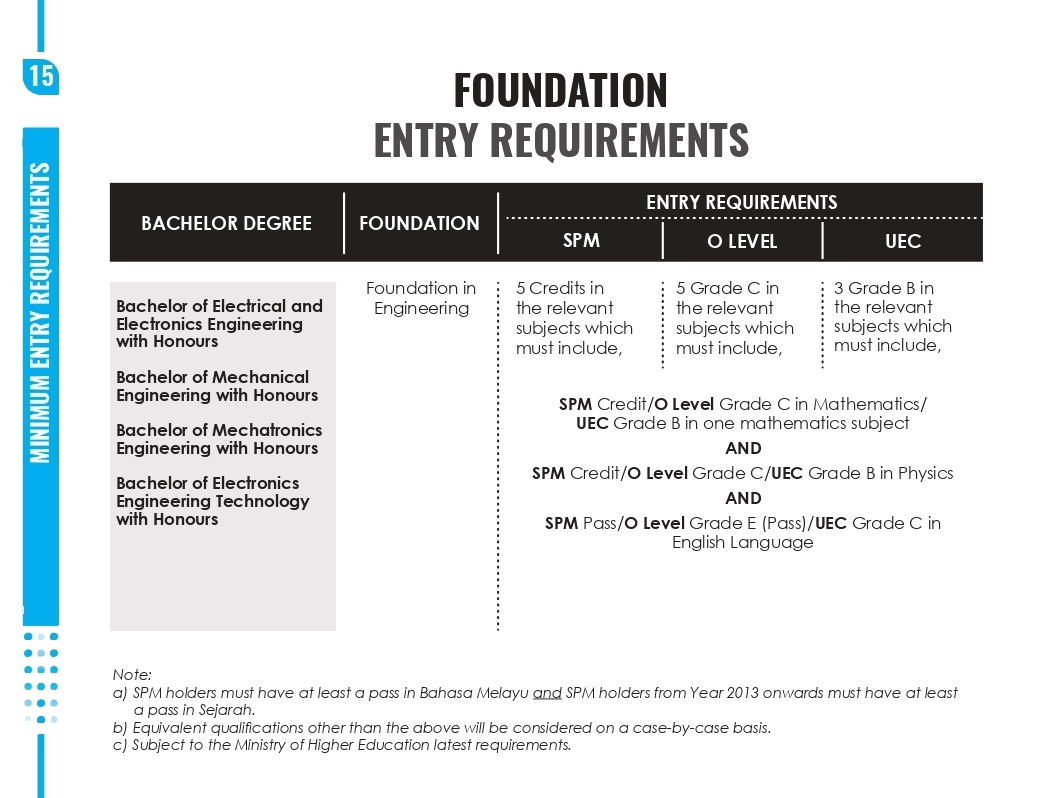 Fees & Financial Aid:

Estimated Total Fees: (RM) 41,000 (Malaysian Student), RM71,500 (International Student).

The estimated total fees may vary by 10%.

For more information on fees, click here.

Merit scholarship

To find out more, click here.

Other scholarship

To find out more, click here.

Financial Aid

For PTPTN, click here.

For Study Loan, click here.

For more information on Financial aid, click here.
Graduates are competent in the practice of Mechanical field of engineering.
Graduates are engaged in lifelong learning and professional development.
Graduates are committed to professionalism in engineering practices and contribute to the society.
Upon completion of the programme, the graduates should be able to:
1. Ability to acquire and apply knowledge of mechanical engineering to the solution of complex engineering problems.
2. Ability to perform complex mechanical engineering problem analysis through identification, formulation, research and critical analysis through systematic approach.
3. Ability to utilise systems approach to evaluate performance and design solutions for complex problems in mechanical engineering systems.
4. Acquire in-depth technical competence to conduct investigation into complex mechanical engineering problems using research based knowledge and research methods to obtain valid conclusions.
5. Ability to create, select and apply modern tools, appropriate techniques and resources to complex mechanical engineering problems, with an understanding of the limitations.
6. Understand the social, cultural, global and environmental responsibilities of a professional mechanical engineer's practice and solutions to complex engineering problems.
7. Understand the needs and principles of sustainable development and the social/environmental impact of solutions to complex mechanical engineering problems.
8. Understand the professional and ethical responsibilities of mechanical engineers and the commitment to them.
9. Ability to communicate effectively on complex mechanical engineering activities in both oral and written means with people of technical and non-technical background.
10. Able to function effectively as an individual and in a group with the capacity to be a leader or manager.
11. Recognise that mechanical engineering is a fast evolving field requiring the need for life-long learning and possessing/acquiring the capacity to do so.
12. Understand project management principles and issues that are required to deliver successful engineering projects in multidisciplinary environment.