Programme Overview:
Manufacturing technology encompasses software-based systems, material forming equipment and processes, material removal tools and processes, tooling systems, automated systems and additive processes etc. It refers to any technology that shapes or influences the manufacturing processes. Manufacturing processes are defined as all the activities involved in translating raw materials into finished products through the use of labour, machinery, chemicals, formulation methods, or biological processes. This diploma aims to produce graduates with a sound foundation in manufacturing technology field. Graduates are equipped with the knowledge which are essential for their future employment.
Intake
January, May/June, November (Selected programme)
Duration
2 years 4 months
Campus
KL Main Campus
Materials Science
Polymeric Manufacturing Technology
Casting Technology
Fundamental of Green Manufacturing
Metal Manufacturing Technology
Mechanical Testing
Heat Treatment
Composite and Ceramics Technology
NDT & Materials Characterisation
Fundamental Mathematics, Mathematics for Technologist
Measurement and Workshop Technology
Computer-Aided Design and Drafting
Computer Programming
Physics for Technologist
Welding Technology
Electric Circuits
Solid Modelling and 3D Printing
CNC Programming and CAM
Project Management and Finance
Industrial Automation
Quality and Safety
Final Year Project
Ethics and Professionalism
Industrial Training
Language, Mata Pelajaran Pengajian Umum (MPU)and Co-Curricular Courses: Integrative English, Progressive English, Pengajian Malaysia 2, Bahasa Kebangsaan A, Public Speaking, Civic Consciousness and Volunteerism, Co-curiccular

Minimum Credits: 92
Diploma graduates may be employed in a wide variety of manufacturing industries such as iron & steels, petrochemicals, electronics, ceramics, polymers, composites, automotive and aerospace industries as assistant engineers, metallurgical technician, quality control technician, service technician, testing technician, production technician, sales & marketing executive. Diploma graduates also can pursue further study in the relevant Bachelor of Technology programme.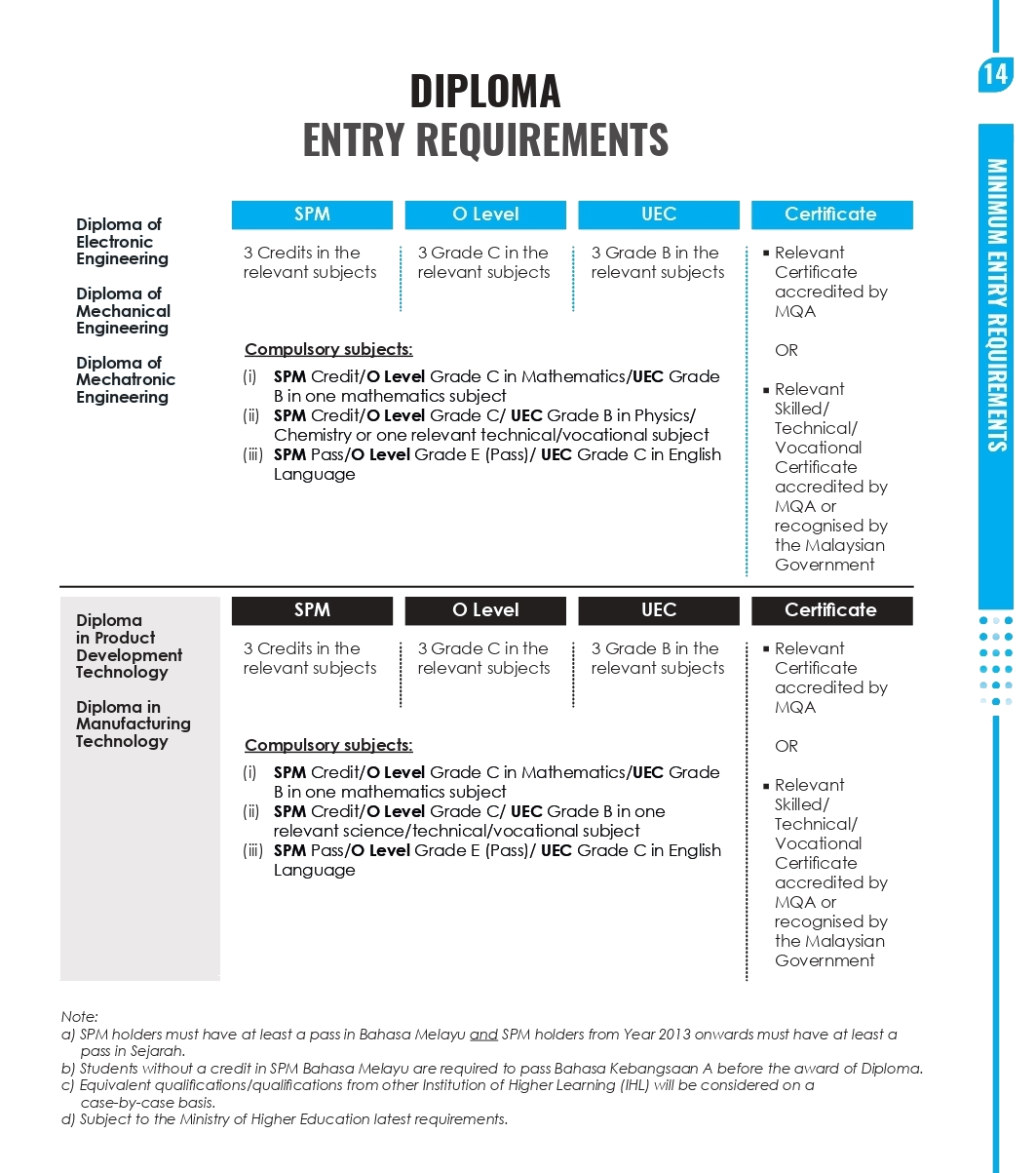 Fees & Financial Aid:
Estimated Total Fees: (RM) RM18,400 (Malaysian Student), Rm 36,100 (International Student)
The estimated total fees may vary by 10%.
For more information on fees, click here.
Merit scholarship
To find out more, click here.
Other scholarship
To find out more, click here.
Financial Aid
For PTPTN, click here.
For Study Loan, click here.
For more information on Financial aid, click here.
The Programme Educational Objectives are as follows:
1. Graduates are competent technicians in the field of manufacturing technology.
2. Graduates are engaged in lifelong learning and professional development.
3. Graduates are committed to professionalism in technologists' practices and contribute to the society.
The nine programmes outcomes derived from the program objectives are as listed below:
1. Demonstrate knowledge in mathematics, science and technology fundamentals in manufacturing technology field to deal with well-defined work procedures and practices.
2. Adopt technical, practical-oriented skills and use of modern tools and technologies to resolve well-defined problems in the context of manufacturing technology.
3. Able to identify, formulate and solve well-defined technical problems in manufacturing technology and resolve through scientific investigation, experimentation and/or application of digital and numeracy skills.
4. Able to apply interpersonal and presentation skills either orally or in written form with the technologist communities and society.
5. Able to assess issues of cultural, environmental, safety, health, sustainability in context of technological development and meeting the societal responsibility in their work practices.
6. Acknowledge the need for and engage in continuous, independent and lifelong learning in the context of manufacturing technological change.
7. Demonstrate awareness of management, business practices and technopreneurship practices.
8. Understand and commit to professional ethics, responsibilities and norms of technology practices.
9. Function efficiently as an individual and in diverse team-based work and possess capacity to lead.