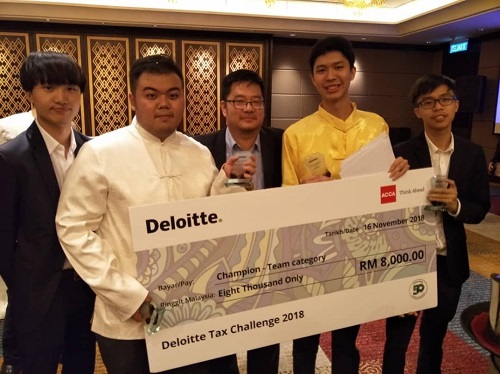 Thon Ding Fong (second from right), together with his other team members, Yip Jia How (rightmost), Liew Hung Hian (second from left) and Tan Jia Lok (leftmost) with their mock cheque and individual trophies in the presence of Mr Tan Hooi Beng (centre), Deputy Tax Leader, Deloitte Malaysia.
TAR UC hit a home run once again in the 2018 Deloitte Tax Challenge when 4 TAR UC students emerged as the Champion team among the 1,200 participants in the team category during the final leg on 16 November 2018. The Champion team consisting of TAR UC's Bachelor of Commerce (Hons) students namely Thon Ding Fong, Tan Jia Lok , Liew Hung Hian and Yip Jia How took home the cash prize of RM8,000 and individual trophies.
Besides determining the national representative to compete in the Deloitte Southeast Asia Tax Challenge which will be held in 2019, the annual tax competition at national level also aims to challenge participants' skills in providing sound explanation for each solution and demand each team member to work creatively with limited resources such as time. "The competition consisted of real business challenges such as mergers & acquisitions, divestments, restructuring, transfer pricing and many more which are very complex. On top of this, each team had to complete both written assessment and a presentation was also required of us in front of a panel of judges in 20 minutes. The competition surely demanded a lot from us and with the limited time given to us, we certainly felt the pressure especially during the preparation for our answers," Ding Fong recalled.
"Nevertheless, thanks to the confidence and motivation given by our dedicated lecturers, strong fundamentals and presentation skills we have learnt in our degree programme in TAR UC, we proceeded well and attempted all the tasks by distributing among us according to each team member's strengths. We also received very useful tips from our seniors who had won in the same competition in the past. Although the competition was very challenging, I am very grateful for the opportunity to compete in this competition as I have gained valuable experience in learning how to work with others and to be able to use the knowledge I have learnt in my degree programme in the real world. The whole team is geared up to compete in the regional levels and we will do our best," enthused Ding Fong who completed his secondary education in Methodist Boys School. His other team members hail from different secondary schools namely Liew Hung Hian from Sekolah Menengah Kebangsaan Wangsa Melawati, Tan Jia Lok from Sekolah Menengah Kebangsaan Aminuddin Baki and Yap Jia How from Sekolah Menengah Kebangsaan Batu Unjur.
In addition, another TAR UC team of students won the Merit Prize in the team category while 3 TAR UC students, namely Tan Jia Lok, Liew Hung Hian and Chiew Meng Tak won the ACCA Best Presenter Award in the team category.
This win marks the fourth time that TAR UC won the top spot in the team category of the competition.