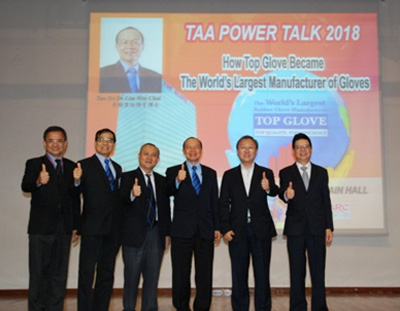 Tan Sri Dr Lim Wee Chai (third from right), Founder and Executive Chairman of Top Glove, and Honorary Advisor of TAA, posing for a group photograph with Datuk Dr Tan Chik Heok (third from left), President of TAR UC. Accompanying them are (from left) Dr Chook Ka Joo, Vice President of TAR UC, Dato' Lim Han Boon, Non-Executive Director of Top Glove, Dato' Yap Kuak Fong (rightmost), President of TAA and Member of the Board of Governors, of TAR UC, and Tan Sri Dato' Sri Barry Goh (2nd from right), Honorary Advisor of TAA.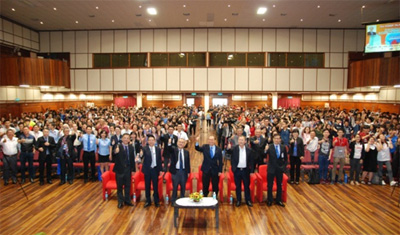 Everyone in the UC Main Hall giving thumbs-up to the Power Talk conducted by Tan Sri Dr Lim.
It was a beneficial morning for some 300 TAR UC students who attended an enlightening Power Talk with Tan Sri Dr Lim Wee Chai, Founder and Executive Chairman of Top Glove Corporation Berhad at the Kuala Lumpur Main Campus on 27 July 2018.
Co-organised with the TARCian Alumni Association ('TAA'), the talk aimed to empower students with the real-life successes of Tan Sri Dr Lim, who turned Top Glove into the world's largest manufacturer of rubber gloves, and to share with them some advice on how to excel in their respective future career path upon graduation.
Dr Lim took about half an hour to share how he grew Top Glove from single manufacturing factory to now the biggest glove manufacturer in the world with over 40 manufacturing facilities, 25% of the global market share and exporting to some 195 countries around the globe.
"Competing in the world market requires the ability to adapt, innovate and improve on a daily basis. As students today, you must not let knowledge and experience pass you by. Learn swiftly, improve daily, and keep moving forward so that you are well-prepared to make good decisions for your future," said Dr Lim during his talk at the UC Main Hall.
Students present at the talk also had the opportunity to engage Dr Lim during the brief question-and-answer session, who took his time to respond eloquently to a few key queries.
Touching on the topic of lifelong learning process, Dr Lim stressed that students should not fear making mistakes, as it is a necessary stepping stone to success.
"Studying is the best time to prepare a strong foundation for a brighter future, and TAR UC is the perfect environment for that. Do not fear mistakes because you can learn from it, correct it and forge a better you tomorrow.
"Like how I saw the vast potential Top Glove had in dominating the rubber glove market many years back, you all have the same potential to excel in the future, as long as you work smart, spend your time wisely, keep innovating and enjoy what you do," he advised.