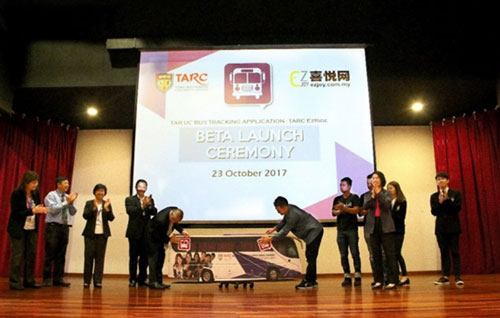 Datuk Dr Tan (left of bus) and Mr Eddy Yap (right of bus) officially launching the app by placing the app logo on the mock bus. Also on stage were Assoc Prof Dr Ng Swee Chin (leftmost), Mr Tan Seng Seng (2nd from left), Director of the Department of Student Affairs, Ms Kho Sok Kee (3rd from left), Dr Chook Ka Joo (4th from left) and Ms Lim Mei Shyan (front right).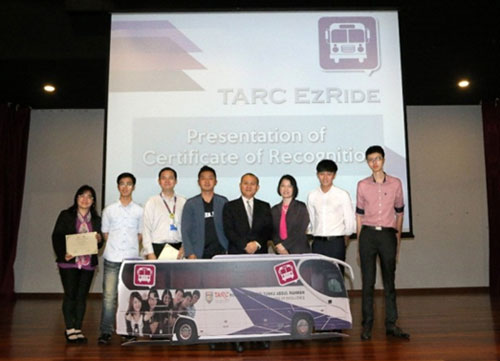 Presentation of Certificate of Recognition to lecturers, Ms Jessie Teoh Poh Lin (leftmost) and Mr See Kwee Teck (3rd from left) and students, Soo Kim Yong (2nd from left), Chong Saik Weng (2nd from right) and Chin Yan Hong (rightmost) for their involvement in developing the app. Also on stage are Mr Eddy Yap (4th from left), Datuk Dr Tan (centre) and Ms Lim Mei Shyan (3rd from right).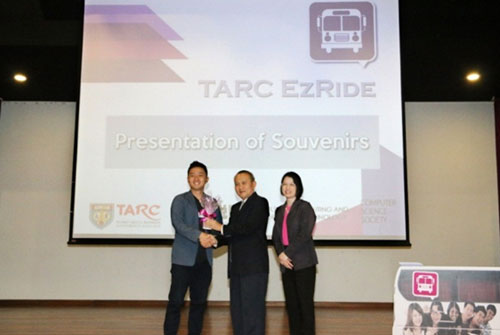 Datuk Dr Tan (centre) presenting Mr Eddy Yap (left) with a token of appreciation, together with Ms Lim Mei Shyan (right).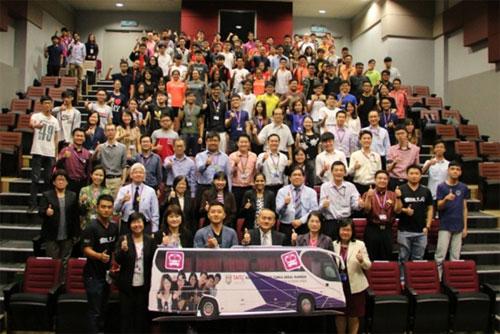 Group photo after the launch.
The beta launch of the TAR UC EZRide app was held on 23 October 2017 at the Auditorium in TAR UC Kuala Lumpur Main Campus. The unique app which is a collective effort between staff and students from the Faculty of Computing and Information Technology ('FOCS') in collaboration with Easyjoy Entertainment Sdn Bhd, aims to provide students with a better bus service.
Developed by students as their final year project, the app not only shows real-time information on bus departure and arrival but it also serves as a platform to disseminate information on special discounts and promotion exclusively for TAR UC students. It also creates opportunities to look into possible industry-academia collaborations.
"This is TAR UC's first entrepreneurial endeavour and it is a good example of close industry-academia collaboration. The success is truly commendable and it portrays a grit for success by all those involved," said Datuk Dr Tan Chik Heok, President of TAR UC during his speech. "It is a good start towards the UC's coming plans of turning the Kuala Lumpur Main Campus into a Smart Campus."
The beta launch was also attended by Mr Eddy Yap, CEO of Easyjoy Entertainment Sdn Bhd, Assoc Prof Dr Ng Swee Chin, Dr Chook Ka Joo and Ms Kho Sok Kee, Vice Presidents of TAR UC, Ms Lim Mei Shyan, Dean of FOCS, senior management and staff of TAR UC as well as FOCS students.
Mr Eddy Yap, a TARCian himself, expressed his delight and support towards the development of the TAR UC EZRide app. "As a TARCian, I am grateful to be able to work with TAR UC on this project. I hope that through my sharing of knowledge and resources, students will be able to gain the essential industry-relevant skills whilst working on this project."
"Mr Eddy has been super supportive throughout the whole app development period," shared Ms Lim Mei Shyan. "He mentioned that although he can engage a full-time mobile app developer to create this mobile app within a very short time, it is more meaningful to get our own students to develop it as part of their learning process, to create our very own mobile app."
Following the beta launch, FOCS will be putting the app through one final stage of testing – the stress test where it will be tested on a larger scale. There are currently two teams from TAR UC that are working on this project – the front-end development led by Mr See Kwee Teck and back-end development led by Ms Jessie Teoh, both Senior Lecturers from the Department of Information and Communication Technology of FOCS. The faculty plans to launch the complete app by next semester to meet students' needs.
Certificates of recognition were also presented to the lecturers and students who played an active role in the development of the app, during the beta launch ceremony.