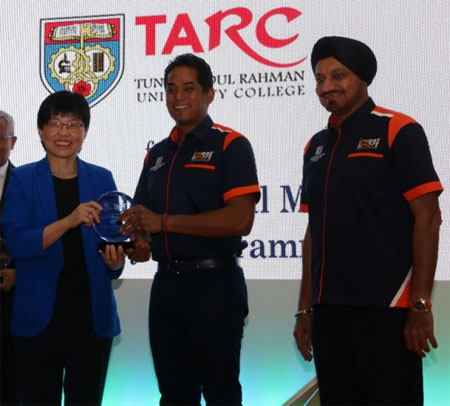 Assoc Prof Say Sok Kwan (leftmost) receiving the award from YB Khairy Jamaluddin (centre) with Tan Sri Dato' Seri Ranjit Ajit Singh (rightmost), Executive Chairman of Securities Commission Malaysia.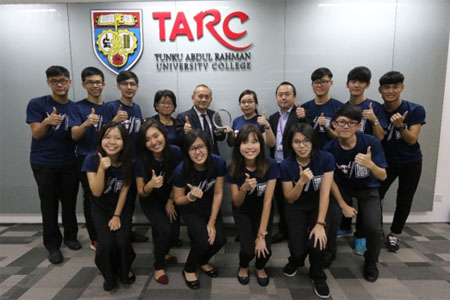 BYIC club members beaming with pride with Datuk Dr Tan (second row 5th from left), Ms Wong Hwa Kiong (second row 4th from left), Dean of the Faculty of Accountancy, Finance and Business ('FAFB') and Mr Chai Ming Perng (second row 4th from right), Associate Dean of the Department of Finance.
TAR UC's Bursa's Young Investors Club ('BYIC') was over the moon when they were chosen to receive the "On-Campus Capital Market Advocacy Programmes" award from Securities Commission Malaysia for their effort on investor education. Assoc Prof Say Sok Kwan, Vice President of TAR UC, received the award on behalf of Datuk Dr Tan Chik Heok, President of TAR UC, from the Youth and Sports Minister, YB Khairy Jamaluddin, during the launch of InvestSmart Fest 2017 on 13 October 2017.
"With this achievement, it proves that all our hard work has paid off and I believe that there will be more achievements to come in the following years," said Sophia Woon, President of the BYIC.
The Year 3 Bachelor of Finance and Investment (Hons) student also shared how BYIC activities had helped her develop an advantage in relation to her programme. "This club has provided me with the avenue to gain deeper insight in the field of investment as I am able to learn from great investment "gurus". The activities held by BYIC gave me a taste of what the real-world is like and has helped me sharpen my investment skills too."
"Apart from gaining out of classroom experience in the field of investment via the club's many activities which involve key industry players, we are also able to develop soft skills such as team spirit and how to recognise and seize opportunities. The most memorable times are those when we organised events together. We might not be perfect but we are always able to work together to overcome any obstacle and that is what makes us a strong team."