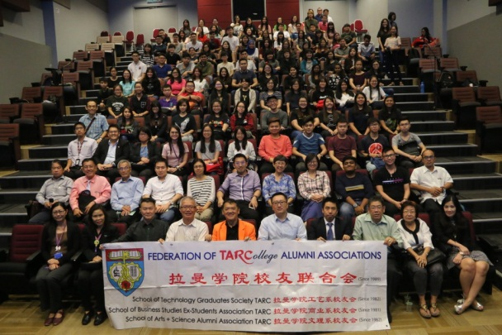 Dr Fang Tao (first row, fourth from right) and Mr Zhai Yibo (first row, fifth from right) taking a group photograph with TAR UC staff and students after the seminar.
Datuk Dr Tan Chik Heok (second from right) accompanied by (from left) Mr Adrian Yeo Eng Hui, Mr Zhai Yibo and Dr Fang (far right).
Students of TAR UC were treated to an insight of the One-Belt-One-Road ('OBOR') initiative and what it has in store for them through the comprehensive '1 Belt 1 Road: Opportunities & Challenges to Malaysian Youth' seminar held on 5 June 2018 at the KL Main Campus.
Organised by the Federation of Tunku Abdul Rahman College Alumni Associations, Malaysia ('FTARC AA'), the seminar was conducted by guest speakers Dr Fang Tao, Second Secretary, and Mr Zhai Yibo, Third Secretary, both of whom are from the Economic and Commercial Counsellor's Office of the Embassy of the People's Republic of China in Malaysia.
Dr Fang started off the seminar with a brief explanation on the history of OBOR, its objectives and what it can offer to Malaysia and its youth. "China has been Malaysia's largest trade partner since 2009 and OBOR will only further improve ties at the highest levels while optimising the business environment for both nations."
"Both nations have had several collaborations, and I foresee that there will be more in the years to come that will bring plenty of exciting opportunities for the Malaysian youth," Dr Fang added.
Proposed in 2013, OBOR is a multi-nation development strategy to boost economic cooperation involving over 60 countries in Asia, Europe and Africa.
Malaysia's participation has resulted in several huge collaborations, namely the Malaysia-China Kuantan Industrial Park, China-Malaysia Qinzhou Industrial Park, China Smart Creation Smart Eco-Valley in Pahang and the world's first Digital Free Trade Zone ('DFTZ') amongst others.
Yibo emphasised that Malaysia's unique versatility makes it the perfect country to take OBOR to the next level. "Communication is so much easier in Malaysia and that attracts a lot of foreign direct investment especially from China."
On how OBOR can affect the youth in Malaysia, Yibo stressed that the initiative can bring increased opportunities in education and career prospects. "We are looking to have more opportunities to study in China, scholarship programmes, student exchanges and knowledge-sharing sessions. Upon graduation, students can potentially build their career in China in their respective field of expertise through these opportunities. The possibilities are endless."
The seminar was attended by Mr Adrian Yeo Eng Hui, President of FTARC AA who is also a member of the Board of Governors of TAR UC, and Datuk Dr Tan Chik Heok, President of TAR UC, who also presented souvenirs to Dr Fang and Yibo.